Anticipating The Powerful Advance In Gilead Sciences (GILD)
Back on August 29, Mike Paulenoff alerted MPTrader members to his excitement about the potential for a powerful advance in Gilead Sciences (GILD), writing:
For two years, GILD has been traversing a wide (24%) range between 57-59 on the low side and 70-72 on the high side (see my attached Daily Chart). Every time GILD sinks into the vicinity of 60, it becomes relatively cheap within the range (57 stop) ahead of a traverse towards 70-72... If you are a VERY PATIENT investor who does not mind tying up money for an extended period of time, then you are risking a close under 56.50 to "be there" for the run to and above 69.00-70.00, and thereafter, towards a challenge of the upper boundary zone from 83 to 87, where GILD either will rocket into a new bull leg, or fail miserably.
My sense from the very BIG picture structural setup since 2010 is that since 2017 GILD has been biding time ahead of a forthcoming VERY BULLISH direction price catalyst (or catalysts) that will propel the stock out of its rangebound funk... Last is 62.56.
Fast-forward to last week in which indeed a catalyst unleashed GILD's bullish potential. It turned out to be a Q3 Earnings Report that far exceeded Wall Street's expectations, and as such, triggered an extremely positive investor reaction that propelled the stock above a 2-1/2 year resistance plateau from 72 to 74, toward Mikes intermediate-term target zone of 83 to 87.
GILD closed at 79.27 on Friday, a full 27% above its price when Mike first alerted MPTrader members on August 29.
What's next for GILD and other names and ETFs in the Biotech and Healthcare space? Join Mike and MPTrader members for their constant intraday market discussions about individual stocks, ETFs, Macro Indices, Commodities, Crypto, and much more, especially during the forthcoming consequential Fed Week!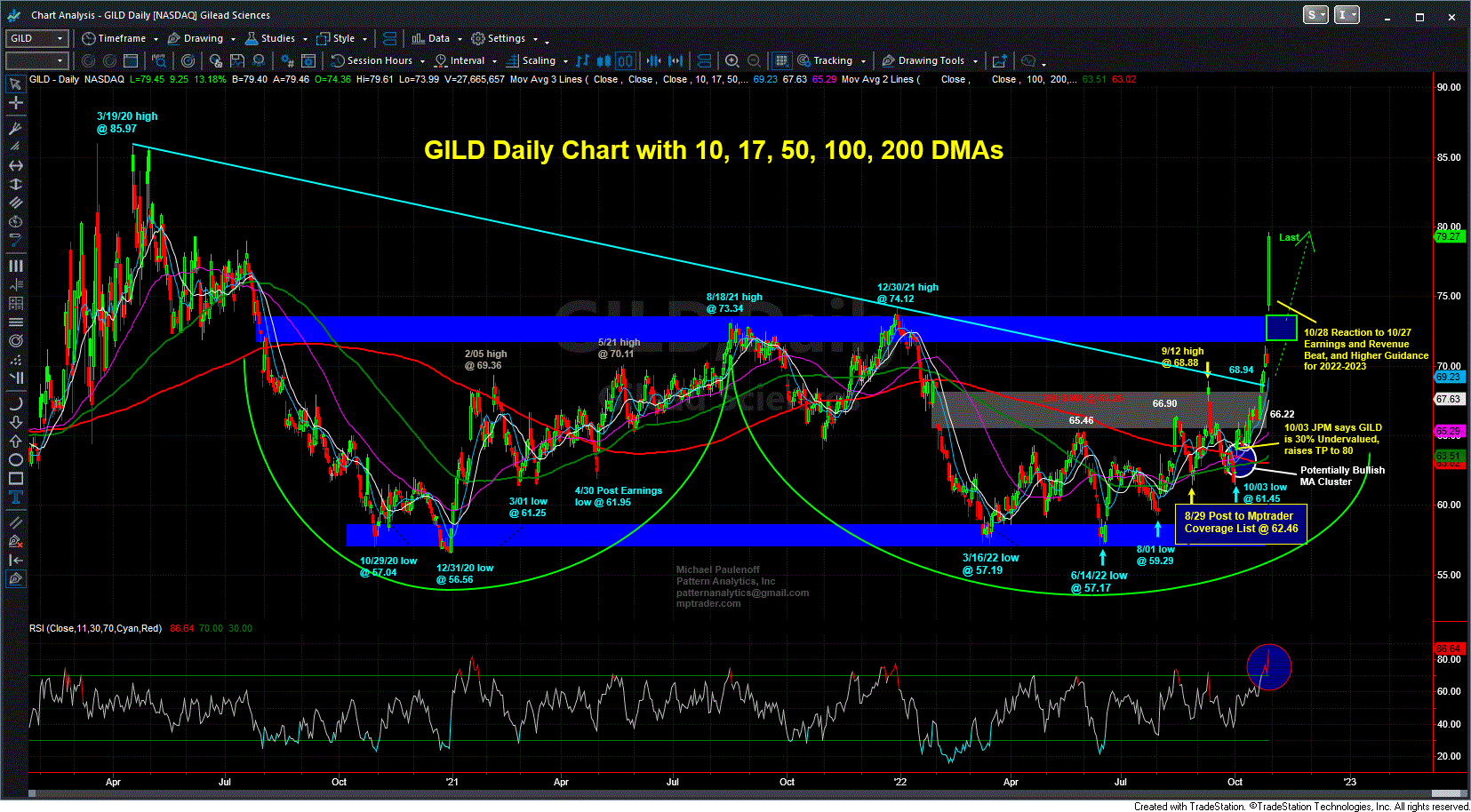 ---
More Top Calls From Mike