Anticipating The Up-Move In EWJ
Just after the start of the New Year, on January 9, Mike Paulenoff posted the following missive to MPTrader members about EWJ (Japanese Country Fund ETF):
In my reading and research this weekend, my eyebrows did a bit of a backward roll when I saw the budding technical setup in EWJ. While everyone is fixated on China for a host of reasons, the Japan ETF EWJ has quietly carved out a 6-month base formation that is pushing up toward a challenge of multi-month resistance that if hurdled, will trigger a VERY powerful advance that projects to 65-70.

What might this budding technical setup say about an underlying fundamental story or condition? I am thinking a number of things could be influencing a resurgent Japanese equity market such as a weak US Dollar that strengthens the Yen, making equity investments in Yen increasingly attractive going forward. Furthermore, from what I have been reading, Japan will continually have to finance its government deficits through QE which could require the BOJ to sell US paper to acquire the Yen to use to buy JGBs. Without getting too much in the weeds, let's just say that while the Fed is and will remain engaged in QT possibly for all of 2023 to reduce its balance sheet, the BOJ will be doing just the opposite-- employing more good old QE to finance its operations. In a nutshell, the Japanese Government will remain the most manipulative "free" market on the planet, buying up publicly traded Japanese bonds and equities. 
Maybe my imagination is way out on a tree limb that will get sawed off. Then again, the base accumulation patterns shown on my attached Daily Chart tell me something is going on, and it is bullish for EWJ. Last is 55.24...
Last Thursday, EWJ hit a 13-month new high of 61.01, a full 10% above Mike's January 9th alert to our members. What's next for EWJ? In that last week's new high was confirmed by Mike's intermediate-term momentum gauges, his work argues strongly that EWJ will climb higher prior to encountering serious headwinds. That said, however, with the price structure only 3.3% above its multi-month upside breakout plateau (59 area), might EWJ pull back in the days ahead to retest its major upside breakout zone? Will the weakness be considered another opportunity to accumulate shares of EWJ, or otherwise, a signal to lock in profits?
Login this week to join Mike and MPTrader members for their actionable technical and fundamental discussions of EWJ as well as many other ETFs,  individual equities, major market indices, commodities, precious metals, and Bitcoin.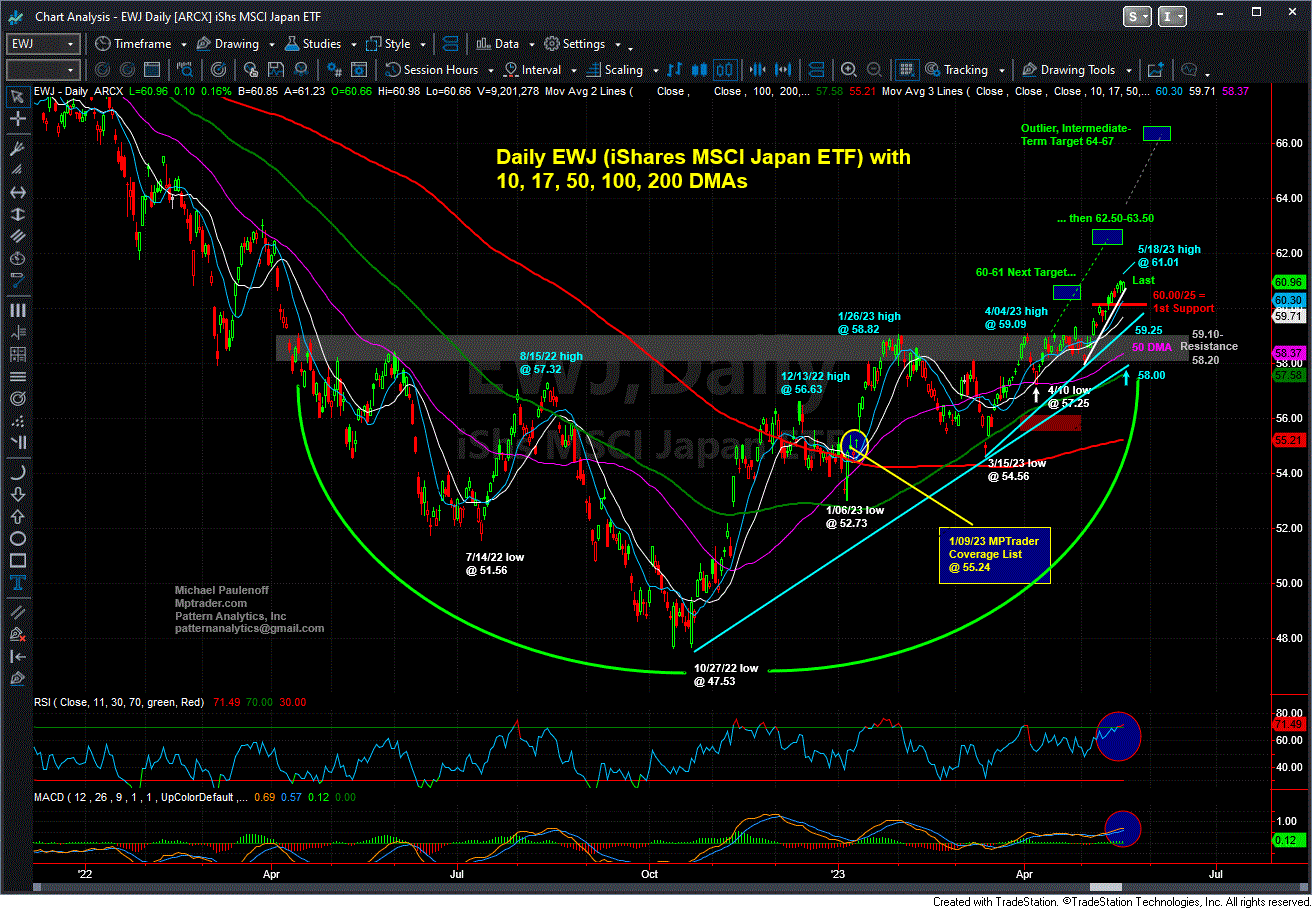 ---
More Top Calls From Mike