Anticipating Upside Reversal In RTX
 On the afternoon of September 25, Mike Paulenoff posted a warning signal to MPTraders members about the developing acute oversold condition in RTX (formerly Raytheon Technologies), writing:
"RTX (formerly Raytheon Technologies) hit a new multi-month corrective low of 71.02, down 33% from the 4/10/23 post-pandemic High at 106.02. Although RTX has violated my optimal target window of 73-75, the stair-step corrective pattern off of the 4/19/23 high at 104.91 (shown on both my attached 4-hr and Daily Charts) has the right look and acute oversold condition to provide a warning signal to the bears that RTX is nearing or is at downside, corrective exhaustion, which also means that a potent recovery rally is approaching likely sooner than later... In the absence of a climb above my initial reversal signal level at 74.30, I cannot rule out lower corrective lows into the 66 to 68 area, where I will expect my work to be screaming for an upside reversal... Last is 71.27..." 
Fast-forward to nine trading days later, on October 9:  With RTX having pressed to new multi-month corrective lows at 68.56 -- just above Mike's lower target zone of 68 to 66 -- Mike posted the following comment about defense contractor RTX's price action in the immediate aftermath of the Hamas attack on Israel and Israel's declaration of war: 
"Another "Crisis Opportunity" could be developing in RTX after a prolonged correction finally exhibits signs of downside exhaustion, and because the various combatants around the globe need weapons systems and missiles, lots of missiles (7.62 at the time)..."
Later that week, on October 13, Mike again posted his commentary and technical work on RTX for MPTrader members:
... Defense contractor RTX (missile manufacturer) continues to look and act like it made a significant major corrective low last Friday (10/06/23) at 68.56, and has initiated a potentially very meaningful upturn... In the war-mongering world in which we currently find ourselves, demand for RTX products might be skyrocketing. If RTX has the orders, can the company rev up the delivery time and get the product out? We shall see. In the meantime, anyone who wants or "needs" a defense contractor in their portfolio should be nibbling at RTX here... Last is 73.53...
Then on October 24, in the immediate aftermath of RTX earnings, Mike again posted his ongoing and strengthening technical and fundamental commentary about RTX:
"RTX is up 6.7% in reaction to earnings, which surprised The Street, but confirmed my technical expectations of a powerful upside reversal in the aftermath of a prolonged 18-month correction from 106.02 (4/20/22) to 68.56 (10/06/23)... All the stars are aligned in RTX-- A major corrective low, a major cycle low, an acute oversold and unconfirmed (exhausted) condition, and probably a sizeable short position all overlaid on a treacherous belligerent geopolitical landscape that requires nation-states to arm and rearm like there is no tomorrow... Last is 77.50..."
RTX never looked back. In the 6 weeks since Mike's initial "Heads Up!" post to MPTrader members (71.27), RTX has climbed 17.7% to last Friday's (November 3) high at 83.86.
What's next for the trajectory of the RTX stock price? Join Mike and MPTrader members ASAP for their continuous intraday discussions, chart analysis, and exchange of fundamental ideas on RTX, as well as on many individual stocks, sector ETFs, macro indices, commodities, and Bitcoin during the currently tense but opportunistic period for the financial markets.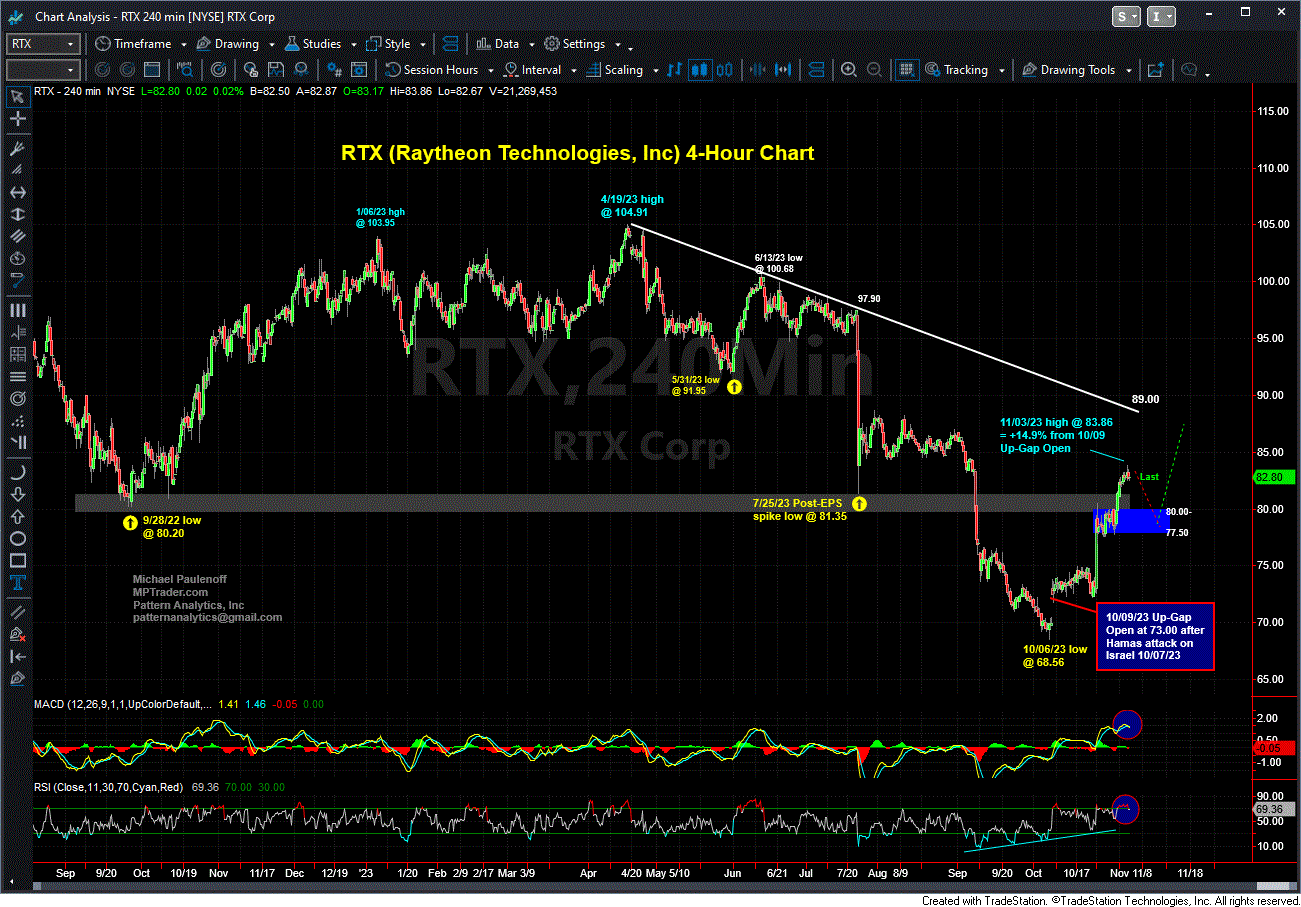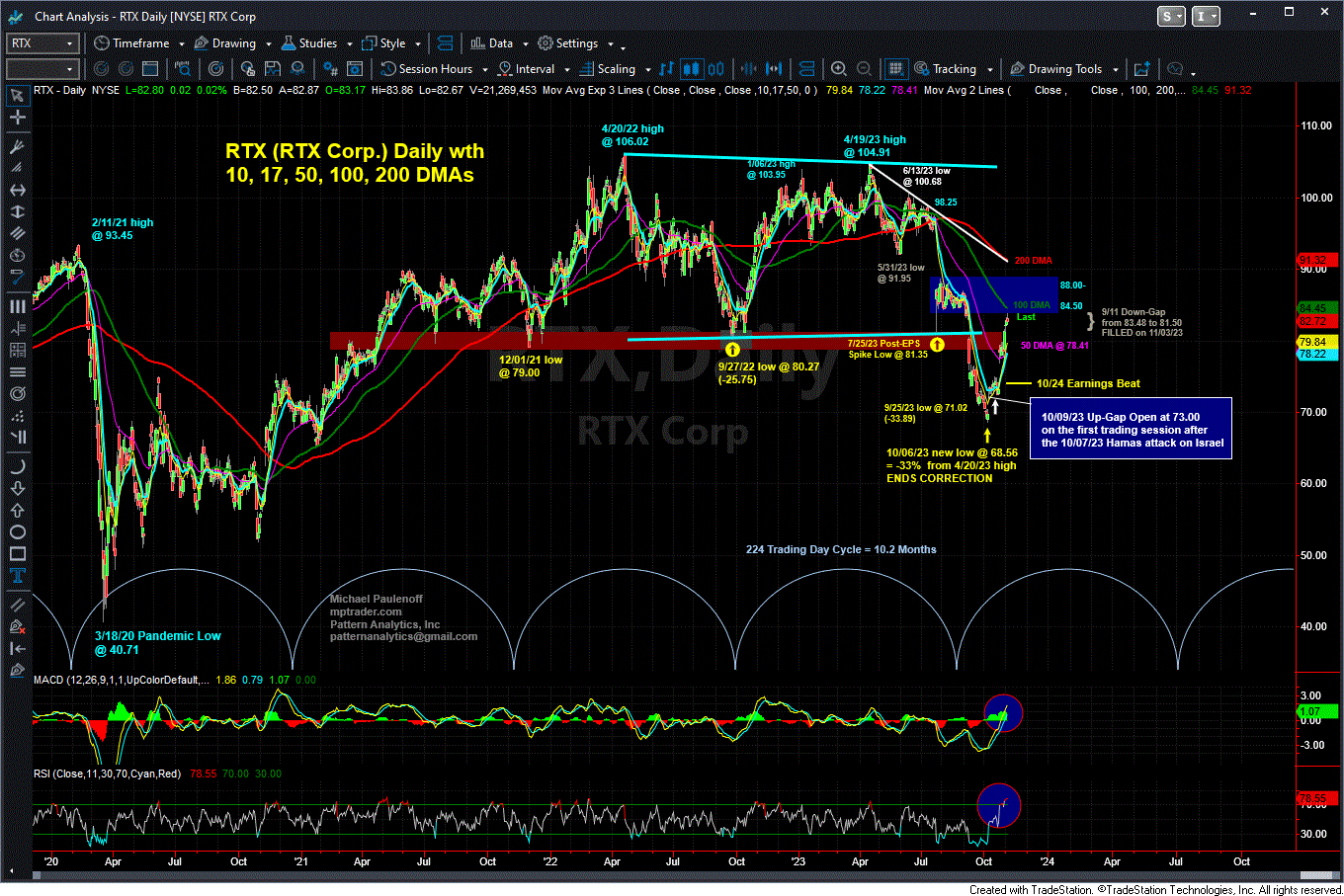 ---
More Top Calls From Mike