Anticipating the Sell-Off in SPY
A week ago Friday, August 10, with SPY (SPDR S&P 500 ETF) trading at 446.05, Mike Paulenoff posted a chart commentary to MPTrader members indicating that his technical setup work on SPY was at a critical pattern inflection point.
Mike wrote:
"Based on today's action, I have come to the conclusion that the "orthodox low" of the decline from the 7/27 high (459.55)... ended at Tuesday's (8/08) low (445.27), and that an intervening counter-trend rally ended at today's (8/10) high (451.70), which leads me to conclude that a new downleg (has) STARTED ...  Only a rally above 451.70 will invalidate its downtrend pattern that projects to 442.00-442.80 and thereafter, down to 437.00-437.40... Last in SPY is 446.05..."
During the subsequent 6 sessions into last Friday's August Option Expiration (8/18/23), SPY followed Mike's anticipated resumption of dominant downtrend weakness, slicing beneath his optimal target zone of 437.00-437.40 (see the SPY chart below), hitting an intraday low at 433.01, down 3% from Mike's August 10 alert.
Now that SPY has declined nearly 6% from its multi-month rally high from the October 2022 low to the July 2023 high, what's next? Is the correction over ahead of a period of strength, or still vulnerable to downside continuation? What will Mike's detailed pattern and momentum work indicate about the direction of SPY ahead of Friday's Jackson Hole speech from Fed Chairman Jay Powell? Most importantly, however, how will Mike's work aid our members in managing their expectations and gauging risk next week? 
Login this week to join Mike and MPTrader members for their opportunistic intraday discussions about pattern development and the fundamental and macro factors that could prove consequential for SPY, as well as for many individual stocks, indices, sector ETFs, Commodities, FX, and Bitcoin.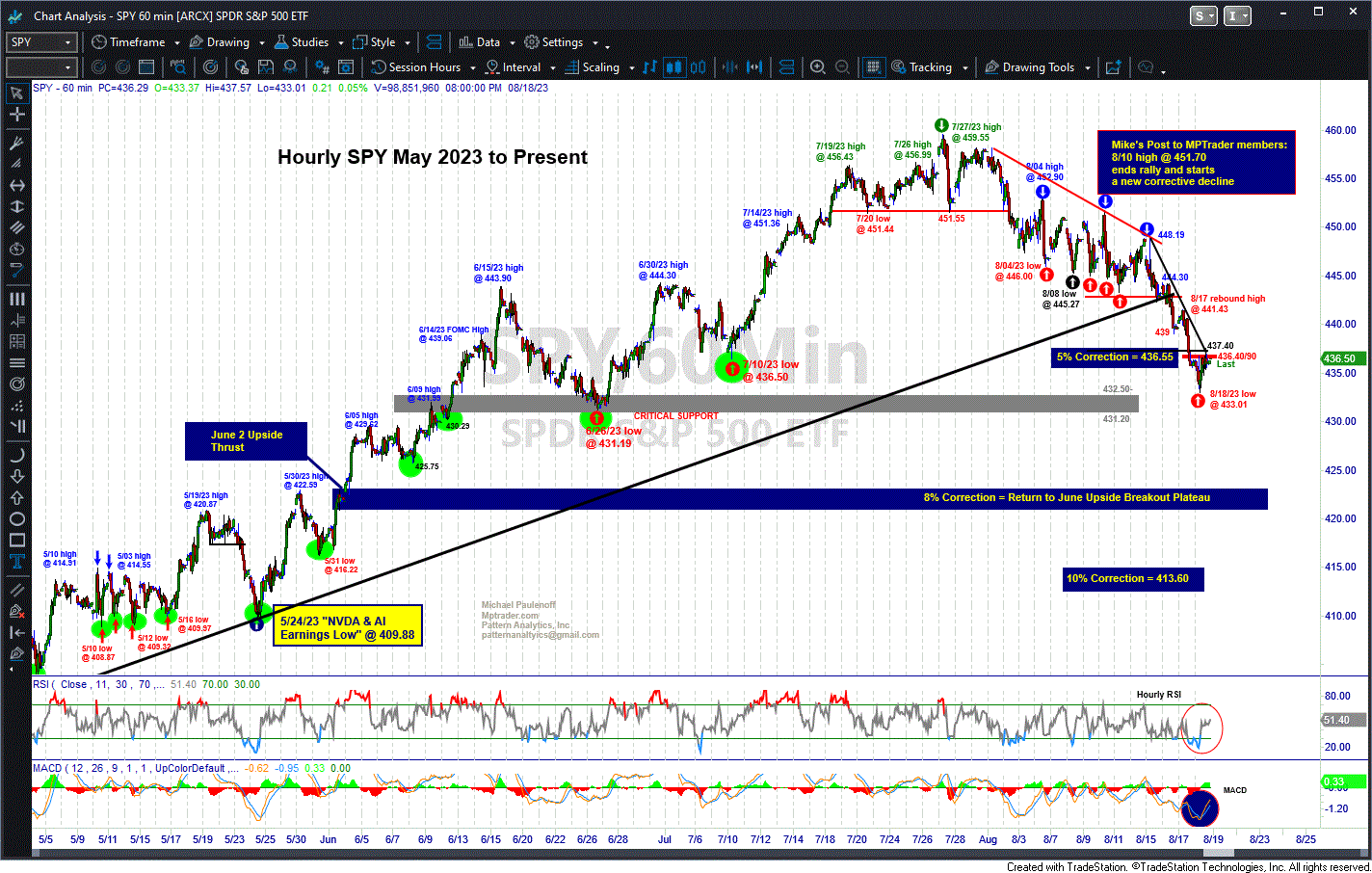 ---
More Top Calls From Mike