Budding Technical Breakout In Lagging Energy Name
Last Monday afternoon (Feb 7), Mike Paulenoff alerted MPTrader members to a latent technical breakout in the bullish energy sector.

Mike wrote: "VLO (Valero Energy) is an energy (Oil Refining) name that appears to be accelerating into a new upleg to play catch-up to the likes of other sector (Drilling and Exploration) names such as HES, XOM, and MPC... Now 80-85 represents powerful multi-month support juxtaposed again upside potential to 105-108... Last is 89.08/09."
By the end of last week, VLO had climbed to Friday's intraday high at 93.77, a full 5.2% above the level it was trading when Mike alerted members to the budding technical breakout in this "lagging" energy name.
Of course, the energy sector, in general, has been all the rage of late, up over 25% YTD, and one of only two sectors of the S&P 500 that is actually positive for 2022 thus far (the other is the Financials at +2.5%). A number of bullish factors have combined to form a "perfect storm," owing mainly to persistent inflationary pressures, supply deficiencies, and greatly heightened geopolitical tensions in Ukraine, a not-insignificant Eastern European Oil producer of 55,000 to 60,000 barrels per day.
What next for VLO? The dominant near- and intermediate-term uptrends remain very powerful, and project higher prices in the days and weeks ahead, but intraday monitoring of unfolding geopolitical events will inject additional volatility into the energy sector, in general, that will impact the price action of VLO as well.
Join Mike and MPTrader members for their intraday technical and fundamental discussions about VLO, as well as many other individual stocks, sector ETFs, macro indices, cryptocurrencies, and commodities.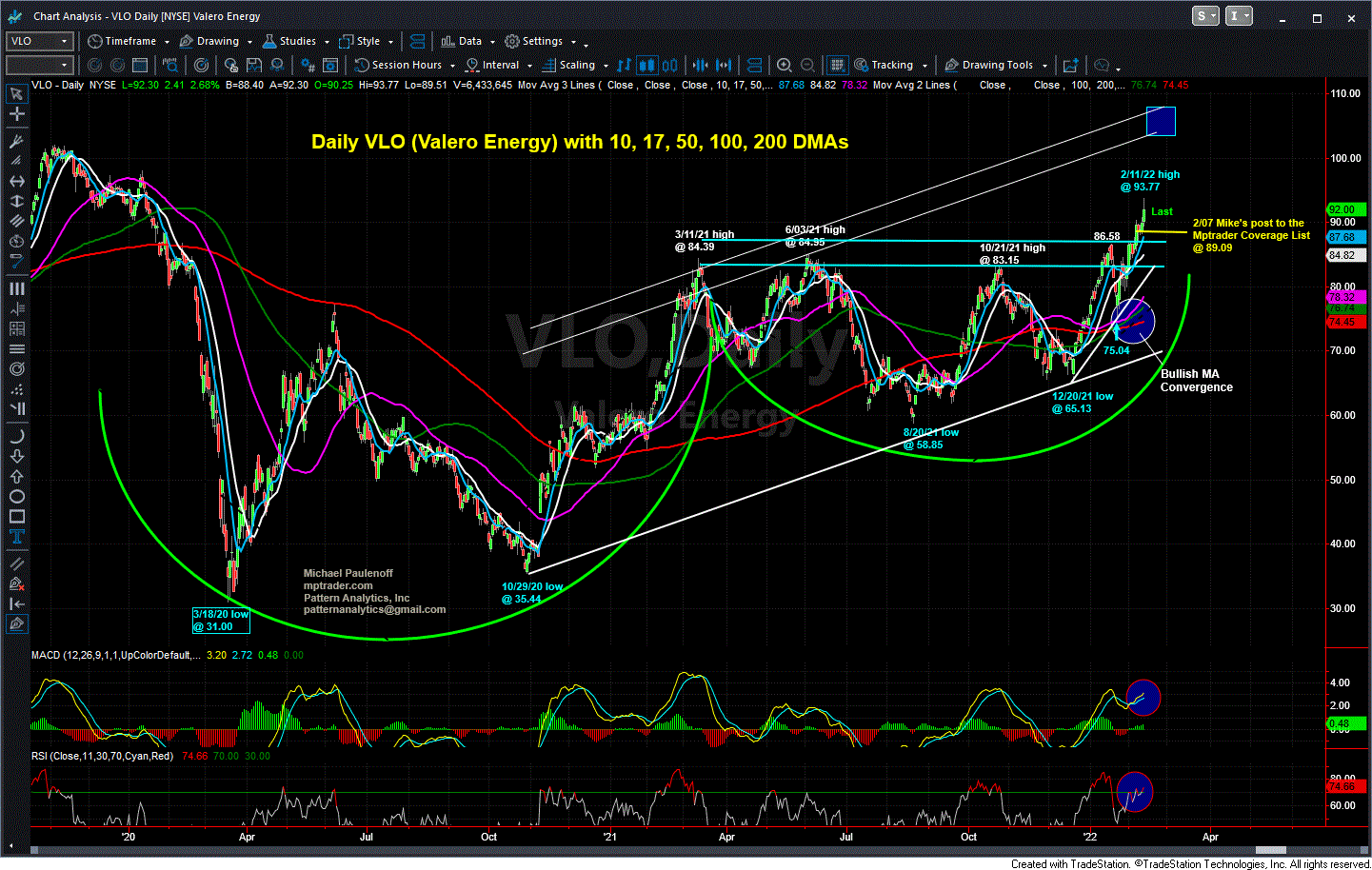 ---
More Top Calls From Mike