Bullish On OXY Ahead Of Breakout
This past Friday, the dominant headlines were all about Warren Buffett's Berkshire Hathaway receiving permission from the Federal Energy Regulatory Commission to acquire as much as 50% of Occidental Petroleum shares (OXY). On Friday alone, OXY climbed 9.4% on the news and is within 4% of revisiting OXY's 4-year high at 74.04 hit on June 3, 2022.
Fortunately for MPTrader members, Mike Paulenoff has continually analyzed and reiterated his bullish outlook for OXY from as far back as November 23, 2020, when OXY's technical setup initially broke out to the upside at 15.46 in the aftermath of a 6-year bear market that pressed OXY from 104.00 to 8.50.
Since Mike's November 2020 OXY breakout alert, he has posted 46 subsequent chart analyses of OXY to the MPTrader Coverage List to keep his members appraised of what his work consistently considered a progressing bull phase.
One month ago, in his July 19 post, Mike wrote:
"Warren Buffett's Berkshire Hathaway increased its stake (again) in OXY by another 1.9 million shares, to 20% ownership in the company. Why? Who knows the actual reason, but let's just figure he wants his BIG toe in an oil exploration company in the months ahead, which also tells us that Buffett and his advisors must think that fossil fuel demand isn't disappearing anytime soon and that the price of oil will be stable to possibly much higher in the future, and or that escalating international tensions will increase the geopolitical premium in the future.
"Only a severe global recession could undermine the tight fundamentals in the oil market, and well, I suspect that Buffett and Co doubt that is on the horizon...
"Technically, OXY has thrust above the dominant resistance line off of its 5/31/22 high at 74.44 that cut across the price axis in the vicinity of 61.00, with the price structure now pushing up towards a challenge of the prior rally high at 63.41 (7/08), which if taken out and sustained, will project OXY into the 68 to 71 next higher target zone. Only a sudden downside reversal and close back beneath 61.00 will compromise the currently promising setup."
OXY was trading at 62.61 at the time. Fast-forward four weeks to this past Friday's session, and OXY traded to an intraday high at 72.49, satisfying Mike's target zone, up 15.8% from his July 19 update and up 369% from his original upside breakout analysis in November 2020.
What's next for OXY and Oil? Join Mike and our members for constant intraday monitoring, discussion, and analysis of OXY, as well as numerous individual stocks, ETFs, Macro Indices, Commodities, and Bitcoin.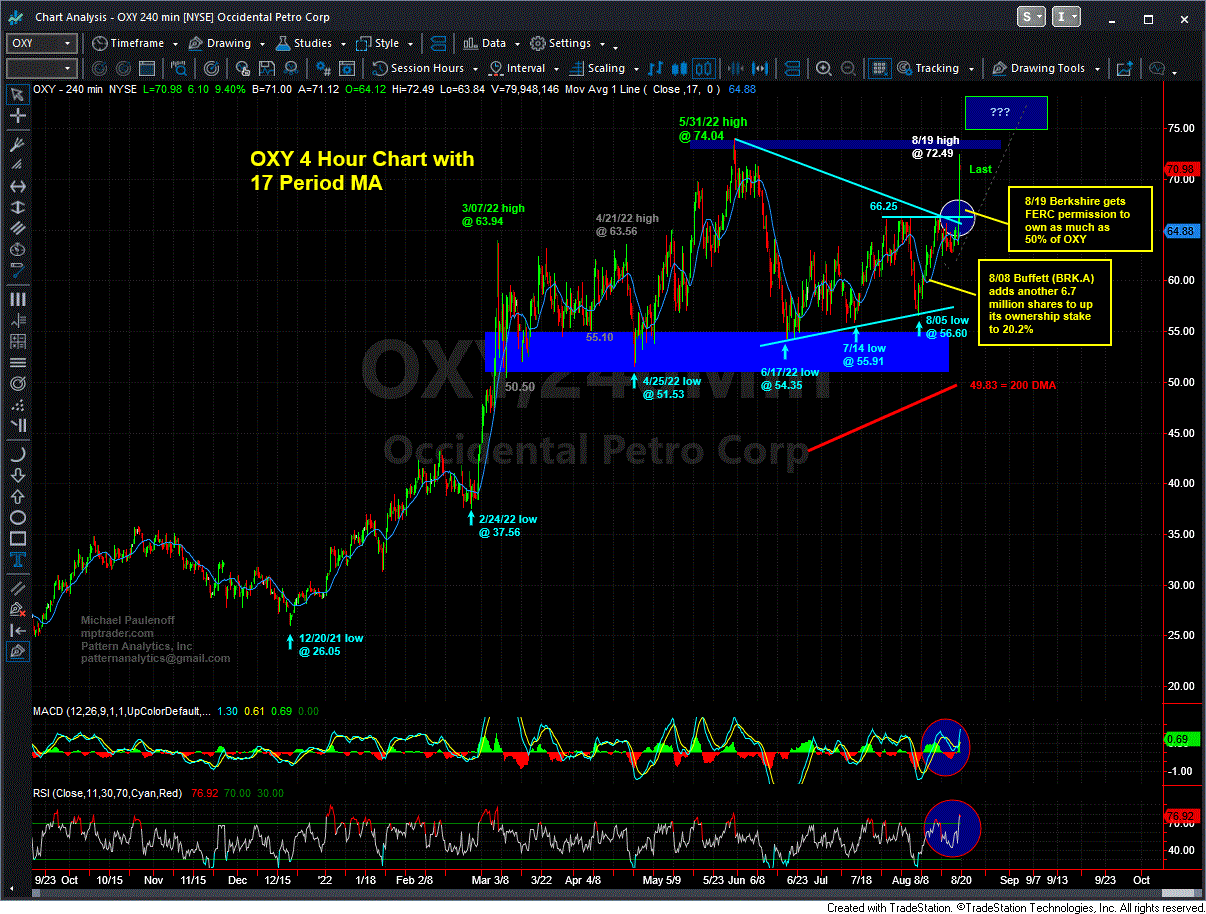 ---
More Top Calls From Mike