CHWY Follows Our Preferred Technical Price Path
On the morning of October 14, Mike Paulenoff posted the following time-sensitive comment about CHWY (Chewy Inc) to MPTader members:
"CHWY has the right look of a very mature correction from its ATH at 120 (2/16/21) to Monday's (10/12/21) low at 60.45, which represents a 50% haircut from the ATH. As of this moment, with CHWY trading at 62.72, my work does NOT yet have confirmation that THE LOW has been established. My pattern and momentum work are "warning me" that CHWY's multi-month correction is nearing downside exhaustion. To get confirmation that a significant low has been established, CHWY needs to climb and sustain above 66.50. This name should be on our radar now... Last is 62.74."
Fast-forward exactly one week to October 21, and Mike alerted MPTrader members again:
"CHWY is pushing up against first resistance at 66.50, if taken out and sustained, will point to 72-73 in the aftermath of what increasingly appears to be a Bear Trap multi-month corrective low at 60.45 on Oct. 12th... Last is 66.50."
In the ensuing days, CHWY followed Mike's preferred technical price path, breaking out above 66.50. Then last week it surged to and above 72-73 to Friday's (Oct 29) high at 76.35, a full 22% from his first update and 15% above Mike's technical upside reversal signal.
This prompted Mike to make this late-session chart post on Friday:
"It's a dogs world... Since CHEWY turned up, and triggered an initial buy signal on 10/21 at 66.50, it has climbed 10 points and 15%, and its setup indicates this upmove is not done yet... Last is 75.56."
What's next for CHWY heading towards its early December earnings report? And what's ahead for many other individual equity names that Mike and MPTrader members discuss and analyze throughout each trading day, in addition to in-depth coverage of broadly-held macro indices, ETFs, Cryptocurrencies, and Commodities?
Join Mike and our members for discussion of actionable trading and investment ideas.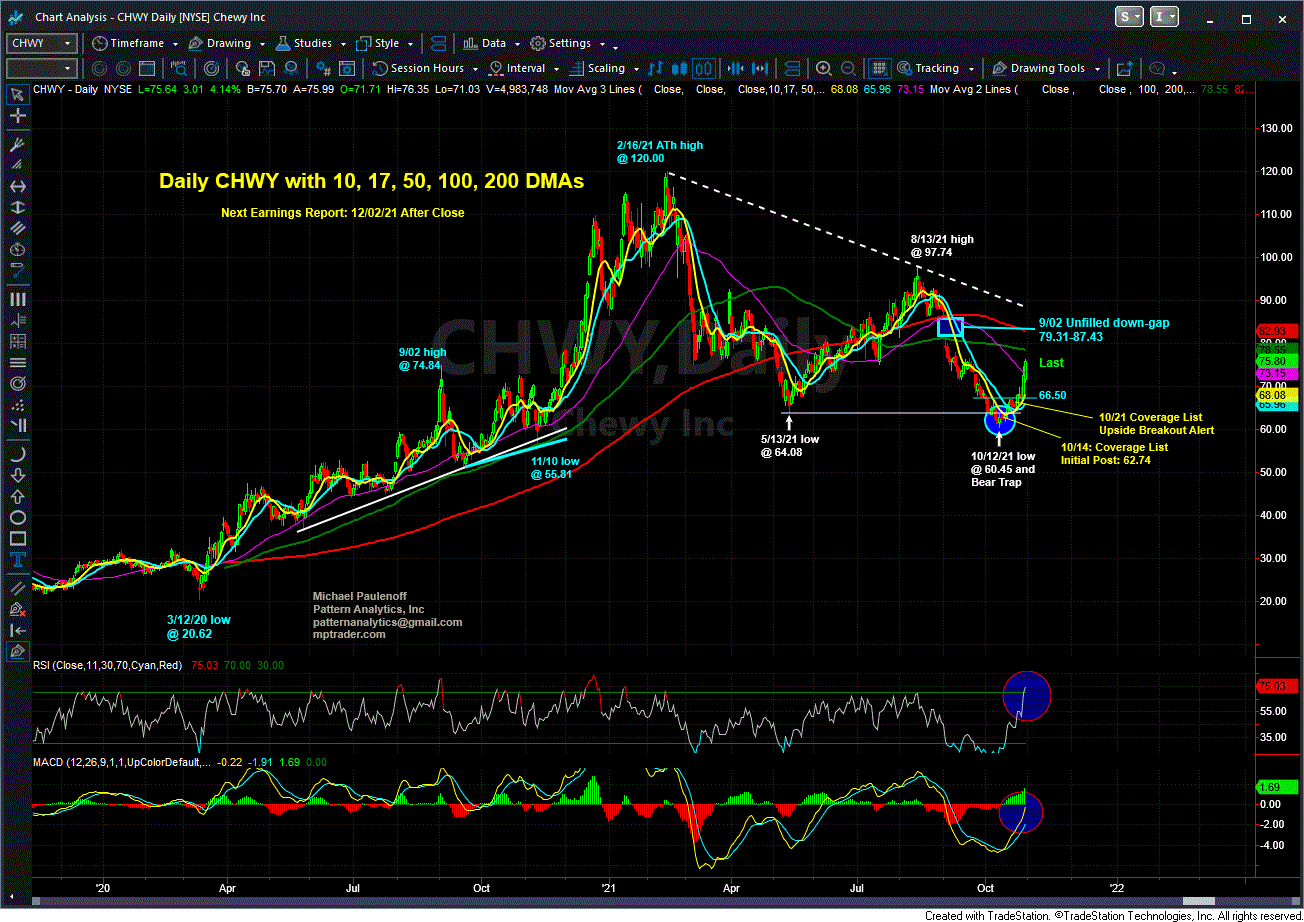 ---
More Top Calls From Mike