Calling AAPL's Twists & Turns
At the beginning of last week, days prior to Thursday's early morning Russian invasion of Ukraine, amid an equity market that was in the grasp of a sharp, relentless correction, Mike Paulenoff focused MPTrader members' attention on the technical setup unfolding in AAPL to help determine if investors needed to ratchet up their concerns about overall market instability into "crisis management" mode.
Every morning last week Mike posted his chart analysis of AAPL because "as goes AAPL, so goes the market."
Last Tuesday, he noted:
AAPL is betwixt and between key resistance at 170.00 to 171.50 and support down at 155 to 157. As long as the support zone remains intact, my pattern work argues that AAPL is in the grasp of a "coiling" corrective process off of its 1/03/22 ATH at 182.88. Today's spike low at 162.80 could be the next low-coordinate in a developing large Coil formation off of the ATH, however, the fact that near term momentum gauges confirmed the low causes me to reserve judgment ahead of a potential retest of 162.80, which if violated, will press AAPL deeper towards the 155-157 support zone prior to the next sustainable upleg... Last is 164.74.
On Wednesday, as AAPL ticked to the downside, Mike followed up:
AAPL is pressing on yest's low of 162.15, which if violated, will leave it vulnerable to downside continuation to test multi-month support from 157.50 to 155.00... Last is 162.31.
Then on Thursday morning, with the financial markets reeling from the news that Russia attacked Ukraine, Mike posted the following chart analytics about AAPL:
Let's notice its very recent nosedive from a break below 165 has hit a low of 154.13 this AM so far (-6.6%), but most significantly, AAPL is approaching a KEY SUPPORT ZONE from 153.40 to 151.40, which includes BOTH the support line from the March 2021 low at 116.11, AND the up-sloping 200 DMA, now at 151.44. A sustained breach of 151.40 to 153.40 will trigger downside potential to 143-137... Last is 154.00, as AAPL makes a new corrective low beneath the 1/24/22 low at 154.70 as I complete this commentary.
At that juncture, while Putin was elevating global anxiety, Mike had put MPTrader members on high alert as Apple's stock price pressed towards a test of a significant intermediate-term support zone, which managed to contain the selling pressure, reinforcing the importance of 151.40 to 153.40.
Before the market opened on Friday morning, Mike again posted his commentary about bellwether AAPL for mptrader members:
My attached Daily Chart of AAPL shows just how significant corrective tests have been since way back in mid-2019. After the mid-2019 "200 DMA testing period," every time AAPL corrected to and in the case of the Pandemic Low, in March 2020-- marginally pierce the MA, the stock managed to hold or quickly recover back above the Average to embark on a subsequently relentless, powerful new upleg.
Fast-forward to yesterday (Thursday), we see that AAPL nosedived right to the sharply up-sloping 200 DMA in the vicinity of 151.50, hold there, and then pivot into a vicious vertical assault of $11 and 7% by the close of trading. Given past behavior AND the numerous data points along the 200 DMA since mid-2019, we have a strong reason to suspect that AAPL completed a significant 17% correction or corrective leg from its ATH at 182.88 (1/03/22) to 151.90 (2/24/22)... Last is 162.41.
Despite what looked like a significant corrective low and upside reversal in AAPL on Thursday, Mike warned MPTrader members to stay nimble nonetheless:
... Let's take a look at my attached 4 Hour Chart, where we see that yesterday's nosedive to a new corrective low at 151.90 was CONFIRMED by my 4 Hour Momentum Gauge, which hit a VERY OVERSOLD LEVEL at 13.94, but nonetheless, confirmed the acute price decline. My work considers the 4 Hour Price-Momentum downside confirmation as a near term warning signal that we should NOT BE SURPRISED to see AAPL roll over into another nosedive that RETESTS and possibly marginally violates yesterday's low-zone at 151.90 to 152.40 prior to entering a rally phase that will have the underlying technical set up to motor above heavy resistance lodged from 165 to 172. At the moment, given yesterday's new low in near-term momentum, I am expecting AAPL to stall and to pivot to the downside from the 165 to 167.70 resistance area into a decline that will have the potential to revisit yesterday's low. Last is 163.63, up 0.90 in pre-market trading...
AAPL closed at 164.34 on Friday, a full 8.2% above the test of its 200 DMA on Thursday, and perched just beneath Mike's key resistance zone at 165.00 to 167.00.
What's next for AAPL in the increasingly volatile and uncertain market environment? Join Mike and mptrader members for their ongoing intraday discussions about AAPL, as well as about setups in many other stocks, ETFs, macro indices, commodities, and cryptocurrencies.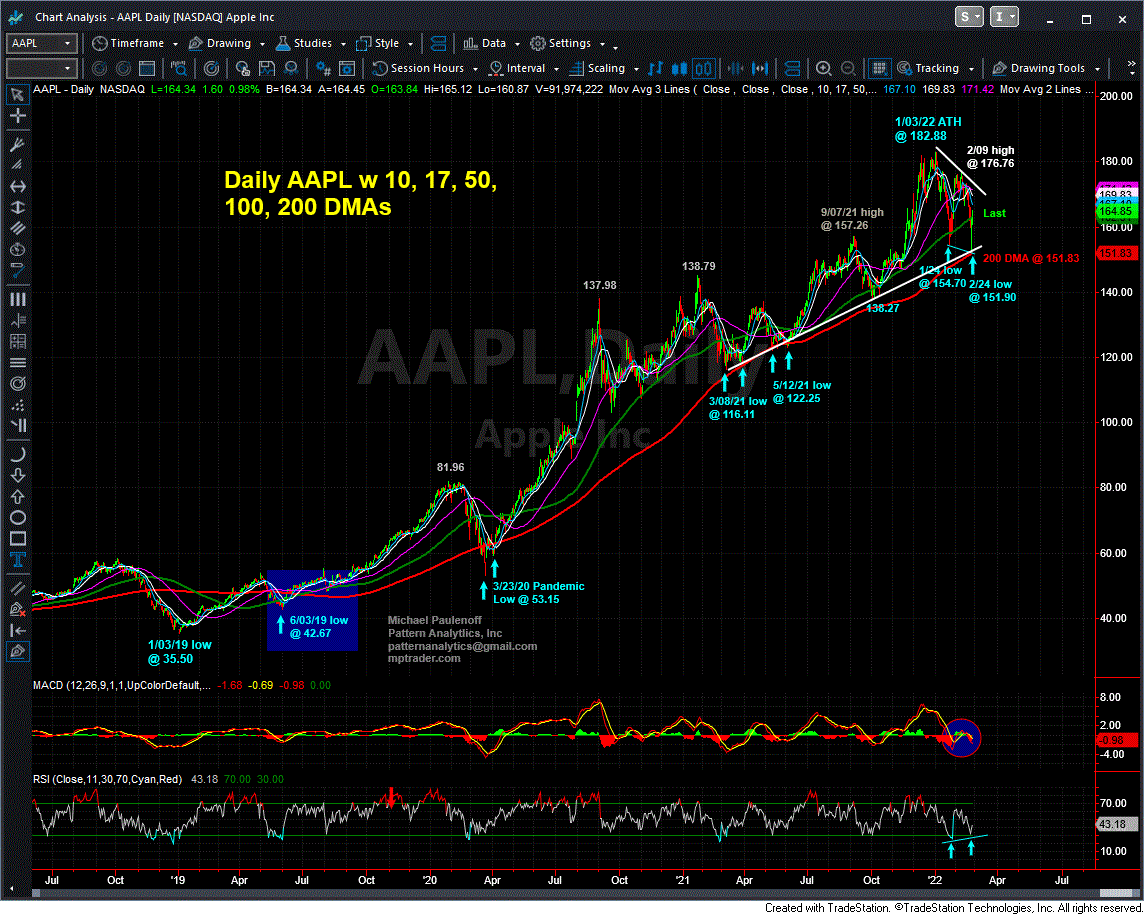 ---
More Top Calls From Mike