Calling AAPL's Upside Continuation ... Ahead Of Upside Exhaustion
On August 3, Mike Paulenoff alerted MPTrader members to the developing setup in AAPL that also would eventually impact the broader market:
Mike wrote: "AAPL continues to levitate within a high level digestion period and pattern off of its ATH at 150 hit on 7/15. All of the action since mid-July certainly resembles a Triangle pattern atop the May-July upleg from 121.68 to 150.00, which we should treat as a Bull Flag type of potential upside continuation pattern that projects next to 153-156, where I will be watching for signs of upside exhaustion. At the moment, only a decline that breaks support at 144.00 down through 142.50 will inflict damage to AAPL's set up-- and compromise the overall market as well. Last is 147.26."
All through this past week, Mike posted follow-up chart analysis and commentary tracking the price behavior of AAPL within its high-level bullish digestion pattern.
On Friday he wrote:
"Today my eyes will be watching the price behavior of AAPL. My pattern work argues that AAPL is emerging from a one month bullish Coil formation that projects to new ATHs above 150 (7/15), and that could extend into the 153 to 156 target zone. However, should such a scenario unfold, my pattern is also warning me that a climb above 150 at a minimum, and possibly to 153-156 will exhibit the 'right look' of a final thrust within the larger upleg from the 3/08/21 pullback low at 116.11. In other words, if AAPL pops from where it is now at 148.90 to 150.01-- +0.6%, and possibly to 153-156, or 4% to 5% higher, I will be looking for a significant downside reversal signal that also will warn us that the major averages are vulnerable to significant weakness as well."
As it turned out, AAPL climbed from 145.50 to 149.44 on Thursday and Friday, emerging from the four-week triangle formation (see Mike's chart below). On Friday APPL closed just under 149.00, positioning itself for upside continuation to eclipse the prior all-time high at 150.00 from July 15, where Mike's work will begin to watch closely for signs of exhaustion and reversal.
Join Mike and our members for "AAPL Watch" next week, with the stock poised to climb as much as 3%-5% to new all-time highs. But will those new highs be sustainable? If not, will the broad market stumble along with AAPL?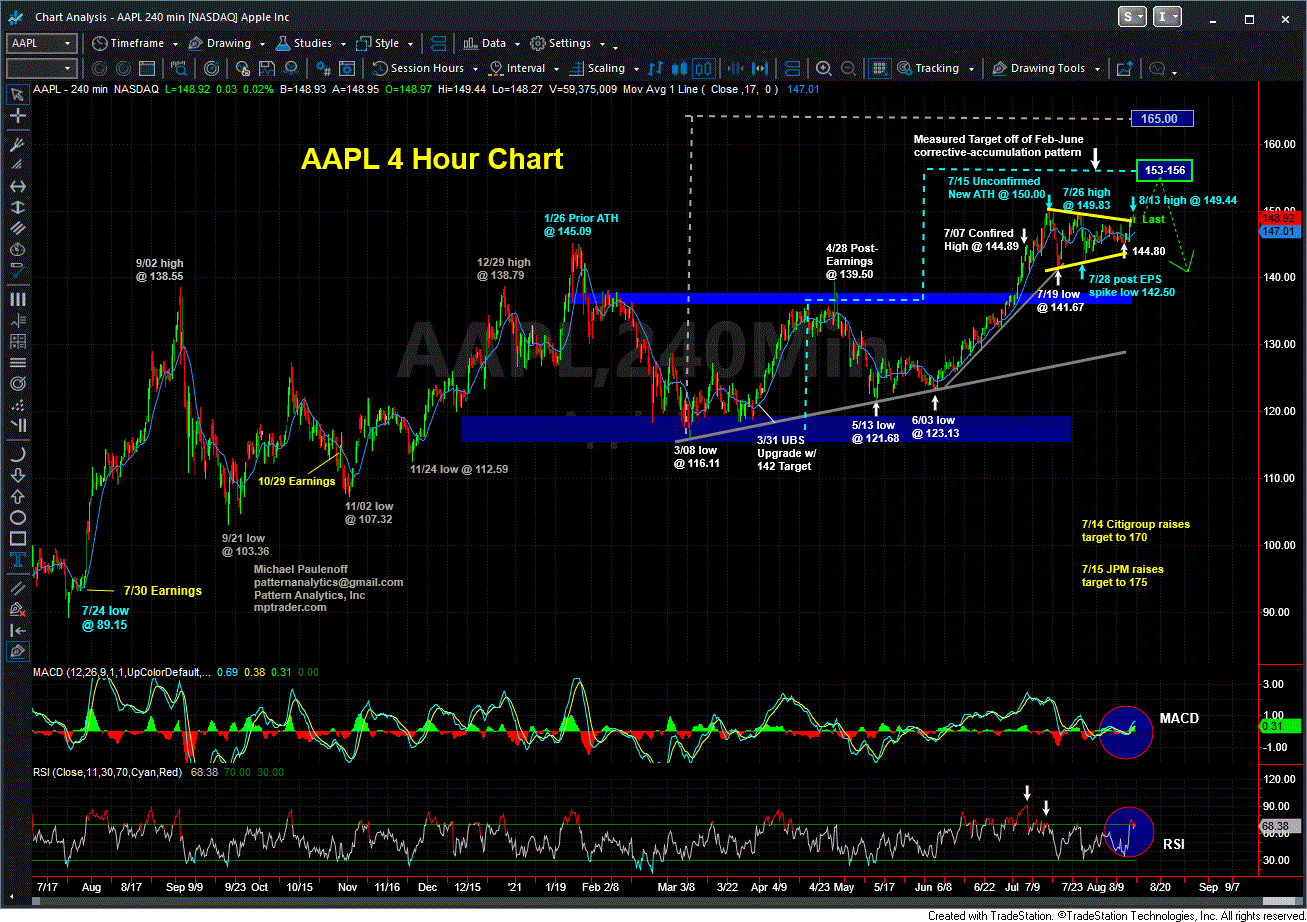 ---
More Top Calls From Mike