Calling CRM's Weakness: But Is Upside Ahead?
Back on Dec 2, after salesforce.com (CRM) reported strong earnings but price languished, Mike Paulenoff told MPTrader members:
"Weakness in reaction to the news has violated the prior significant near term pivot low at 228.66 (10/30), triggering the Bearish Scenario (Red line) that calls for a deeper correction that projects into the 220 area next, and if violated, to the 205 - 200 target zone."
In an update on the stock on Dec 16, Mike wrote: "Remarkably, in the two weeks since its post-earnings plunge from 266 to 215.63 -- largely a reaction to CRM's purchase of Slack Technologies for $27.7 billion -- this volatile, powerhouse of a name has languished beneath 230."
He added: "From my technical perspective, although CRM could have put in a successful retest of the low yesterday at 218.20, unless and until CRM claws its way above 230, my pattern work cannot rule out another bout of weakness into the 208 to 205 target zone. Last is 223.92."
This past week the stock got down to a double-low of 215.72 on Monday and 215.78 on Wednesday.
The very next morning, on Thursday, Mike wrote: "My pattern and momentum work argue that CRM is very close to the completion of its Sep-Jan corrective process (284.87 to 215.72 so far) and, therefore, is nearing the initiation of a new upleg."
He added: "Should CRM climb and sustain above 223-225, my nearest term work will trigger an initial buy signal that the correction was completed at the double low on 1/04 and 1/06 at 215.72/78."
On Friday CRM closed at 222.25, up 2% on the day, after trading at 219.22 early in the session. The fact that CRM reversed from a point of price vulnerability early in the session to a session-high close well into positive territory -- poised to challenge consequential near-term resistance at 223-225 that Mike had alerted members to the prior session -- is what MPTrader.com is all about: identifying actionable technical set-ups.
Will CRM open higher on Monday, pushing through initial resistance, finally begin participating in the November-January advance? Join Mike and mptrader members in our trading room for updates and discussion about CRM as well as many other stocks, indices, ETFs, cryptocurrencies, and precious metals.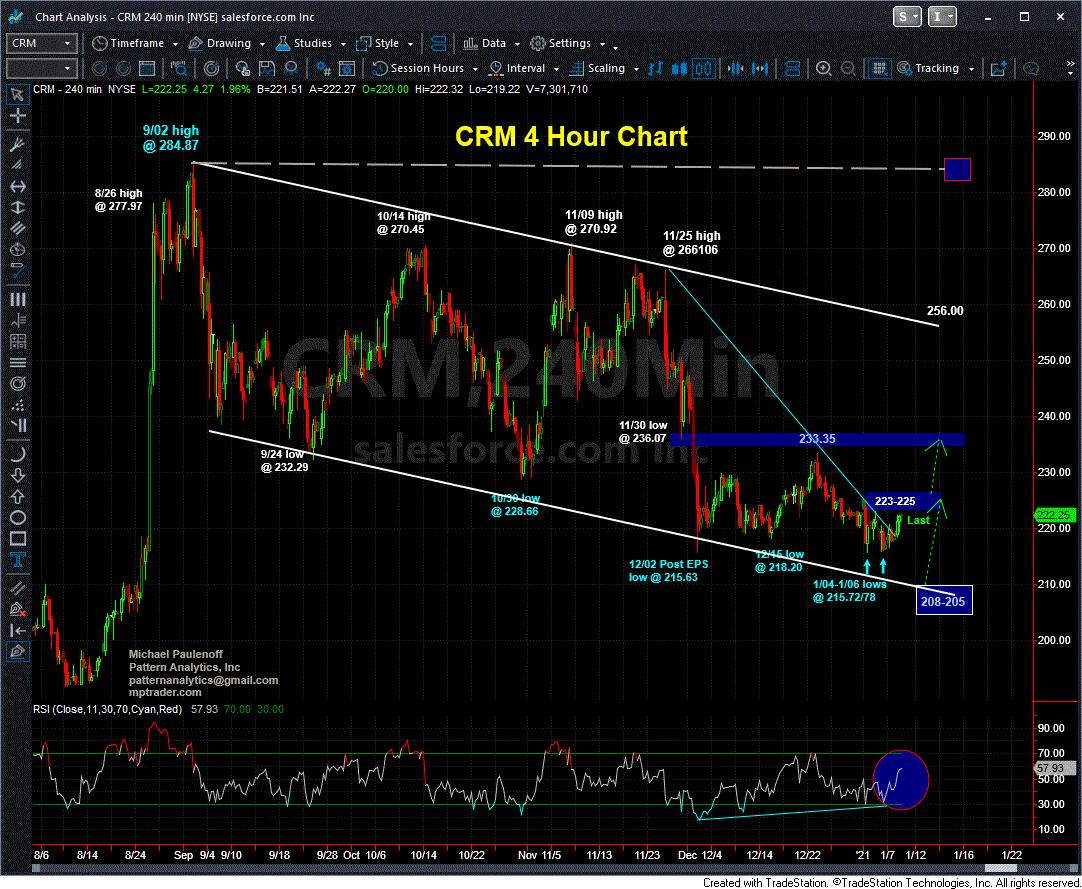 ---
More Top Calls From Mike