Calling MRNA's Decline ... Is Correction Complete?
MRNA's August downside reversal from a new all-time high (ATH) at 498.60 (8/10/21) to 349.00 (8/16/21) was just the first shot over the bow of a larger-developing corrective pattern and period.
Thus warned Mike Paulenoff to our members on the afternoon of August 16th, when, with MRNA trading at 363.76, he wrote:
"Although MRNA has bounced from the low of the day at 349 to 369-370, let's notice that my 4 Hour Momentum Gauge has pressed to a new low that confirms the new corrective low at 349. This warns us that MRNA likely still has unfinished business to the downside that should violate 349... If such a scenario unfolds, then we will have to see if a new reaction low beneath 349 attracts follow-through selling that points to 300, or alternatively, if the selling dries up just beneath 349, which will attract new buying? Stay tuned."
Then on September 9th, with MRNA having recovered nearly two-thirds (100 points) of its August decline and trading at 458.87, Mike again cautioned members about the stock, writing:
"The initial corrective decline from 498.60 (8/10) to 349 (8/16), or 150 point down leg, exhibited bearish/corrective form. If my perception of the bearish form is reasonably accurate, then all of the action for the past 3 weeks has been a recovery rally-- albeit a powerful one, that is setting up EITHER another 150 point secondary decline to complete a larger corrective process in MRNA, OR some sort of high-level Coil type of digestion period and pattern atop the huge advance from its 54.21 low 12 months ago. The one scenario that seems the least likely to me is MNRA in a new upleg off of the August low that is destined for new ATHs. We shall find out in the hours directly ahead."
September 9th and Mike's prescient warning to our members turned out to be the high of an "intervening recovery rally" prior to a relentless period of MRNA weakness (135.98 points so far) into last Friday's low at 323.41.
Where is MRNA headed next?
As Mike told members on Friday, "Notice on my 4 Hour Chart that the new corrective low was confirmed by 4 Hour Momentum, suggesting strongly that MRNA still has unfinished business on the downside into lower-low territory, closer to my 300 target, where I will be looking for a technical upside reversal signal to indicate the larger correction off of the August high at 498.60 is complete."
MRNA closed last Friday at 339.00, a full 25% beneath its 9/09 "intervening rally peak when Mike reiterated his concerns about the stock. According to Mike's work, MRNA still remains vulnerable to additional weakness in the upcoming hours and days, but the weakness is nearing critical support that could provide a significant corrective low.
Join Mike and our members for follow-up analysis and conversation about MRNA this week, as well as Mike's analysis of many names, ETFs, macro indices, cryptocurrencies, commodities et al.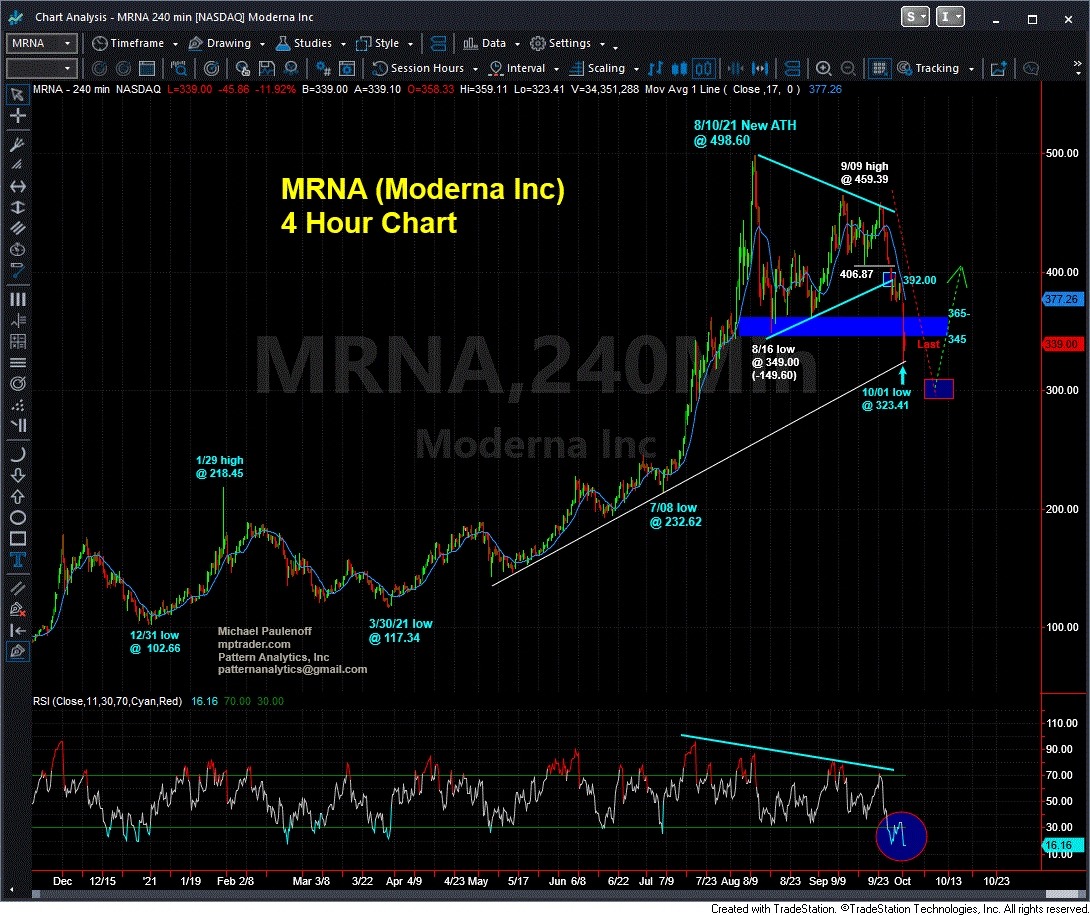 ---
More Top Calls From Mike