Calling The Inverse Moves In Gold & USD
Over four months ago, on October 4, 2022, Mike Paulenoff alerted MPTrader members to potentially bullish rumblings in the Gold market (GLD ETF) in a brief room post titled, "What Am I Thinking About the Precious Metals and Mining Complex?"
Mike wrote:  "For the first time in who-knows-how-long, the stars just might be aligned for 1) Weakness in the US Dollar (DXY)... 2) a meaningful recovery rally in Gold (GLD)." 
Along with his comment, Mike posted a weekly chart of GLD that showed what he interpreted as a completed major corrective process off of the August 2020 high at 194.45 into the November 2022 low at 150.51, and the initiation of a new up-leg in GLD that will be preceded and propelled by a sustained and significant downside reversal of the US Dollar into an intermediate-term downtrend. 
Fast-forward through the subsequent 12 weeks and multiple updates from Mike about intensifying weakness in the Dollar concurrent with strength in the precious metals complex that culminated with the DXY priced last Thursday at 101.84, a full 8% lower than Mike's early October heads-up to members, and with GLD circling 180, up 12.5% from 160 in October. 
At that point, Mike posted the following analysis for MPTrader members: 
"If the US Dollar (DXY) has reached a condition of downside exhaustion after a relentless 4-month, 14% bear phase, then the tailwinds that a down-trending Dollar provided for a buoyant precious metals and mining complex will dissipate or disappear altogether, thus removing a very positive influence on metals and miners. While such a condition could be developing now, for anyone who wants price levels to dictate their risk management behavior rather than diminishing or disappearing (DXY) tailwinds, then market directional decisions should ONLY be taken if 1) DXY climbs through and above 102.75 (from the current level of 101.47)... 2) GDX breaks below support from 31.20 to 30.15... 3) SLV breaks below 20.90... 4) GLD breaks below 176.70 (last is 178.63)."
In reaction to Friday's shockingly strong Jobs Report, the DXY rocketed 1.3%, putting intense pressure on GLD, which plunged about 3%, extending the decline through Mike's line-in-the-sand nearest support level at 176.70 that he identified for MPTrader members in Thursday's post about the budding "inversion" of the DXY-GLD relationship (see the 4-hour GLD chart below).
What's next for the precious metals complex (GLD) and the US Dollar (DXY)?  Was Friday's outlier Jobs Report an aberration or a stubborn reminder that the jobs market is very hot and too tight for the Powell Fed to "cave in" to demands from the bond market?  Login this week and join Mike and MPTrader members for their intraday, ongoing discussions about the macro fundamentals along with analysis of the technical, opportunistic setups in GLD, GDX, SLV, and WPM, to mention just a few of the names in the precious metals complex on Mike's Coverage List, as well as in-depth discussion of numerous individual stocks, ETFs, names in the earnings spotlight, macro index ETF, commodities, and Bitcoin.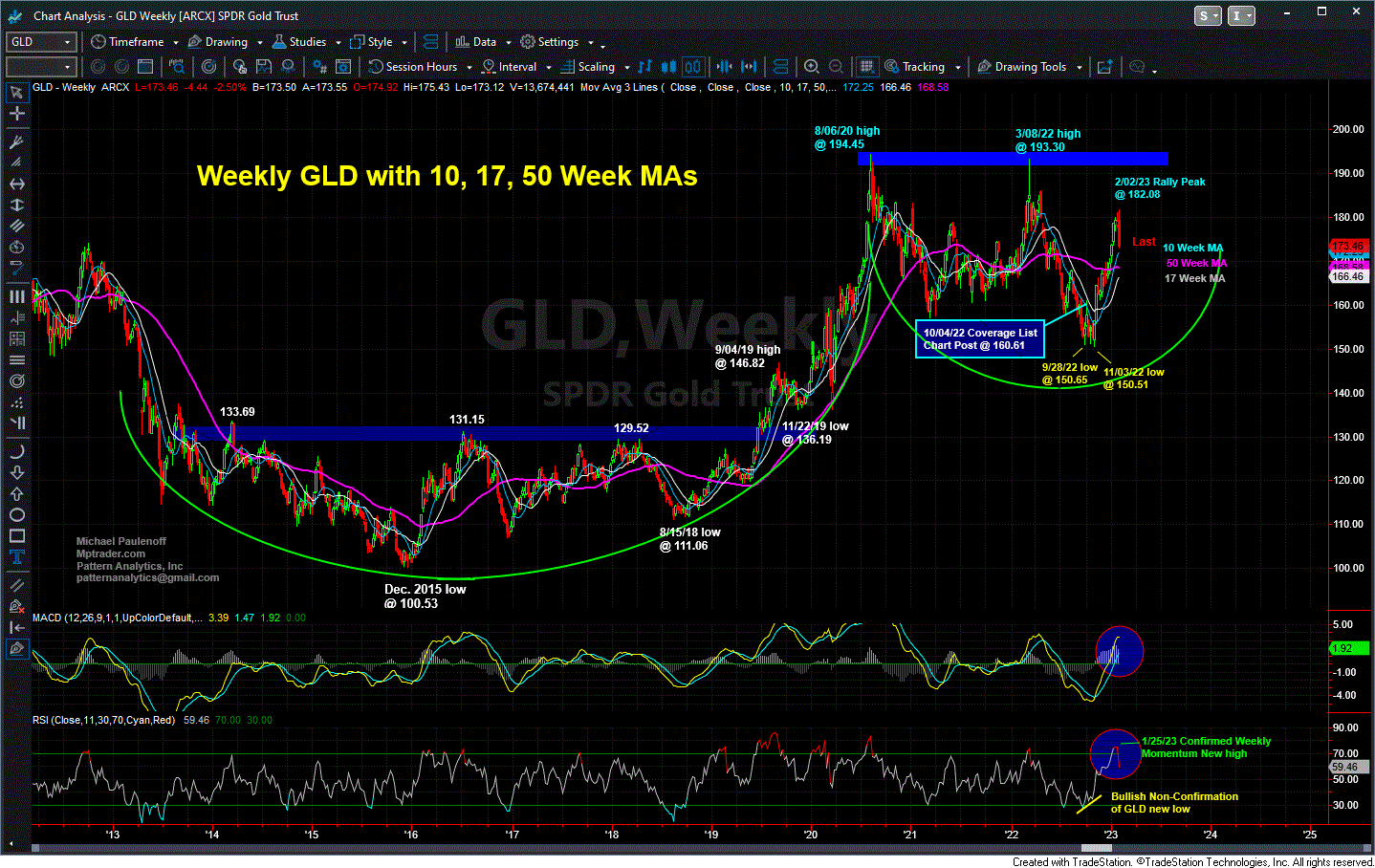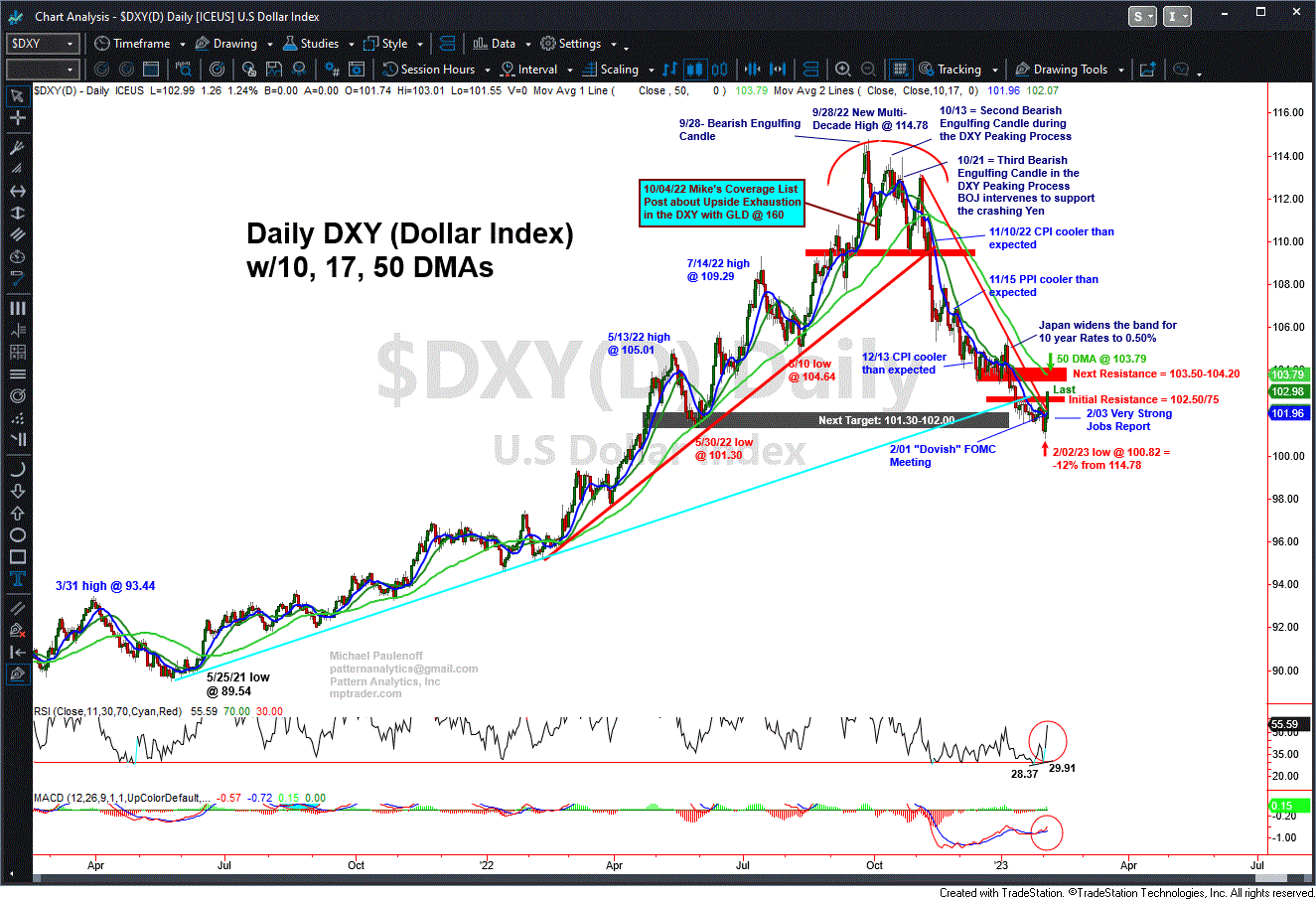 ---
More Top Calls From Mike