Calling Zoom's December Correction
On the evening of November 30, after Zoom Video Communications (ZM) reported earnings, Mike Paulenoff cautioned MPTrader members about the stock;
"My pattern work argues that ZM started a major correction off of its 10/20 all-time high of 588.54 into the 11/10 low at 366.28. The rally from the 11/10 low at 366.28 to today's high at 487.79 (+33%) to my mind represents an intervening recovery bounce prior to a second bout of weakness that completes the larger corrective process. Inability of ZM to react positively to earnings and to climb above resistance at 488 to 516 will keep intact my still 'incomplete correction' scenario."
ZM was trading at 454.80 at the time, and as we know that stock closed the year at 337.32, down 25.8% from Mike's Nov 30 alert.
Mike posted multiple follow-up chart updates during early December to keep our members informed about the developing technical set up in ZM, overlaid with discussion about Zoom's price behavior in relation and in reaction to the advent of an efficacious Covid vaccine sooner than later.
On December 4, with the stock trading at 412.10, he told MPTrader members:
"My near- and intermediate-term work continues to warn me that ZM has unfinished business on the downside, into the 375-366 optimal target zone, where I will be looking for downside exhaustion and/or upside reversal signals."
Fast-forward to last Friday, December 31, and this is what Mike's pattern and momentum work was informing him about the price trajectory of ZM:
"We see that not only has ZM followed the 'unfinished business to the downside' scenario, it has pressed beneath my next lower optimal target zone of 375-366 to today's low at 341.20, and in so doing, has triggered a much more bearish scenario delineated on my attached chart. Inability of ZM to claw its way back above 375-390 resistance leaves in place downside potential derived off of the Sep-Dec distribution Top Formation, that projects to 250-230, and if violated, possibly to 160-140."
Join Mike at the outset of 2021 to monitor his opportunistic, strategic, and tactical work on ZM and many other stocks, indices, ETFs, cryptocurrency, and precious metals on the MPTrader Coverage List, as well as the always valuable, actionable exchange of ideas discussed in our Trading Room.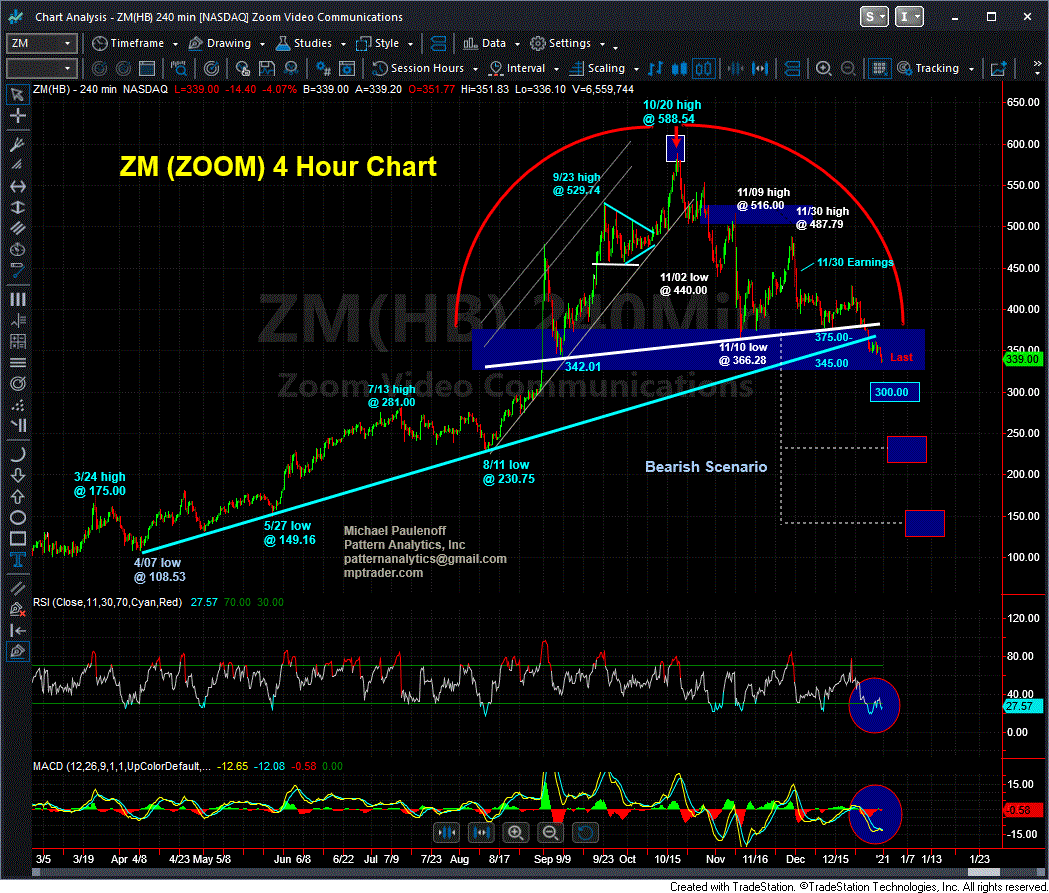 ---
More Top Calls From Mike