Caution Alert For Apple
Last Wednesday (July 14), with AAPL trading at 148.65 but off of its new all-time high at 150, Mike Paulenoff alerted MPTrader members to potentially consequential yellow caution flags emerging in his technical setup work.
Mike wrote:
This morning, JPM raised its Target Price to 175, one day after Citigroup raised its Target Price to 170. Do I hear 180... 185? Crickets at the moment. The Street is falling all over itself in its bullish view of AAPL. Of the 42 Wall Street analysts who cover Apple (and are monitored by Seeking Alpha), 32 are Very Bullish or Bullish, 7 are Neutral, and 3 are Bearish or Very Bearish. Clearly, The Street's love affair with AAPL continues unabated.
That said, to raise a Target Price atop a 20%+ up-move in just the last 8 weeks certainly takes nerve, but might not be the wisest move from a nearer term technical perspective.
AAPL hit a new ATH at 150 this AM, but acts tired, and as we discussed yesterday, exhibits glaring Momentum divergences that suggest the June-July portion of its up-leg is exhausted, and is in need of a rest or pullback. I am watching 145.80. If violated and sustained, my work will trigger initial signals that AAPL is entering a corrective period. Downside follow-through to and beneath 143.35 will exacerbate the selling pressure towards a retest of the 140 to 138 prior upside breakout plateau.
Fast-forward to Friday's close, and we find AAPL ended last week at 145.92, off of an intraday low at 145.88, which does not leave much of a cushion above Mike's next lower "line in the sand" at 145.80.
Apple is scheduled to report earnings on Tuesday July 27th after the close. Given the stock's precarious near-term technical position as of Friday's close (see our chart), we should be mindful of AAPL weakness ahead of earnings.
A "healthy" pullback of 7% to 10% off of the recent all-time-high at 150 projects an optimal target window of 135 to 140 ahead of earnings.
Join us in our MPTrader discussion room for Mike's ongoing intraday analysis of AAPL, as well as many other stocks, ETFs, macro indices, cryptocurrencies, commodities that are of interest to our members.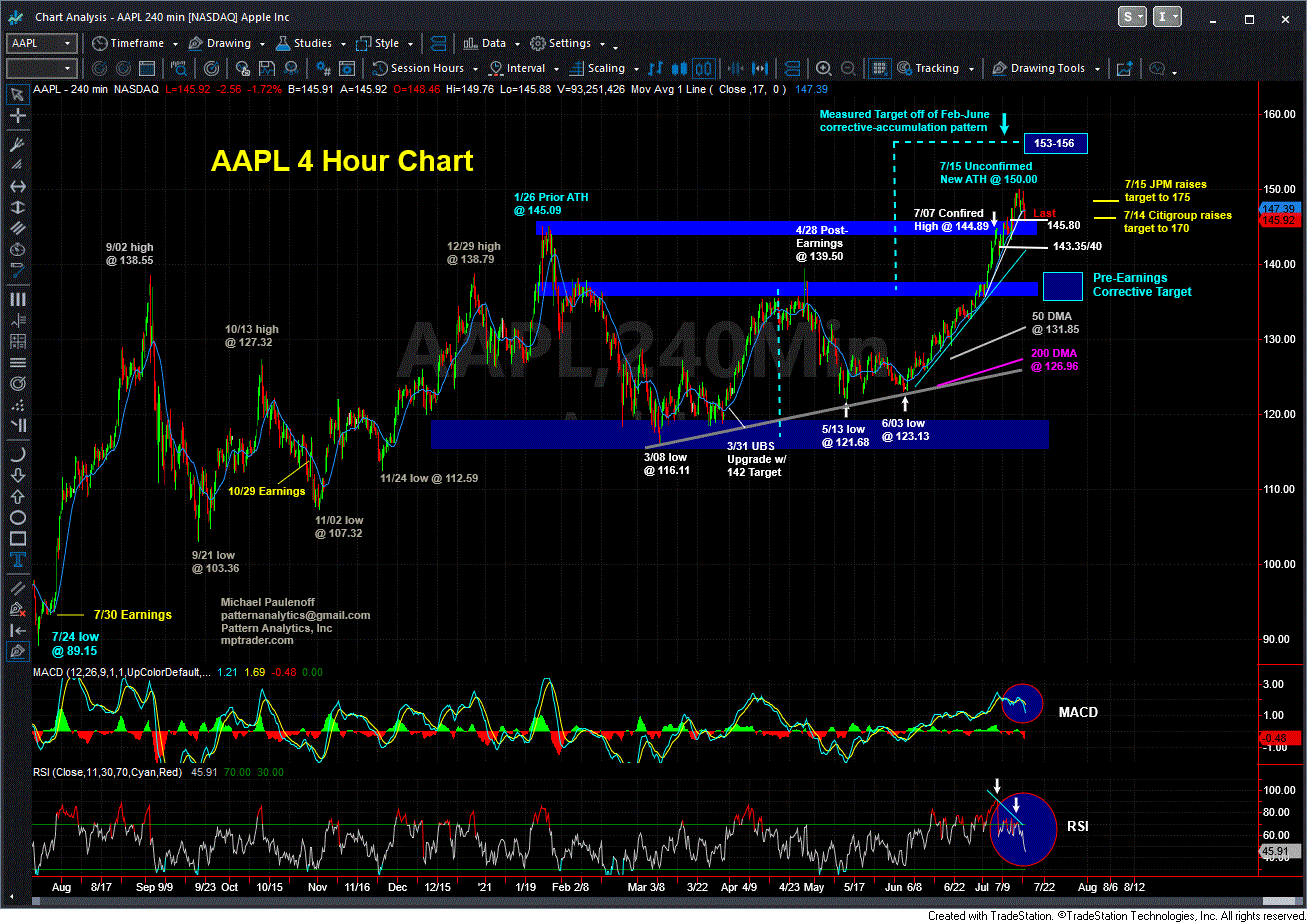 ---
More Top Calls From Mike