Charting The Turns In ChargePoint (CHPT)
On August 8, Mike Paulenoff was asked for chart analysis on CHPT by an MPTrader member.
Before the opening bell, Mike responded with the following chart-based commentary:
"CHPT (ChargePoint Holdings) is getting a lift from the so-called Inflation Reduction Act mostly because of the feel-good reaction to the $7,500 electric vehicle tax credit (if you can afford to buy an EV in the first place) as well as earmarked funds supposedly heading for building out charging station infrastructure. This AM, CHPT gapped up and over its 200 DMA for the first time since early April in what has the right look of an initiation breakaway up-gap into a new upleg that projects to 18-19 next.... last is 16.82."
Over the course of the following week, CHPT rocketed to Mike's initial target zone of 18-19, hitting a high of 19.27 on 8/15/22, a gain of 14.6%.
During the subsequent four weeks, Mike frequently updated and posted his chart work on CHPT in anticipation of another opportunistic technical setup, helping mptrader members navigate a high-beta, very volatile name that has a promising underlying fundamental backdrop.
On August 31, in response to another MPTrader member inquiry, Mike posted the following missive during the first hour of trading:
"CHPT (ChargePoint Holdings) is on a tear this AM in reaction to last eve's better-than-expected earnings report... Technically, the upside thrust has hurdled both the 200 DMA (16.48) and the prior rally high at 16.05, triggering higher projections to 17.85 and then 18.70 next, perhaps in route to filling the down-gap left behind back on April 4-5. As long as any forthcoming pullback is contained in the vicinity of the 200 DMA (now considered support), CHPT looks promising for a run at retesting its August high-zone from 18.85 to 19.25... Last is 16.42 off of an intraday high at 16.94."
------------------------------------------------------------------------------------------------
Overheard This Week On MPTrader:
"Mike- another excellent guidance week. The numbers cant be better, they were the best. I along with other subs greatly appreciate the work that goes into finding the levels. Excellent. I hope everyone pocketed some coin..." --FJB
------------------------------------------------------------------------------------------------
Twenty-four hours later, on September 1, Mike again updated CHPT because the stock had ceased bucking the weakness of the overall market, and joined the post-Jackson Hole downdraft in the equity indices in reaction to Fed Chair Jay Powell's very hawkish interest rate policy speech.
"If CHPT was a good candidate for a (long side) trade during the first 30 minutes of trading because it exhibited a much better setup than the major equity averages, since then it has certainly nosedived its way into synch with the down-trending (major equity) indices. My attached Hourly Chart shows that CHPT has reversed sharply from 16.50 to 14.60, which is just above key near-term support along the late-August trendline that cuts across the price axis in the vicinity of 14.40/50. CHPT weakness needs to be contained at 14.40/50 down to 14.04 (the 8/23 pivot low) to avert technical damage that points to 13.00 and possibly to 11.20/50 thereafter. Anyone long CHPT should be aware that a break of support from 14.40 down through 14.04 likely will turn a short-term trading 'opportunity' into an 'investment position.' Last is 14.59."
As it turned out, CHPT weakness was short-lived and was contained above the 14.04-14.50 support plateau, prompting this post by Mike on September 2:

"The ability of CHPT to regain and close above the 200 DMA will be a very promising technical event and will argue for upside continuation to the 16.50-16.95 consequential prior-high resistance zone, in route to 17.85 next. Yesterday's low at 14.52 down to 14.28 remains critical support going forward ... Last is 15.71."
Fast-forward to this past week, on September 8, when Mike wrote:
"CHPT continues to act well after multiple tests of support in and around 14.00. Today's strength has taken out the prior rally peak at 16.94 (8/31) which triggers a next target zone of 17.80 to 18.10... last is 17.10."
Last Friday afternoon (9/09), CHPT hit a high at 17.88, right in Mike's projected target zone in the aftermath of the early September nosedive to test support at 14.22, a climb of 25.7%, and 6.3% above Mike's initial August 8 commentary.
Although CHPT price action has been on a rollercoaster ride since early August, the technical setup has proved vital to MPTrader members interested in the name, helping them make informed risk management decisions during a volatile period.
Mike's constant, dynamic analysis of CHPT proved invaluable to members along the way, providing them with information and confidence to pursue (or not) a position in the name, as well as in many many other individual stocks, ETFs, market indices, commodities, and Bitcoin discussed throughout every trading day. Join Mike and Mptrader members for their discussions about markets and actionable opportunities ahead of and in reaction to Tuesday's consequential August CPI report!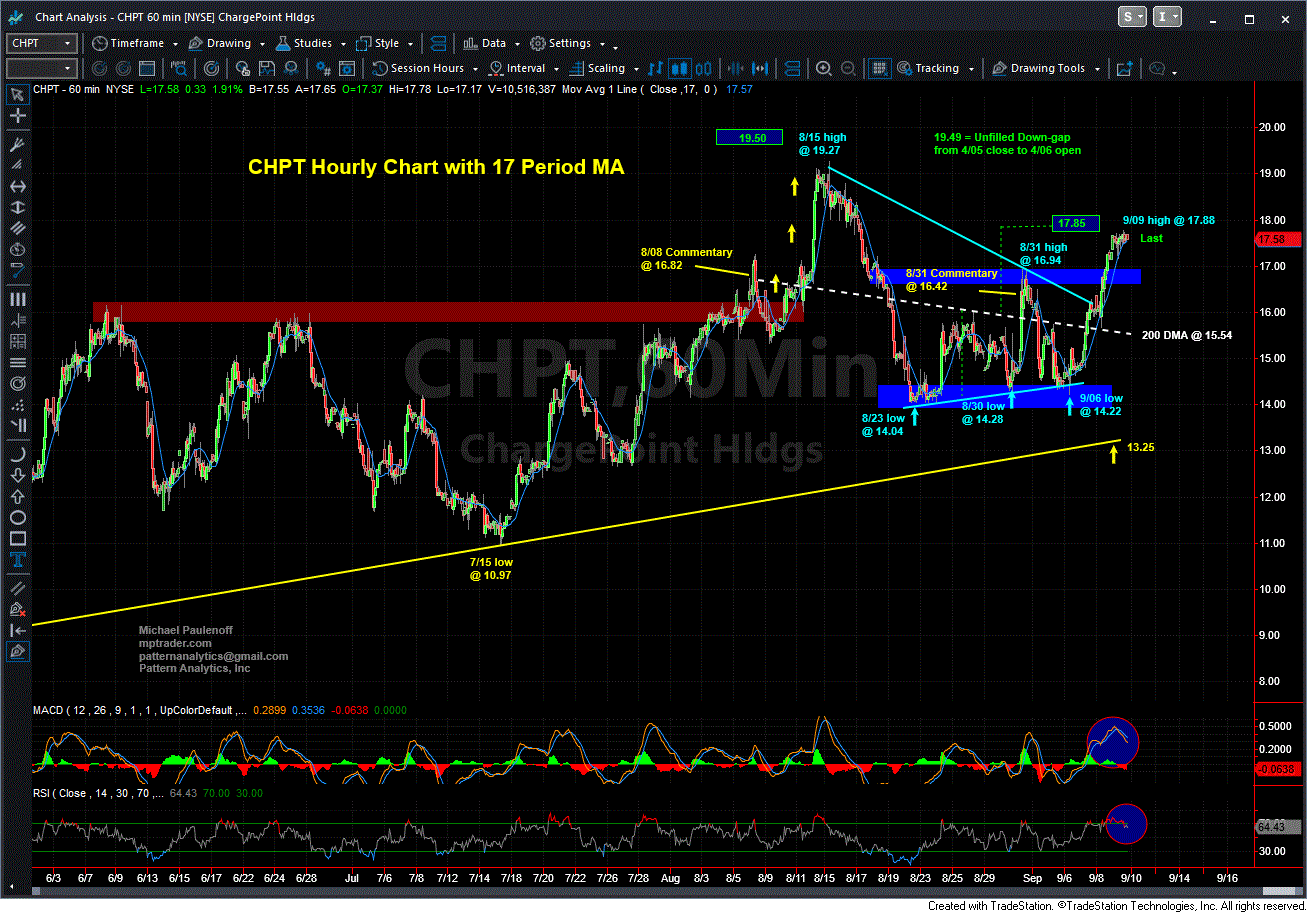 ---
More Top Calls From Mike