Chronology of a SPY Technical Setup Into Option Expiration
On Monday morning, November 13, 2023, a full 5 trading sessions before the approaching November Options Expiration (OPEX) (11/17/23), I posted my chart-based commentary for our members:
SPY-- Considering that Friday is November Option Expiration, where are the "magnetized strike prices" as we start OPEX week? Based on my attached Hourly Chart, the magnetized strike price zone spans from 436 to 441. Should SPY take out the upside barrier of 441, then the follow-through outlier magnetized target could be as high as 450 before or on Friday. Conversely, should SPY slice beneath the downside barrier of 436.40, it will be vulnerable to follow-through into the 433 target level that will test the prior pivot low from last Fri. AM (11/10)... Last in SPY is 438.67
...
Twenty-four hours later, on Tuesday morning (11/14/23) just minutes after the release of a much cooler-than-expected CPI Report, I posted a follow-up chart-based SPY comment: SPY-- Okay then!  SPY is on the way to a "magnetized 450 Strike Price" ahead of or into Friday's November monthly Expiration... Last is 445.73...
The powerful 2% upside thrust in reaction to the CPI data created enough additional upside momentum and tailwinds to buoy and "levitate" SPY for the rest of the week, from Tuesday morning into Friday's expiration during which time SPY hit a high of 451.76, more than satisfying my "magnetized upside OPEX Strike Price" target of 450 discussed with MPTrader members during the first trading session of last week. From the time of my pre-market update on Monday morning, with SPY priced at 438.68 into Wednesday's high @ 451.76, SPY gained 3%. (Continued below the charts I posted last Monday, Tuesday, and Friday)...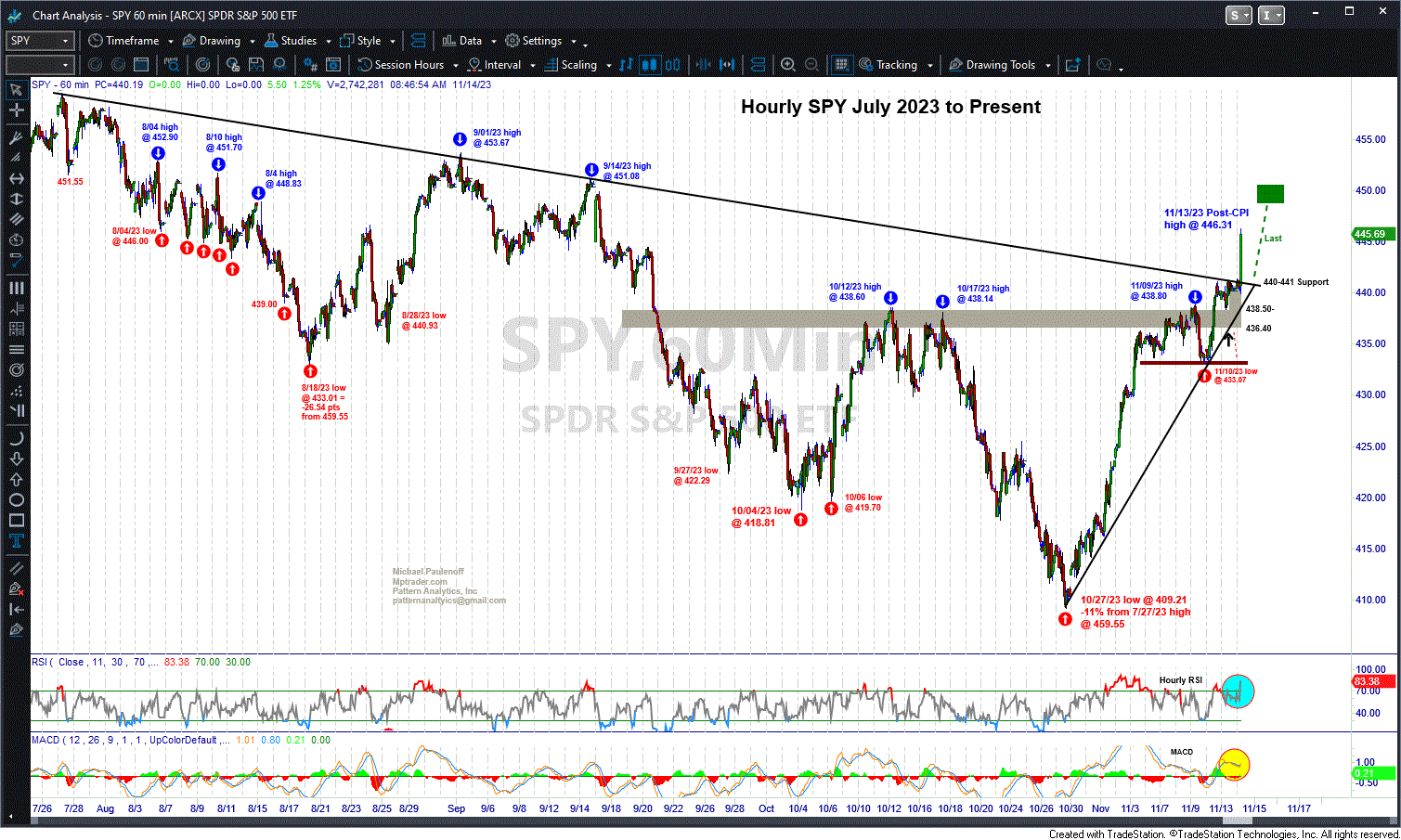 What's next for SPY now that November OPEX is in the rearview mirror? Will the customary bullish Thanksgiving week seasonal-- and perhaps a positive reaction to NVDA earnings after Tuesday's close) continue to support SPY atop a 10.4% near-vertical advance just since October 27th, or will "gravity" and profit-taking emerge to outweigh the overwhelming tendency for equity prices to climb into and after the Thanksgiving Holiday?
Join me and MPTrader members for their continuous, actionable intraday technical and fundamental discussions of SPY, as well as many individual stock names, sector ETFs, macro indices, commodities, precious metals, and Bitcoin... 
---
More Top Calls From Mike