Devon Energy (DVN) Closely Follows Our Technical Script
On October 6, Mike Paulenoff posted this alert about Devon Energy (DVN) to MPTrader members:
Based on the very powerful pattern carved out from the 2020 low at 6.93 to the June 2022 high at 79.40, all of the action during the past four months represents a bullish digestion period of the 19-month upmove that should resolve itself in a thrust into a new upleg that projects above 79.40 to 85.00+.
If the four-month digestion pattern has taken the form of a bullish Triangle, and based on the "typical behavior" of a Triangle ... DVN should stall and roll over beneath key next resistance at 73.50-75.27 and pull back... to satisfy the final traverse across the range ahead of an explosive upmove.
In Theory, such a scenario or a modified version of this bullish scenario is what I am expecting for DVN. However, if DVN continues higher and takes out resistance at 73.50-75.27, then it will be poised for upside continuation directly to new ATHs...
... The bottom line is that DVN is in the grasp of an extremely powerful intermediate-longer-term bull trend. Maybe waiting for a pullback... will turn out to be a perfect strategy, but doing so also risks missing the 20% upmove if DVN just keeps on climbing... Last is 72.42...
During the 11 trading days following Mike's post, DVN has closely followed his technical script, first pulling back to the October 10 low at 67.14 (-6.2%) and then embarking on a new upleg that climbed and closed above the dominant June-October upper Coil resistance boundary line last Friday (see chart).
DVN closed at 74.29 Friday, up 2.6% from Mike's alert, and based on its current technical setup, is poised for upside continuation to challenge and take out the June high at 79.40.
What is in store for DVN (and the larger Energy Sector) after last week's impressive upmove from 68.62 to 74.38 (+8.4%) and ahead of the company's release of Q3 earnings after the close on November 1? Join Mike and our members for their constant intraday discussions about Energy as well as other Sector ETFs, individual Equity names, Macro Indices, Commodities, and Bitcoin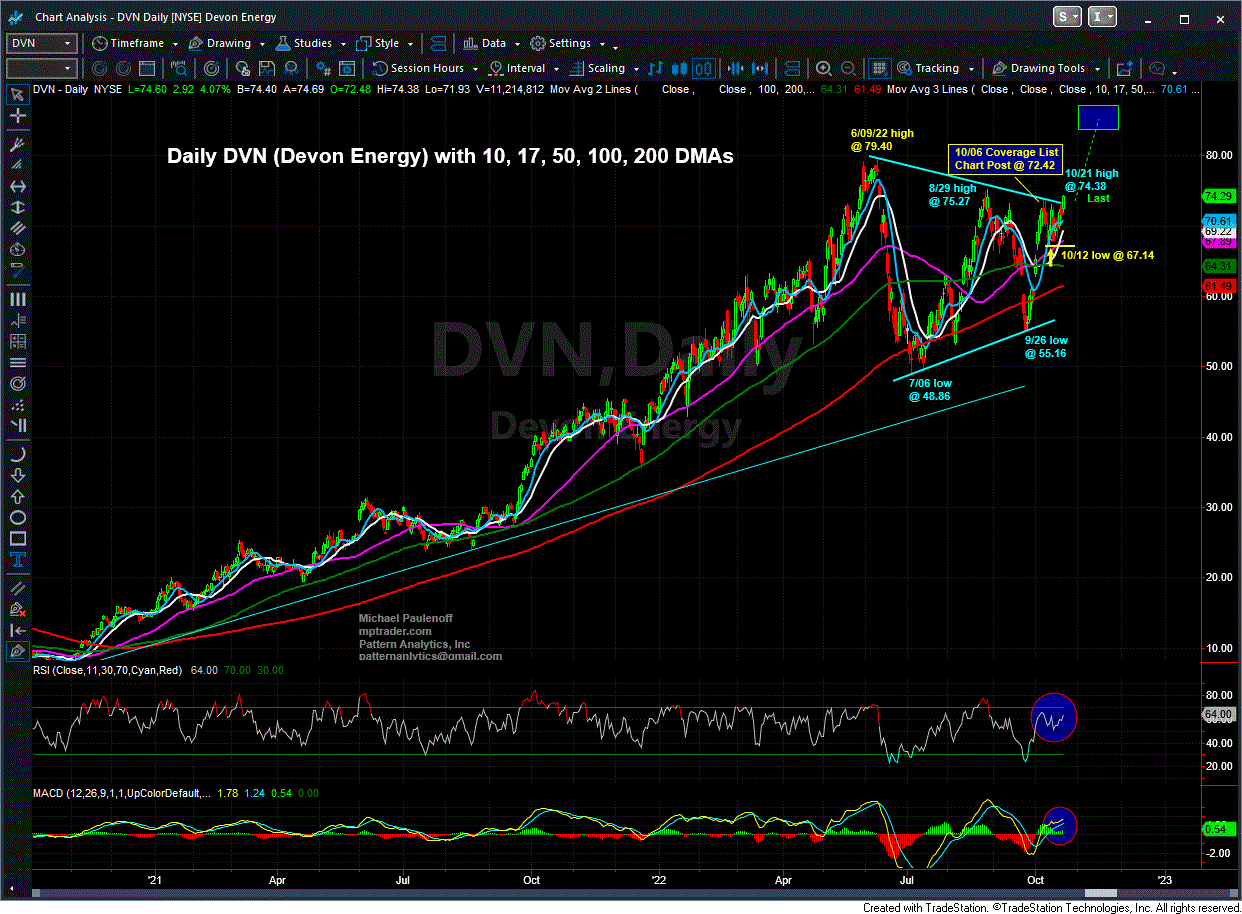 ---
More Top Calls From Mike