Exceeding Our Targets On TSLA
Last Thursday after the close, GM announced it is following Ford's lead in its intention to manufacture EVs that will utilize TSLA's charging technology and network. The news triggered an after-market up-spike of 6% in TSLA shares from 235 to 249, which positioned TSLA 13% above its June 6th price of 220 and a whopping 63% above its April 26th corrective pivot low!  
The news-related surge to 249 also represented a 50% gain from Mike Paulenoff's May 15th heads-up to MPTrader members.
Mike's mid-May technical setup in TSLA forewarned our members about a multi-month base accumulation pattern that was anticipating a new up-leg. Although the background story for and justification of such a powerful up-move was unknowable at the time, Mike's charting experience and pattern recognition analysis showed why technical analysis is so very important to the investment decision-making process:
Back on May 15, 2023, with TSLA trading at 166.40 (last is 249.51), this is what Mike discussed with MPTrader members: 
"Purely from a technical perspective-- despite Soros apparently selling his stake in the company, despite naming a new CEO of Twitter, and ahead of whatever Musk might say to CNBC's David Faber in their forthcoming interview tomorrow eve after Tesla's Annual Meeting, my near and intermediate-term setups argue strongly that TSLA completed a significant Feb.-Apr. correction (217.82 to 153.21), and has since exhibited bullish form indicative of a bottoming process ahead of the emergence of a powerful upleg. From a nearer-term perspective, the upmove from the 4/26/23 low at 153.21 to last Fri's (5/12) high at 177.38 displays bullish characteristics, and as such, current weakness should hold 158-160 prior to my expectation of renewed strength that makes a run at 195-200 next... Last is 166.40."
Fast forward three weeks, we find TSLA has exploded above its 8-month resistance plateau at 200-220, triggering upside targets from 232-238 (minimum objective) to as high as 302-310 (maximum target derived from the potential implied by the multi-month base formation). 
Mike's first target zone of 232-238 was met last Thursday, after which Mike alerted our members:
"While the larger setup in TSLA calls for considerably higher prices (see my attached 4-Hour Chart), the structure of the upleg from the 4/26/23 low at 153.21 into today's high at 233.33 looks complete, and as such, my work cannot rule out a pullback to revisit the upside breakout zone from 213 to 220 prior to launching into another upleg. As it turned out, GM's announcement sent TSLA right past "GO!" toward my next optimal target zone of 268-272 as the potential of the multi-month base formation fulfills its upside destiny. Any forthcoming weakness should find support from 232 to 220... Last is 248.66 off of a pre-market high at 25020."
Last Friday, TSLA closed at 243.88, up 3.8% but already down 3.4% from the intraday, multi-month new high of 252.42.  Has TSLA peaked and rolled over into a correction? 
Login this week to join Mike and MPTrader members for their ongoing discussions of the technical and fundamental setups in TSLA as well as for many other individual stocks, ETFs, major market indices, commodities, precious metals, and Bitcoin.  The market's reaction to consequential and potentially significant Treasury auctions, CPI data, and Fed Policy Decisions no doubt will produce new opportunistic setups for MPTrader members.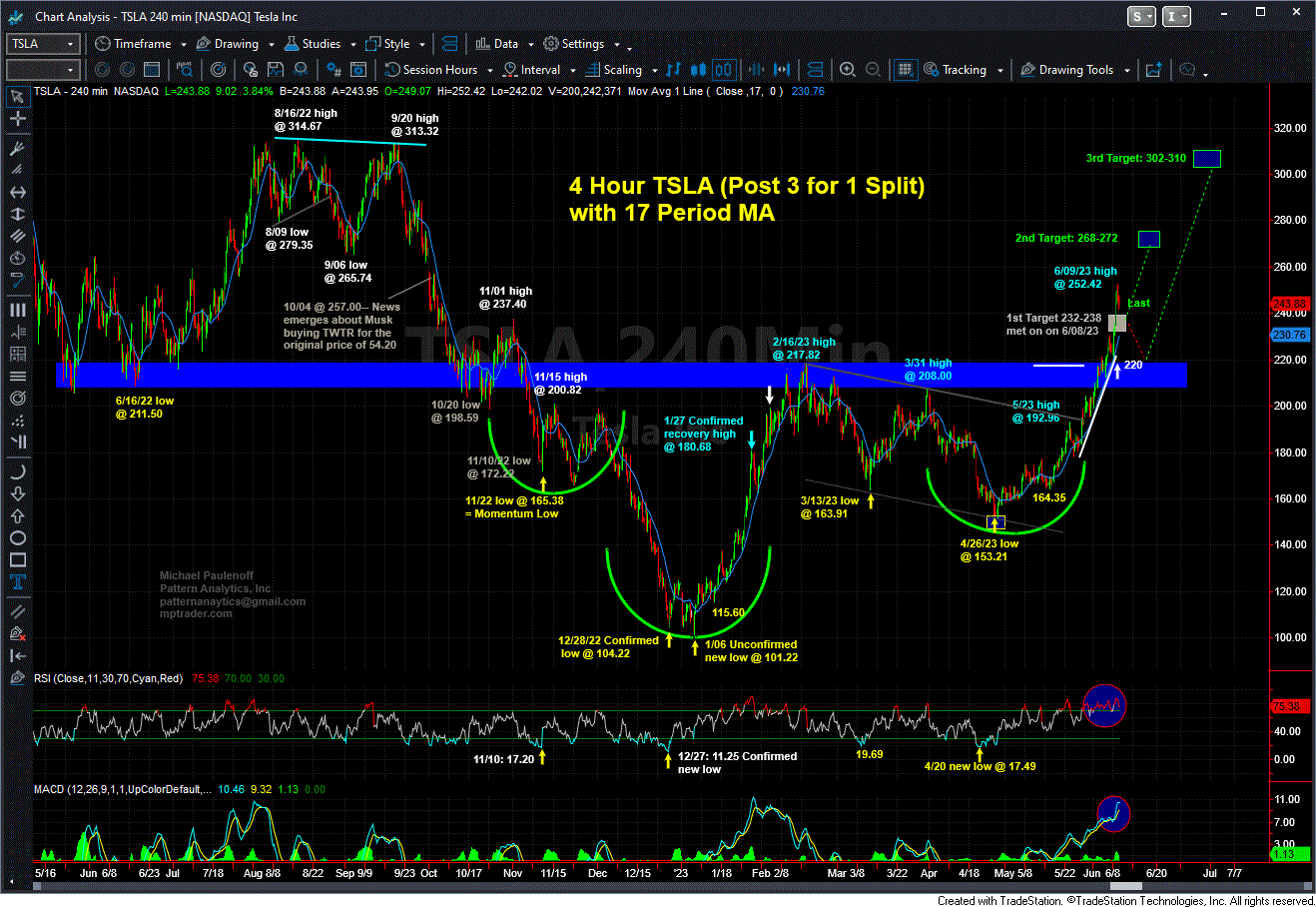 ---
More Top Calls From Mike