Eye On "Old-World" Value Play
Last Monday (Oct 31), Mike Paulenoff posted the following analysis of F (Ford) for our MPTrader members:
F (Ford) arguably has been in a bear-correction phase for all of 2022. However, one look at my attached 4-Hour Chart certainly makes me wonder if the May-October portion of 2022 represents a budding accumulation period and pattern ahead of a potentially powerful upside breakout heading into 2023.
I don't have the answer yet, BUT my rally pattern setup off of BOTH the May 17 and the Oct. 11 lows exhibits bullish form, and as such, I am definitely giving the benefit of the doubt to Ford realizing the upside potential implied by the multi-month accumulation-base formation.
That said, with F approaching a test of its 2022 down trendline, which cuts across the price axis in the vicinity of 13.60, the forthcoming behavior of F will provide us with clues about the strength and timing of any forthcoming challenge of the dominant bear trend... last is 13.15...
Admittedly, F is anything but a sexy, volatile name these days, especially when compared with the likes of TSLA or CVNA, both of which have been extremely volatile and relatively weak as well. F by contrast has been on a steady march higher for the past three weeks, climbing from its 11.02 low at 11.02 on 10/11/22 to 13.81 on 11/02/22 (+25%) while also paying a 3.3% dividend. In other words, F is an old-world "value" play that is providing increasingly compelling relative strength bases to gravitate to the name.
Another reason to be "friendly" to F in an otherwise treacherous equity market environment comes from the technical setup described above by Mike Paulenoff. The 4-Hour Chart below shows that at the end of this past week F was perched right at its 2022 down trendline amid accompanying confirming positive momentum indicators that argue strongly in favor of upside continuation toward a challenge of much more consequential resistance lodged from 16.00 to 16.50, where F will confront a 7-month ridge of resistance that if hurdled and sustained, will trigger considerably powerful upside target potential.
While Mike's analysis does not suggest F is entering a new bull phase, it does indicate that a sustainable counter-trend rally period is in progress that is only partially complete at Friday's close of 13.50, and as such, is a worthwhile candidate for a multi-week commitment for additional price appreciation of 20% to 40%.
Join Mike and our MPTrader members for our forthcoming intraday discussions about F as well as many other individual equity names, ETFs, Macro Indices, index futures, Commodities, and much more.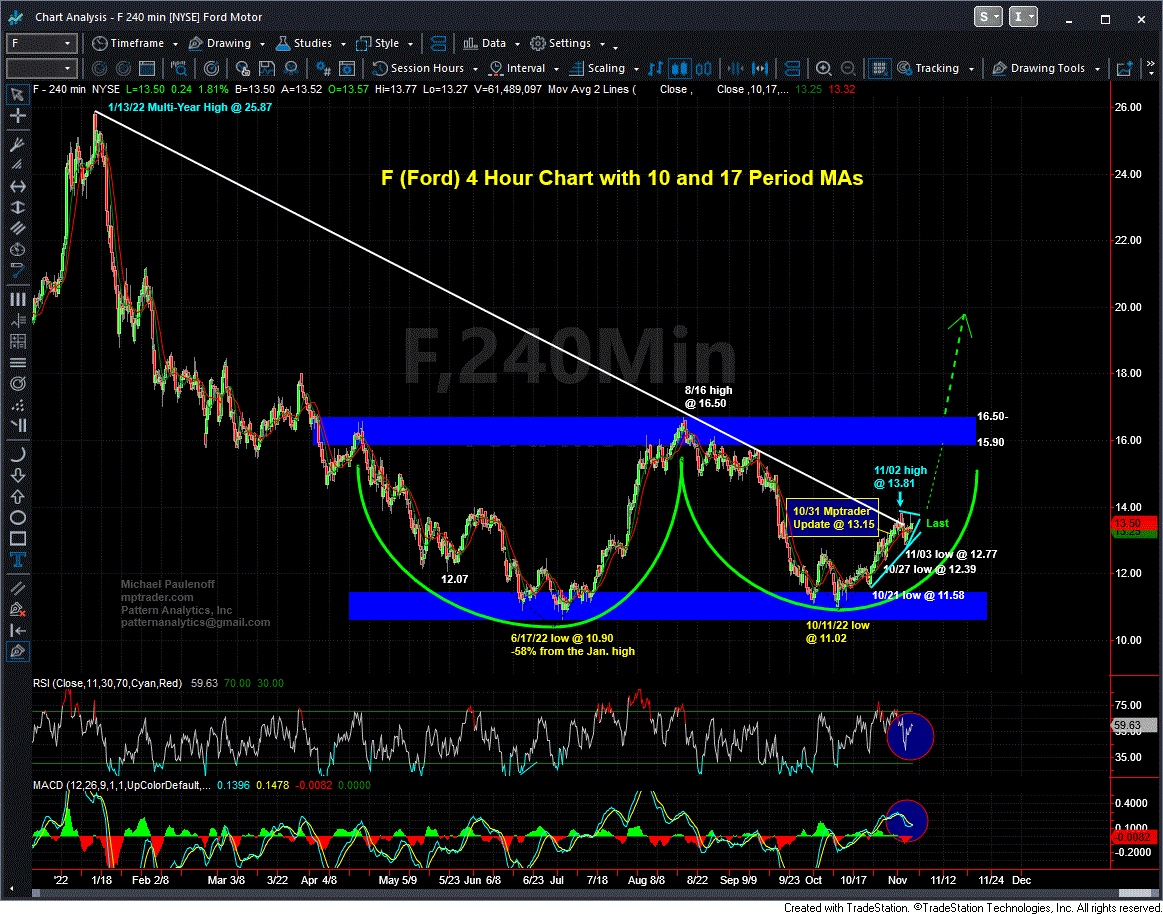 ---
More Top Calls From Mike