Eyeing A Rally In Raytheon (RTX)
This past Monday September 19, Mike Paulenoff alerted MPTrader members to an emerging setup in Raytheon Technologies (RTX), noting:
"One of the recurring themes I read about that threads through coverage of the Russian-Ukraine conflict is that the vast amount of materiel sent to Ukraine from NATO countries to help Zelensky and his army fight Russia is older equipment and weaponry that sooner than later will have to be replaced by the 'donating' countries. The big supplier of missile systems as well as other sophisticated offensive and defensive military equipment is RTX."
Mike subsequently described his technical setup, mapping out his approach to a potentially rewarding opportunity in RTX:
"My Big Picture pattern work argues that the advance from the March 2020 low at 40.71 to the April 2022 high at 106.02 (+160%) exhibited very bullish form, and as such, the weakness from the April 2022 high at 106.02 into last week's low at 83.29 represents a correction that so far amounts to a healthy 21.4%, AND according to my work is nearing completion. My optimal downside target zone is 79 to 81, which is the next zone from where my work is expecting renewed buying interest in RTX that will initiate EITHER a potent recovery rally into the mid-90's, OR the start of a new upleg in the longer-term bull trend for the stock projected to new high above 106.02, all of which will be reflective of heightened geopolitical tensions around the world and unfortunately, the likelihood of war breaking out elsewhere in the months ahead that will require RTX precision weaponry."
During the course of the week, RTX pressed from its then price of 84.74 to Friday's low of 80.76 (-4.7%), which was right in the optimal target window Mike noted in the alert, and then had a small recovery during the final hour of trading to close at 82.03.
What does Mike see next in his RTX setup? A fundamental geopolitical story is certainly unfolding in real time that provides a compelling backdrop for the US defense industry in general, and RTX in particular.
Join Mike as he analyzes the charts of RTX as well as a range of other stocks, ETFs, commodities and Bitcoin, while constantly scouring the markets, news, economic trends, and geopolitics for emerging themes and actionable opportunities.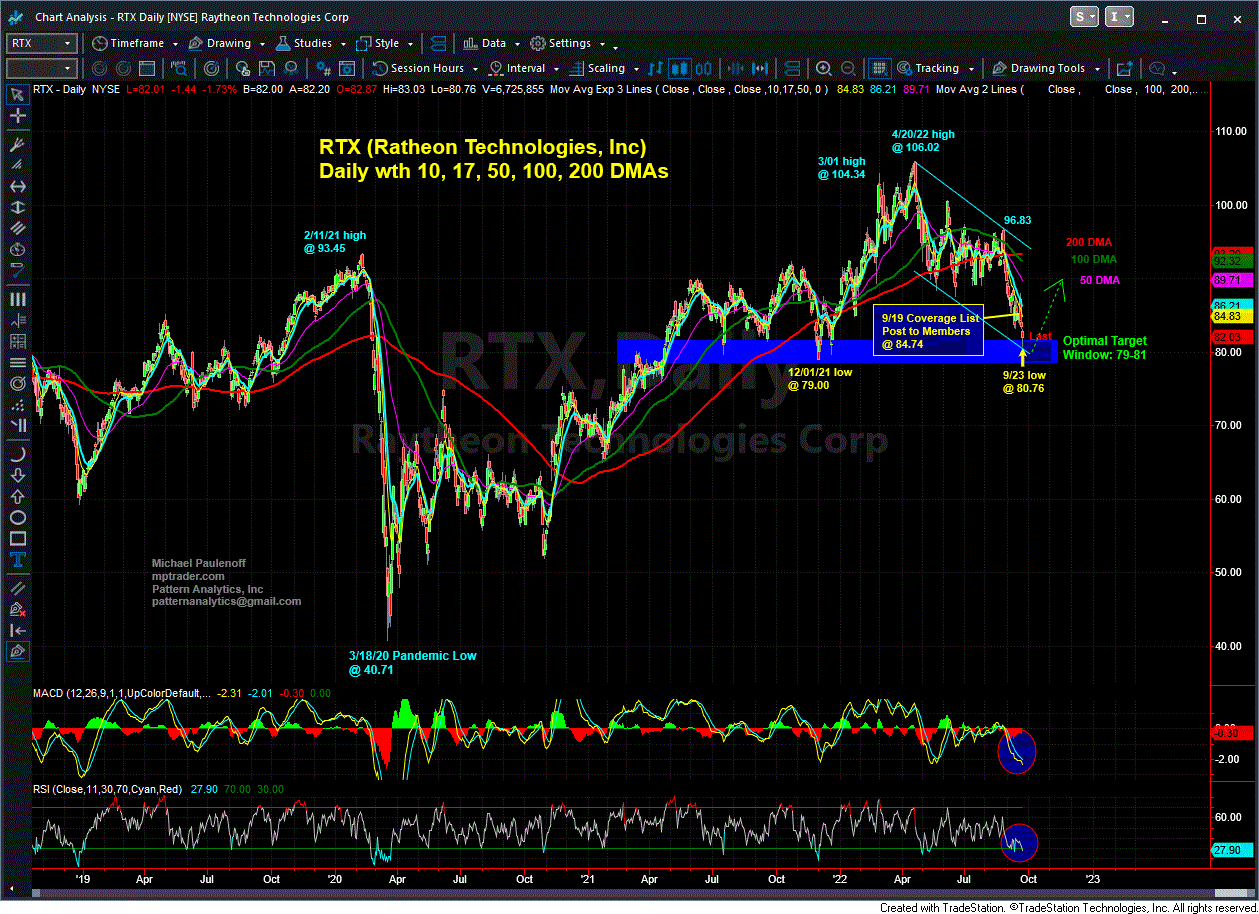 ---
More Top Calls From Mike