GLD Follows Our Anticipated Upside Reversal Price Path
On October 3, Mike Paulenoff posted the following "Heads Up!" about GLD (SPDR Gold Trust, ETF) for MPTrader members:  
"GLD has pressed to an important technical inflection window from 169.50 down to 166.30, from where I will be expecting corrective downside exhaustion off of the 5/04/23 high at 191.36, and new buying interest. From a nearer-term perspective, given the acute oversold but CONFIRMED Momentum reading of 17.16 an hour ago, my preferred scenario argues for another loop down that marginally violates today's low at 168.74 prior to my expectation of a tradable recovery rally... Last is 169.49..."
Within the subsequent 4 trading sessions, GLD closely followed Mike's anticipated upside reversal price path, initially pressing to a lower corrective low at 167.93 -- still within his optimal downside target window from 169.50 to 166.30 -- prior to pivoting powerfully to the upside, thereafter.
In fact, GLD has never looked back from its 10/06/23 low at 167.93 into this past Friday's high at 186.36. In the 19 trading days since Mike's alert to our MPTrader members, GLD has climbed $16.87, or 10%!  
What's next for GLD? Will its strength continue? Is the strength a function of a weaker US Dollar, or alternatively, a result of stubborn inflationary expectations, rapidly rising geopolitical tensions, or debt financing "gone wild?"  How about a combination of all of the above? 
Join Mike and MPTrader members ASAP for their continuous intraday discussions, chart analysis, and exchange of fundamental ideas on GLD, as well as on many individual stocks, sector ETFs, macro indices, commodities, and Bitcoin.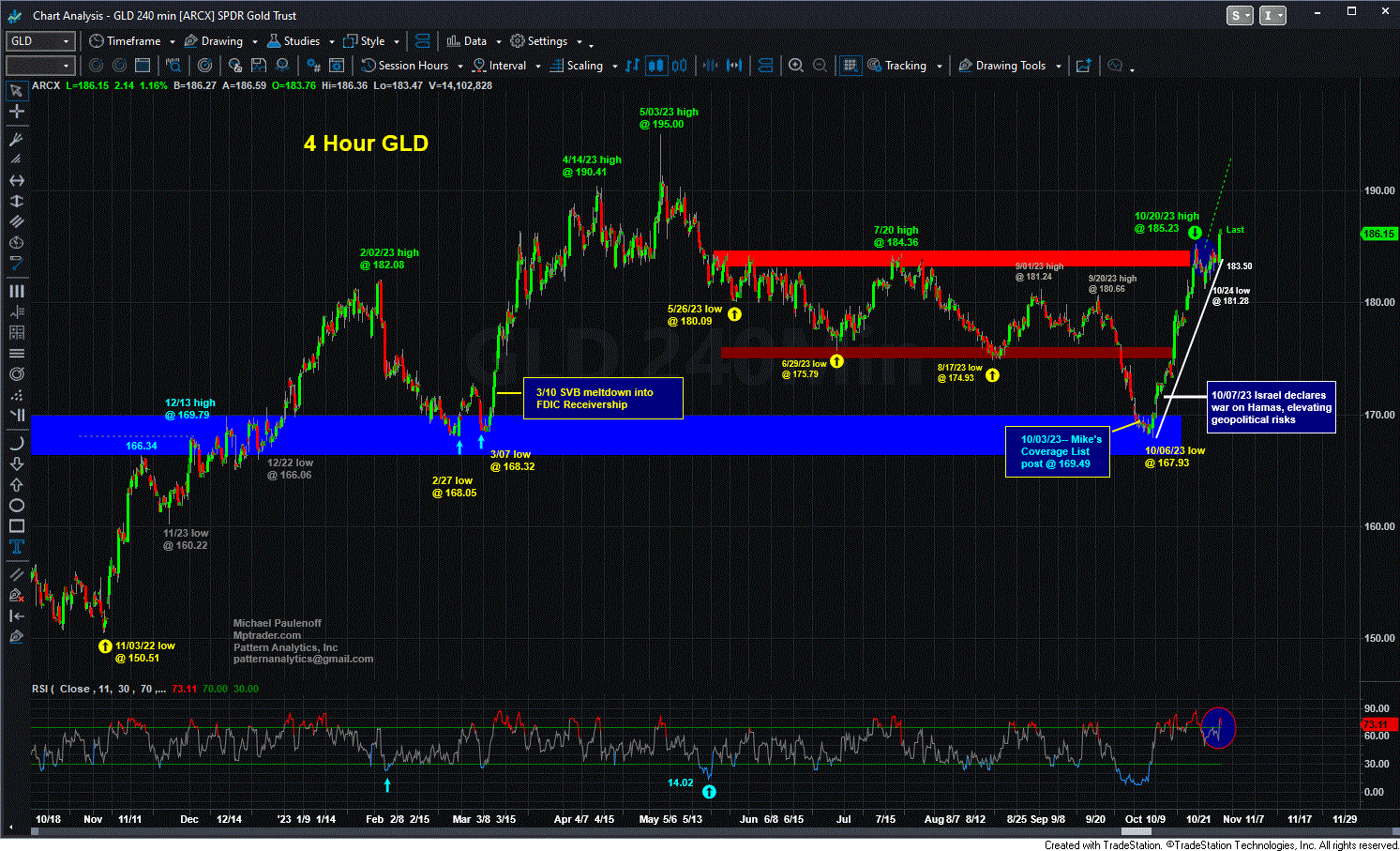 ---
More Top Calls From Mike