Getting The Jump On Energy ETF's 30% Spike ... What's Next?
Two months ago, on the afternoon of September 13, Mike Paulenoff brought to the attention of MPTrader members the intriguing and potentially opportunistic technical setup exhibited by the XOP -- the SPDR Oil and Gas Production and Exploration ETF.
Mike wrote: "I am not sure what the backstory is on this potentially very bullish technical setup will become (inflation, delivery problems, confrontation in the OPEC producing states, frigid winter in the US and Europe?), but one look at my attached Big Picture Chart suggests strongly that XOP has been under accumulation for nearly 2 years, 3 months, which has carved out a large inverse Head and Shoulders Bottom... XOP today is trading above ALL of my near and intermediate-term MAs, which are clustered together in a relatively tight area beneath the price structure, 'threatening' to propel XOP to the upside towards a confrontation with multi-year resistance at 98 to 100... if taken out, will trigger MUCH HIGHER PROJECTIONS for XOP."
The rest, as they say, is history! Within a week of Mike's "heads-up" to mptrader members, XOP was climbing sharply, a rally that spanned a 7-week period, and propelled the energy ETF to a 2-1/2 year high at 112.85 last Monday, a full 30% above the level XOP was trading (87.13) when Mike issued his "heads-up" technical alert.
What's next for XOP? Is the energy sector due for a pause? Will it participate and possibly drive a year-end rally in the benchmark indices? Join Mike and our MPTrader members for ongoing intraday discussions about energy and XOP, as well as many other stocks, macro indices, ETFs, cryptocurrencies, and commodities.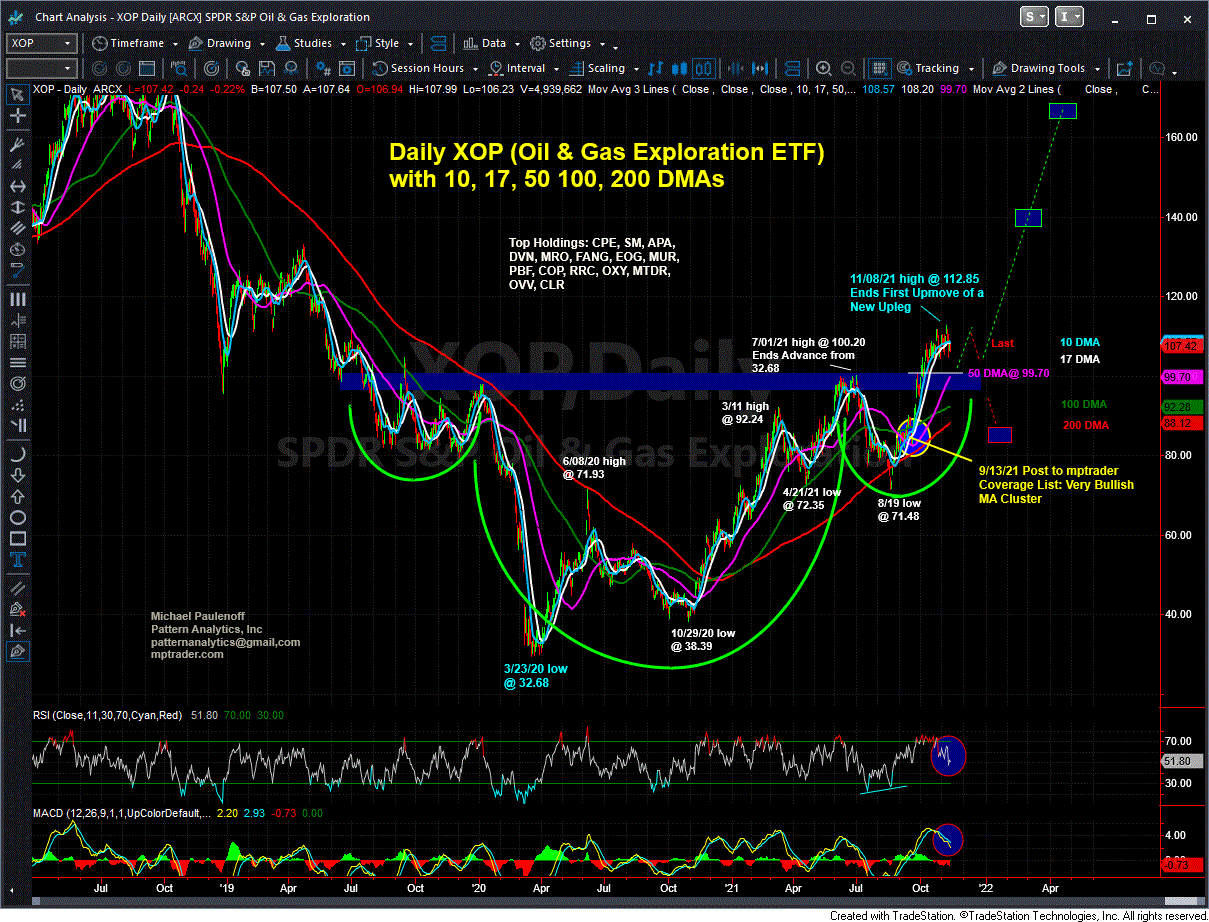 ---
More Top Calls From Mike