Getting The Jump On META's Move
For our Top Call this week, there were a number of candidates that we could have focused on -- such as TLT, GDX, WPM, SILJ, and SPY -- all of which performed very close to Mike Paulenoff's technical setup expectations discussed throughout each trading day. In the final analysis, we decided to focus on Mike's analysis of META.
On November 4, Mike posted to the MPTrader Coverage List what turned out to be a very prescient alert to our members about META (Meta Platforms), noting:
"I am not sure what might trigger an upside reversal, but my near-term technical work continues to warn me that all of the action (weakness) this week from 97.50 to 88.09 represents the final downmove of an exhausted multi-month decline. Once again, however, we have to remind ourselves that META needs to prove and confirm downside exhaustion by rallying above an important initial resistance zone, which hovers at 91.50-92.50. Unless and until 91.50-92.50 is hurdled, META will remain vulnerable to a lower-exhausted low that points next to 85.20/80... Last is 89.32..."
As fate would have it, within 48 hours, the financial press was reporting that META was planning large-scale job cuts that could impact thousands of company employees in an effort by management to regain control of corporate spending.
On the morning of November 7, Mike followed up with commentary accompanied by his detailed chart work:
"Bad news is good news (finally) for META, supposedly cutting thousands of workers to cut costs... which has goosed the stock 2.5%-3% in pre-market trading. Technically, my attached 4-Hour Chart shows current strength has climbed above my initial resistance level at 91.50-92.50, which needs to be preserved on a closing basis to trigger higher projections to 97.25, and thereafter, 105-107 in route to 116... Last is 93.33..."
Indeed, META did preserve prices above Mike's initial resistance zone of 91.50-92.50, which triggered preliminary near-term upside reversal signals that propelled META above 100 on the morning of November 9, 2022. Later that morning, Mike again alerted MPTrader members to the unfolding opportunity in META:
"META is following the near-term bullish script discussed earlier this AM... META has climbed to a new intraday high above 102.24 to 104.23, imbuing the upmove from the 88.09 low with bullish structure-- the first signal that a significant near and intermediate-term low has been established... last is 104.06..."
And then later in the afternoon of November 9, Mike wrote:
"At last Friday's low of 88.09, META was a full 77% beneath its September 2021 ATH at 384.33. Since last Friday, however, META has embarked on a cost-cutting campaign that has lifted the stock from 88.09 to today's high at 104.90 (+19%). Most importantly from our trading perspective, the 19% recovery rally exhibits bullish form, which greatly increases the likelihood of upside continuation to my next optimal targets of 109 and 116..."
Fast-forward to last Friday, META hit a recovery rally high of 124.04, a full 38.8% climb from the price level META was trading at on November 7 when Mike alerted MPTrader members to a potentially opportunistic technical and fundamental setup for the stock.
Where to next for META? Will it climb to completely fill the October 27 down-gap, and if so, what then? Join Mike and MPTrader members for their ongoing intraday discussions and analysis of META as well as many other individual equity names, indices, sector ETFs, macro indices, commodities, and Bitcoin to take advantage of opportunities to capitalize on potentially rewarding setups.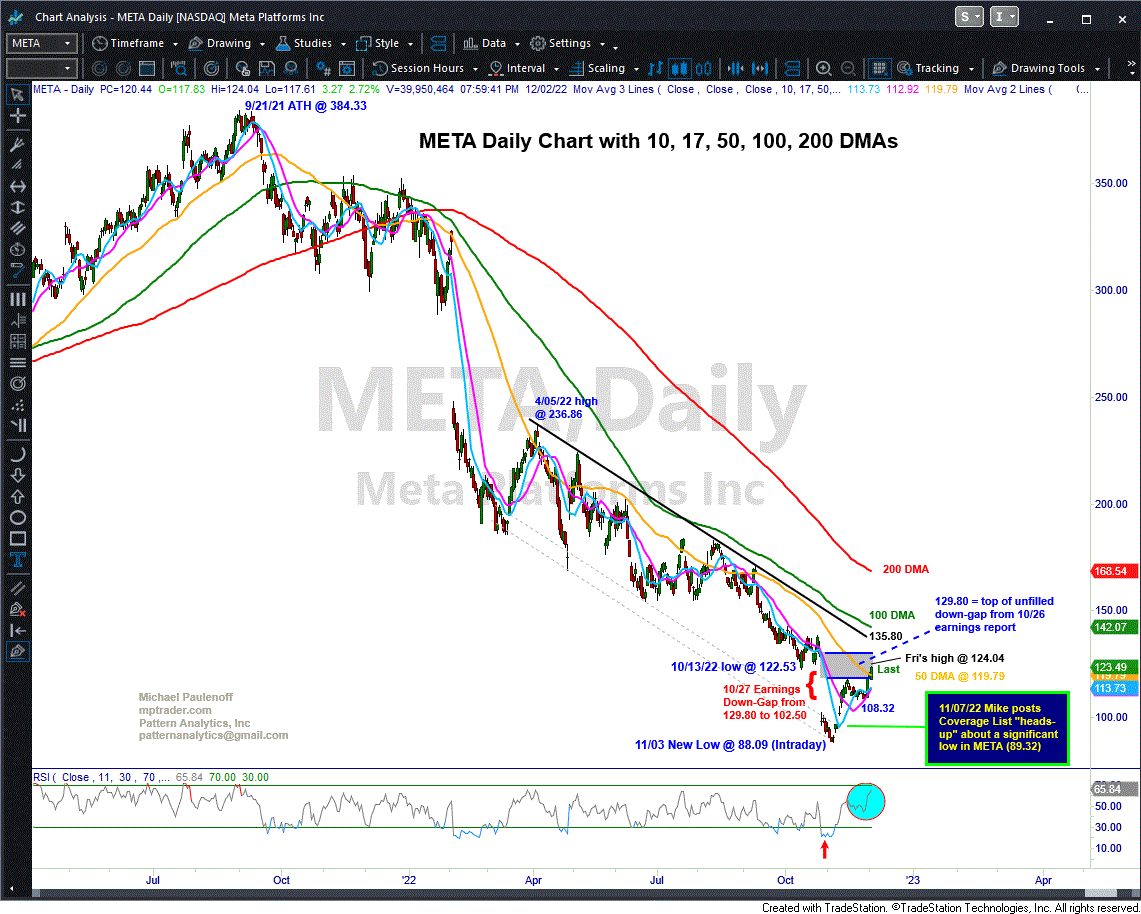 ---
More Top Calls From Mike