Getting The Jump On Nike's Selloff
This past Monday, with Nike (NKE) poised to report earnings later in the week, Mike Paulenoff told MPTrader members that "NKE is vulnerable to a press into the 140-143 target zone either ahead of, or in reaction to, the earnings news."
NKE was trading at 161.75 at the time, and by the week's end the stock was 149.59, having hit a low of 148. What prompted Mike's call, and what is next for NKE?
Here is a sample of what Mike wrote during the week.
1) After NKE opened modestly lower on Monday, down just 1.1% on a downgrade by Wall Street firm BTIG (which cited supply-chain problems and delays shipping goods from China into US ports), Mike wrote:
"NKE hit an ATH at 174.38 back on August 6th, and since has carved out a small topping formation. While NKE weakness could be merely a minor, contained pullback, my big picture work off of the August 2020 low at 105.62 to the August 2021 high at 174.38 (+65%) has the right look of completion, which if reasonably accurate, means that NKE is in the grasp of a much more powerful corrective period that, to my mind, points to a "gap-filling expedition left behind after its blow-out May earnings report (133.60 to 150.48). Let's be aware that NKE reports again on 9/23 after the close. At the moment, my sense technically is that NKE is vulnerable to a press into the 140-143 target zone either ahead of, or in reaction to, the earnings news."
2) On Thursday afternoon before earnings, Mike posted the following commentary:
"I have strong vibes (from my technical work) that NKE has been in the grasp of major correction off of its August 2021 high at 174.38, and that at this past Monday's low of 152.32 (-13%), the stock completed the first down leg of a complex, larger-developing corrective period and pattern that points to 135-140 before it is finished. If I am writing the script for this afternoon, I am seeing NKE knee-jerk briefly to the upside to the 163-165 area, prior to pivoting to the downside into a second corrective down leg that will press beneath Monday's low at 152.32 into the UN-FILLED Down-Gap left behind on 6/25/21 from 133.60 to 150.48."
3) Mike went on to overlay the following macro analysis to his technical work:
"Finally, as a background consideration, if I am an investor in NKE, I am growing increasingly concerned about the "China Connection." What if this real estate debacle with Evergrande morphs into a contraction in the Chinese economy, which has knock-on effects around the globe? How will NKE be impacted? This is problematic for investors and is one reason (other than my technical setup) that I am expecting a "sell-the-news" reaction to today's report... Last is 159.41/42."
4) After NKE investors reacted negatively to the earnings report, Mike wrote on Friday:
"NKE certainly followed my 'sell-the-news' reaction to earnings interpretation of the technical setup discussed ahead of yesterday's close. As we speak, NKE is right off of its intraday low at 148.41, down 7% from yest's close, and pointed directly at a test of the up-sloping 200 DMA, now at 145.25, where I expect some buying to emerge, but not a sustainable low or bottom."
Over the week, NKE fell a full 8.5% beneath the price it was trading when Mike alerted MPTrader members to a developing corrective top formation ahead of earnings.
What's next for NKE? Will buyers lift NKE off of 148.00 (15% beneath its All-Time High at 174.38 hit on 8/06/21), or will investors sell any strength, pressing NKE close to a test of its 200 DMA (145.25) amid continuing supply-chain delays, and concern about China's "crackdown on capitalists"?
Join Mike and our members for ongoing intraday discussions and chart analysis about NKE, as well as many other names, ETFs, macro indices, cryptocurrencies, bonds, and commodities.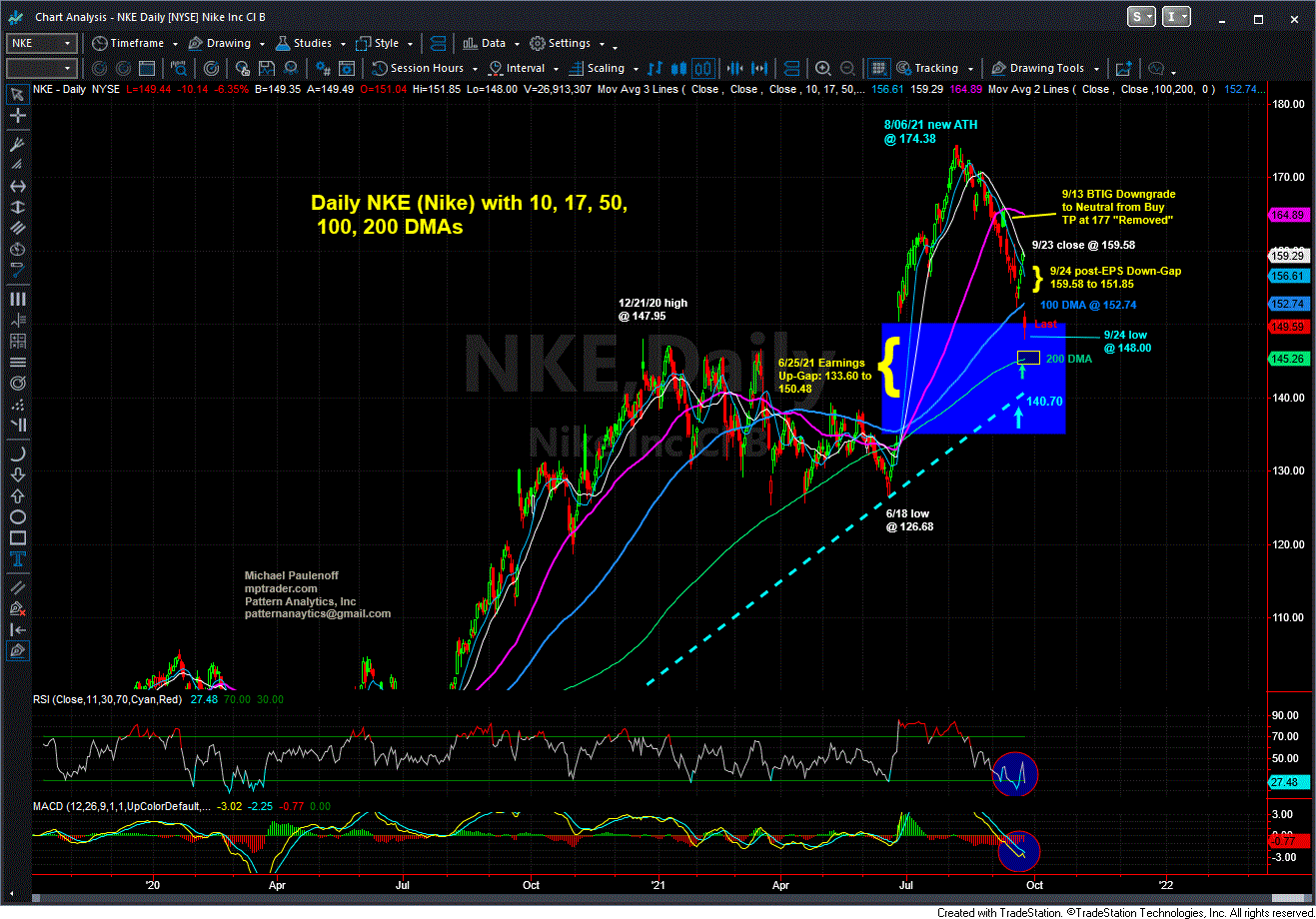 ---
More Top Calls From Mike