Getting The Jump On VALE's Up-Moves
Back on November 23, 2021, Mike Paulenoff had this bullish analysis of VALE for MPTrader subscribers:
"My near and intermediate-term setup work is 'warning' me that finally, VALE has the right look of a pattern and momentum configuration that indicates it has put in a significant corrective low at 11.16 (11/16/21) in the aftermath of a 70% correction off of its 5/10/21 high at 23.68. Daily Momentum exhibits glaring positive divergences at every new reaction low since early October. In addition, the 11/16 low, and the 11/19 trading day represent an "Island" separated by a down-gap prior to 11/16 and an up-gap after 11/19, followed by yesterday's (11/22) breakaway up-gap thrust. An Island Reversal is a relatively rare, and potentially very meaningful indication of a change in price direction. Lastly, the micro upmove from 11.16 to this AM's pre-open high at 12.85 exhibits bullish form, which if accurate means that a new upleg likely is in its infancy. From an intraday perspective, any pullback weakness should hold in the 11.80-12.00 area prior to my expectation of upside continuation to 13.00 next, and then to 15.00 thereafter."
VALE was trading at 12.48 at the time, and during the ensuing four weeks into mid-December, the stock climbed relentlessly to a 14.23 high on December 16, up 14% from when Mike posted his initial alert.
On December 28, as VALE was digesting its gains, Mike noted the stock was setting up for another upleg, writing:
"VALE (Iron Ore Producer that is bottoming during Build Back Better disappointment)... continues to act like a pattern that has completed a major correction from its 5/10/21 high at 23.68 into the 11/16/21 low at 11.16, followed by 1) An Island Upside Reversal, 2) an initial rally to 14.23 (12/16/21) that exhibits bullish form, and 3) followed by a contained rest-digestion period atop the initial upleg... all of which suggests strongly that VALE is in very constructive technical condition ahead of what my pattern and momentum work expect will be the launch into another upleg that propels VALE to 15.00, in route to 17.00 during early 2022. Bottom Line: As long as weakness is contained above 13.00 on a closing basis, VALE is setting up for another upleg."
VALE was trading at 13.74, and by this past Friday the stock closed right at its post-November high of 14.81, just a stones-throw from Mike's next optimal target of 15.00/10, and up a full 19% from Mike's initial chart post for our members.
What's next for VALE? Is it hinting about a sustainable shift into value names from growth? Or is it anticipating a period of accelerating global growth, or both?
Join Mike and our members for their all-day discussions about VALE as well as many other individual stock selections, ETFs, Macro Indices, Cryptocurrencies, Commodities, and Precious Metals as 2022 gets off to a very volatile start.
If the first week of 2022 is any indication of what's in store during the upcoming weeks and months, you will need Mike's analysis to help navigate a much more challenging investment environment than investors and traders have faced in years.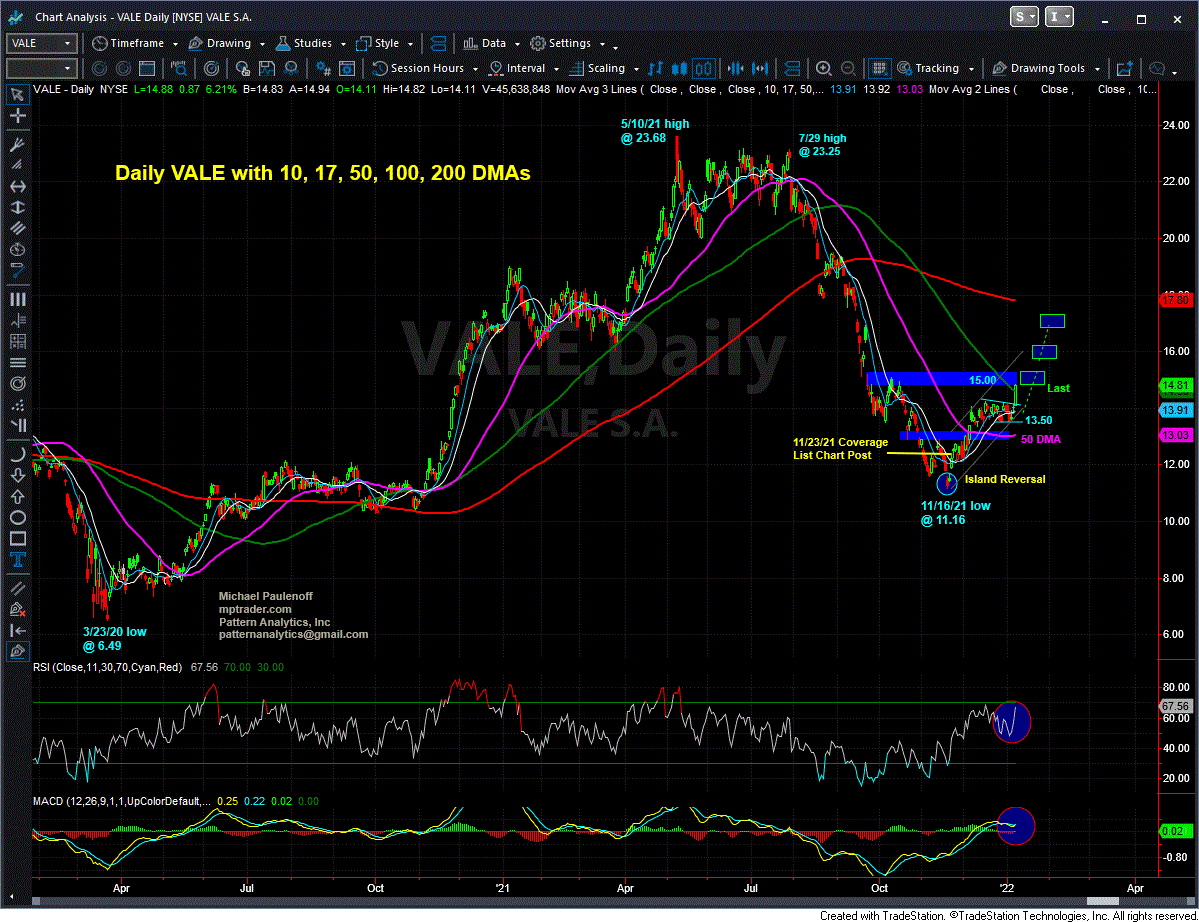 ---
More Top Calls From Mike