Giving Benefit Of Doubt To ARKK
Back on Thursday, July 7, 2022, this is what Mike Paulenoff discussed with MPTrader members about the ARK Innovation ETF (ARKK):
"It's Time to take a look at the technical setup in ARKK, putting aside the miserable narrative that surrounds ARK fund manager Cathie Wood's performance from the February 2021 ATH at 159.70 to the May 2022 low at 35.10 (-78%).
"My own sense is that Cathie Wood is no dummy, she has decades of experience studying and navigating both micro and macro challenges (some better than others, obviously), and well, for me, is just too damn plugged-in to dismiss her or a "comeback" totally. In other words, from my perspective, if and when the technical setup improves, I think Cathie Wood and a powerful ARKK recovery deserve the benefit of the doubt.
"As a matter of fact, all of the price action during the past 10 weeks is attempting to carve out a Rounded Accumulation Bottom formation that will be complete and will trigger an upside reversal signal IF ARKK MANAGES TO CLIMB AND CLOSE ABOVE 47.00.
"That said, however, unless ARKK does close above 47.00, my setup work will remain in neutral, AND as such, my pattern work will NOT be able to eliminate another loop down that retests the May-June 2022 low-zone at 35.10-35.65, and possible a press to new multi-month corrective lows in the vicinity of 30.00 (see my attached 4 Hour Chart below).
"Bottom Line: ARKK should be on our radar screens now as the May-July price behavior attempts to establish a potentially significant bottom in the aftermath of a 17-month, 78% bear phase, BUT to get confirmation of an important technical U-Turn, ARKK needs to climb and close above 47.00."
Fast-forward to now, we find ARKK continuing to circle 44.00 but within a still-developing, and potentially explosive May-July base formation just as earnings season gets into full swing. In that 50% of ARKK's holdings are concentrated in just 7 names, ZM (8/22), TSLA (7/20), ROKU (7/28), CRSP (8/08), TDOC (7/27), PATH (8/31), and EXAS (8/02), we have to pay particular attention to the reaction to earnings in these stocks as well as sector-related names during the next two weeks, especially TSLA, ROKU, and TDOC which are expected to report before the end of July.
If the 10-week base-accumulation period and pattern setup in ARKK is whispering a message to investors at the moment, it is that after a near 80% plunge in value, Cathie Wood and the ARKK fund portfolio deserve the benefit of the doubt about launching into a meaningful recovery rally that has 60 as its next optimal target zone. ARKK closed at 44.11 last Friday.
Join Mike and MPTrader members for their ongoing analysis and discussion of ARKK and many other individual stocks, macro indices, ETFs, currencies, commodities, Bitcoin, and precious metals.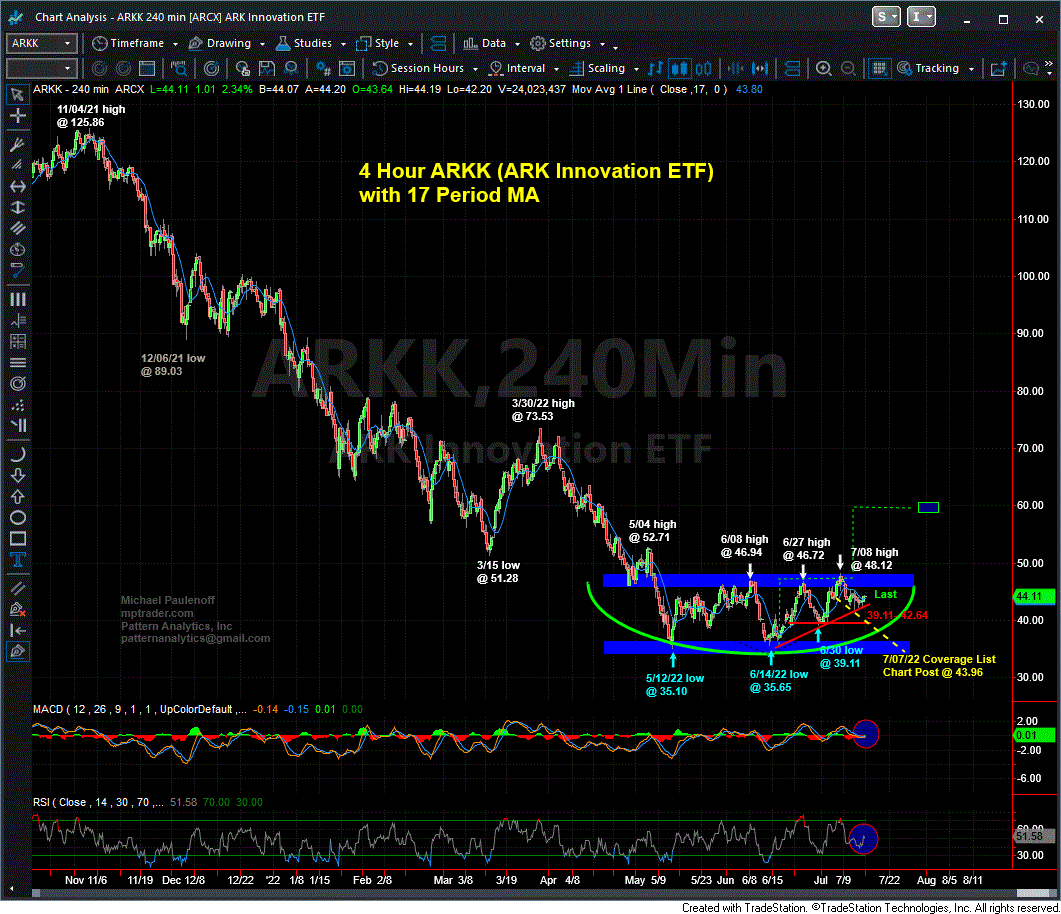 ---
More Top Calls From Mike