HD Tops Our Targets
One week ago, on Monday morning November 15, Mike Paulenoff posted the following alert for MPTrader members about HD (Home Depot):
"My attached Big Picture Daily Chart shows that all of the action off of the 10/27/21 ATH at 375.15 into last Fri's close at 372.63 exhibits the right look of a high-level bullish Pennant or Flag formation atop the upleg that started at the 10/10 low at 324.16. Based on the pattern and momentum setup, HD is poised for upside continuation and acceleration to one of two likely higher Target Prices (TP on the attached chart) prior to my expectation for a bout of profit-taking and possibly a serious bout of corrective weakness... Last is 373-374."
The next day, in a very positive reaction to a stellar quarterly earnings report, HD did charge higher. Mike posted a follow-up analysis for our members:
"We see that HD indeed has thrust to the upside out of its Bull Flag formation to a new ATH at 387.76 so far, which has satisfied my first upside target zone of 380-383, and is poised for a run towards my higher target zone of 393-400... Only a sudden downside reversal and close below 381 will represent an initial warning signal that the current upleg could be exhausted... Last is 386.63."
By the end of last week, HD had climbed beyond Mike's second target of 393-400, to a new ATH at 410.10, up a whopping 9.7% from his initial alert. Mike's analysis of the chart setup heading into earnings provided our members with "technical directional bias" prior to a potentially significant catalyst. This is one of Mike's most important functions for MPTrader -- interpreting the technical and momentum setups ahead of consequential earnings reports.
What's next for Home Depot? Will the vertical assault continue in and beyond Black Friday, or will HD exhibit signs of exhaustion sooner rather than later this coming week? Join Mike and our members for constant discussion about HD as well as many other individual stocks, ETFs, macro indices, cryptocurrencies, commodities, and precious metals that he and our mptrader membership choose to discuss and technically evaluate throughout every trading day.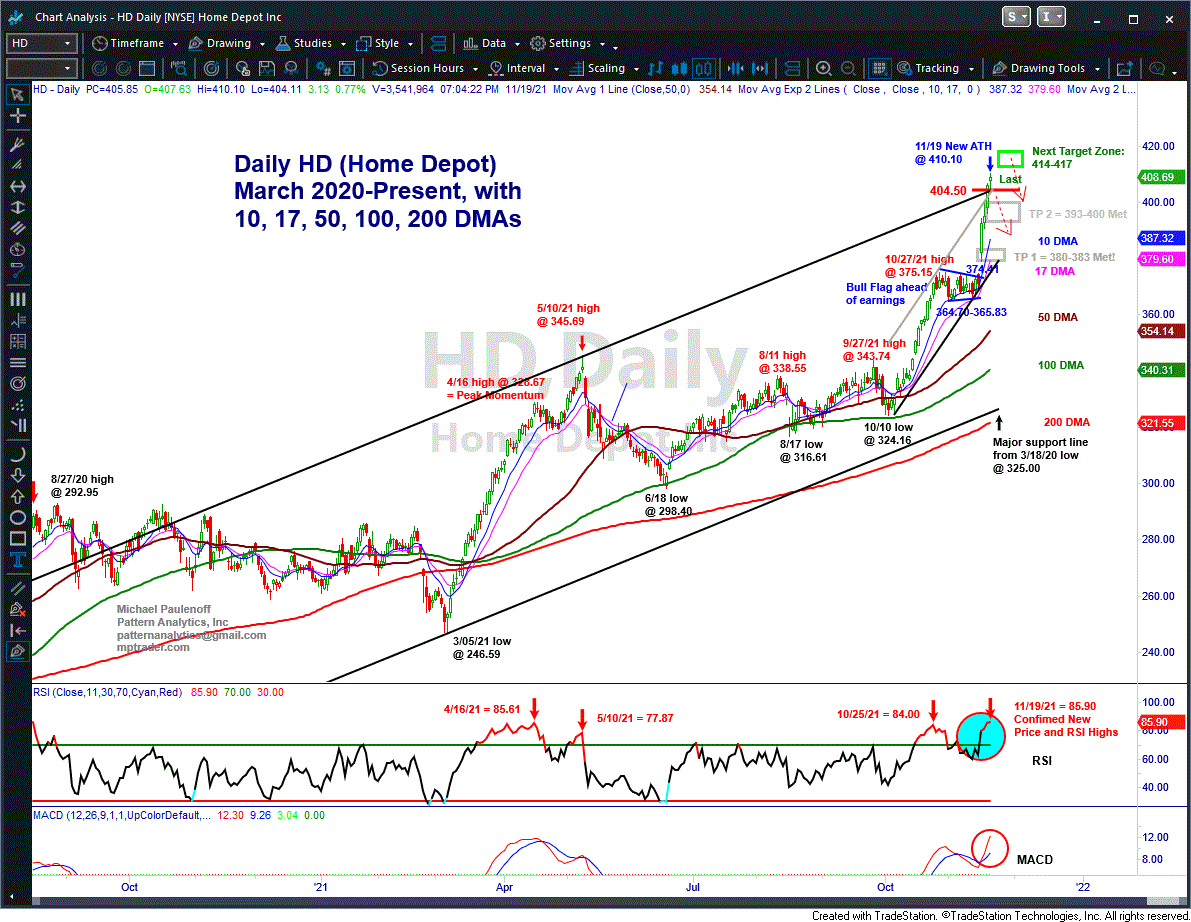 ---
More Top Calls From Mike