Heads Up About Vulnerable Technical Setup in META
This past Friday morning, October 13, Mike Paulenoff posted a technical warning signal to MPTrader members, writing:
"Heads Up!  META climbed to a marginal new post-Nov. 2022 rally high at 330.54 yesterday, but failed to follow through to the upside, and instead has reversed into a bout of weakness that is approaching key initial support. 
"As long as nearest support from 313.50 down to 311.30 contains any forthcoming weakness, my nearest-term work will remain positive and as such, I cannot rule out upside continuation above 330-331 in route to 350. However, a break of 311.30 will trigger initial sell signals for a press to test 300 to 298...  Bottom Line: One of the strongest big tech and AI performers during the past 11 months-- META-- is waffling and threatening to turn down from a (potential) July-October Double Top at 330... last is 317.70..."
In the hours after Mike posted his commentary, META proceeded to press lower into Friday's close at 314.69 (actually, 314.05 in Friday's post-market trading), down 1.1% from the time of his post and nearing a test of Mike's next key support zone from 313.50 to 311.30.
Mike's very detailed daily chart of META (see below) shows a multi-week topping pattern after a relentless 275% advance that unfolded during the past 11 months, which in his extensive experience leaves the faithful owners of META stock in the most vulnerable technical setup since the price peak and significant downturn off of the All-Time High established at 384.33 in September 2021.  
Login this week to join Mike and MPTrader members for their intraday discussions, analysis, and strategy about META in advance of the company's all-important earnings report on October 25th.  Furthermore, in the MPTrader Discussion Room, Mike and our members are constantly evaluating many individual stocks, ETFs, macro indices, oil, commodities, and Bitcoin, as well as the impact of the rapidly changing geopolitical landscape on member's portfolios.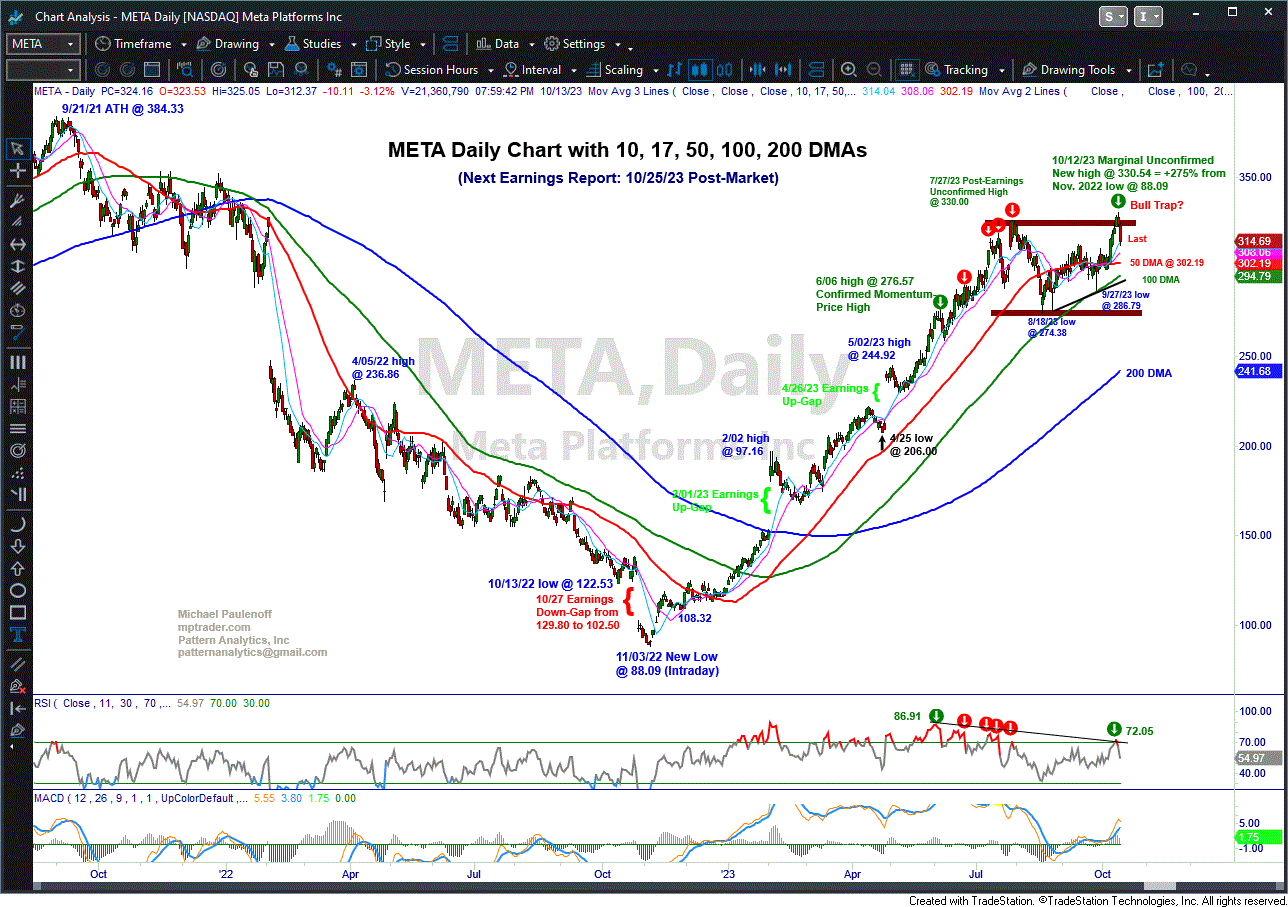 ---
More Top Calls From Mike