Hitting The Mark On Zoom's Downside Target
Back on August 18th, nearly two weeks ahead of ZM's (Zoom Video Communications) earnings report, Mike Paulenoff cautioned MPTrader members about the stock.
Mike wrote: "The price structure, which has pressed relentlessly lower (15%) since its 8/05 rally high at 404.35, is probing -- and trading below -- its 100 DMA, now at 345.67, and is considerably beneath its 200 DMA, now down-sloping at 367.20. The 15% decline during the past two weeks suggests that investors likely are anticipating a peak in the Delta variant that clears the way for more people to return to their offices in the Fall, rather than working -- and using Zoom -- from home. Whatever the reason for the weakness, the technical setup in ZM at the moment is extremely tenuous. Inability of ZM to hold above its 100 DMA at 345.67 will increase downward pressure that points to 320-317 support, which MUST contain the weakness to avert downside acceleration that projects to a retest of the May low-zone at 276 to 273."
Indeed, ZM reacted negatively to earnings, sending investors to the exits on August 31st, pressing the stock down 16%, into the 288 area from 347.50,
That same day, Mike reiterated his optimal downside target, with 273 at the lower end, and sure enough last Thursday (9/16), ZM hit a new corrective low at 273.60.
More importantly perhaps, on Friday (9/17), in a down market, ZM climbed 3% off of its 11-month low at 273.60 to close right near the high of the day at 287.68 amid meaningful positive momentum divergences.
Although ZM has considerable "wood to chop" to improve its technical outlook, last Friday's upside reversal off of Mike's multi-month corrective target is a preliminary signal that ZM's weakness is exhausted ahead of price repair and recovery.
Join Mike and our members for intraday analysis and discussion about ZM's technical set up, as well as the set ups of many other stocks, ETFs, macro indices, cryptocurrencies, and commodities.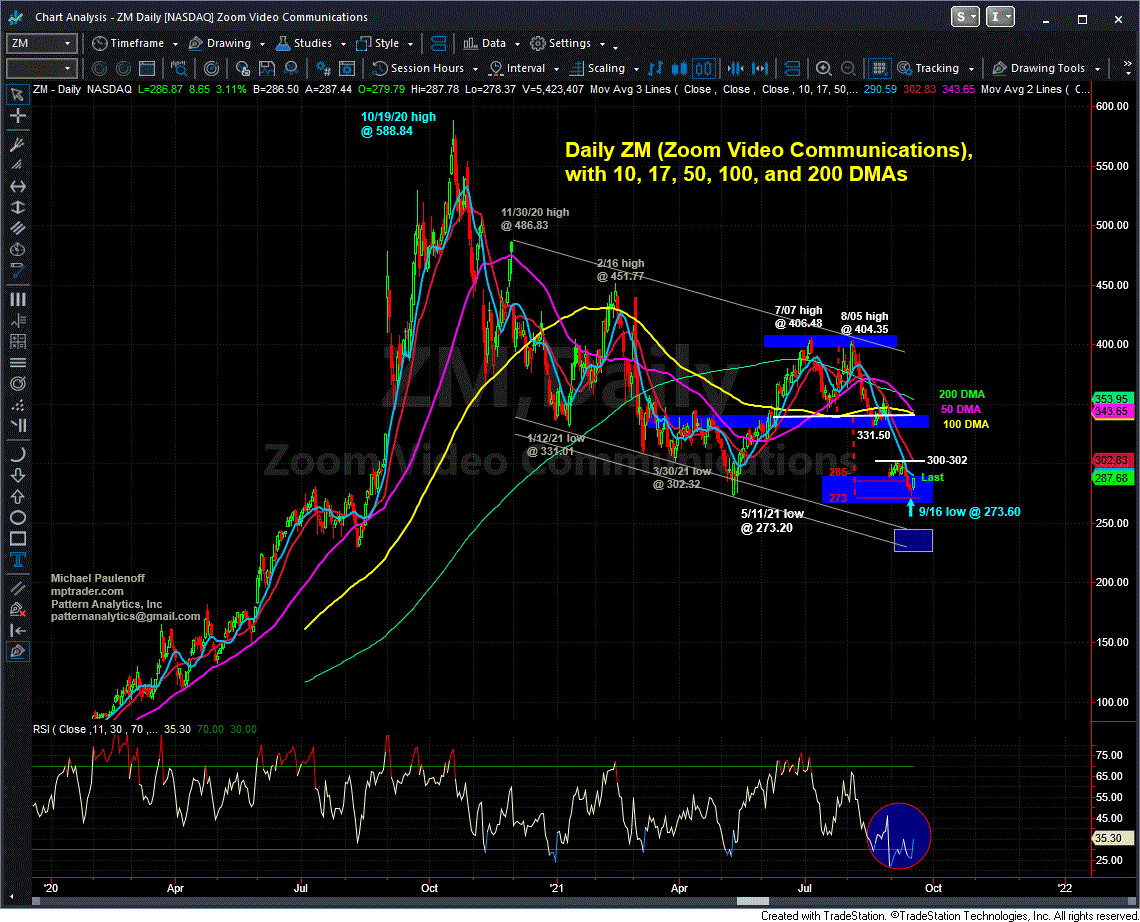 ---
More Top Calls From Mike