Is CSCO's Setup Poised for Upside Acceleration?
At the close of Q1, 2023, the big-cap technology names recorded the following very impressive 3-month gains: NVDA +90%, META +76%, TSLA +68%, CRM +50%, AAPL +27%, MSFT +21%, and GOOG +18%.
Although CSCO has lost a bit of its "sex appeal" in recent years and more often than not flies under the radar, the stock was up 10% during Q1, 2023! If its near and intermediate-term technical setup provides us with any indication of what's ahead, then CSCO should be "above the fold" on anyone's shopping list during the remainder of this year.
Indeed, back on Friday, March 24, 2023, with one week remaining in the month and in Q1, 2023, Mike Paulenoff alerted MPTrader members to his technical work in CSCO:
CSCO has been on my radar screen since mid-February just prior to earnings, and as long as any forthcoming weakness is contained above 47.90-48.00, my pattern work argues that CSCO is biding time prior to a powerful upside breakout from a near-1 year base accumulation setup that projects considerably higher later this year... Keep it in mind, even though it no longer has the cache of the mega-techs... Last is 50.32...
Fast-forward to the end of last week (3/31/23). we find CSCO at 52.40, perched right at the high for the day and for the week, up 4% from the prior Friday when Mike posted his chart work to the MPTrader Coverage List and into the MPTrader Discussion Room.
What's next for CSCO? Join Mike and our members for their ongoing intraday conversations about CSCO as well as many other investable opportunistic setups evident and emerging in individual names, ETFs, macro indices, commodities, and Bitcoin. In addition, observe, participate, and learn from their insightful discussions about economic, political, and geopolitical trends that are impacting the financial markets.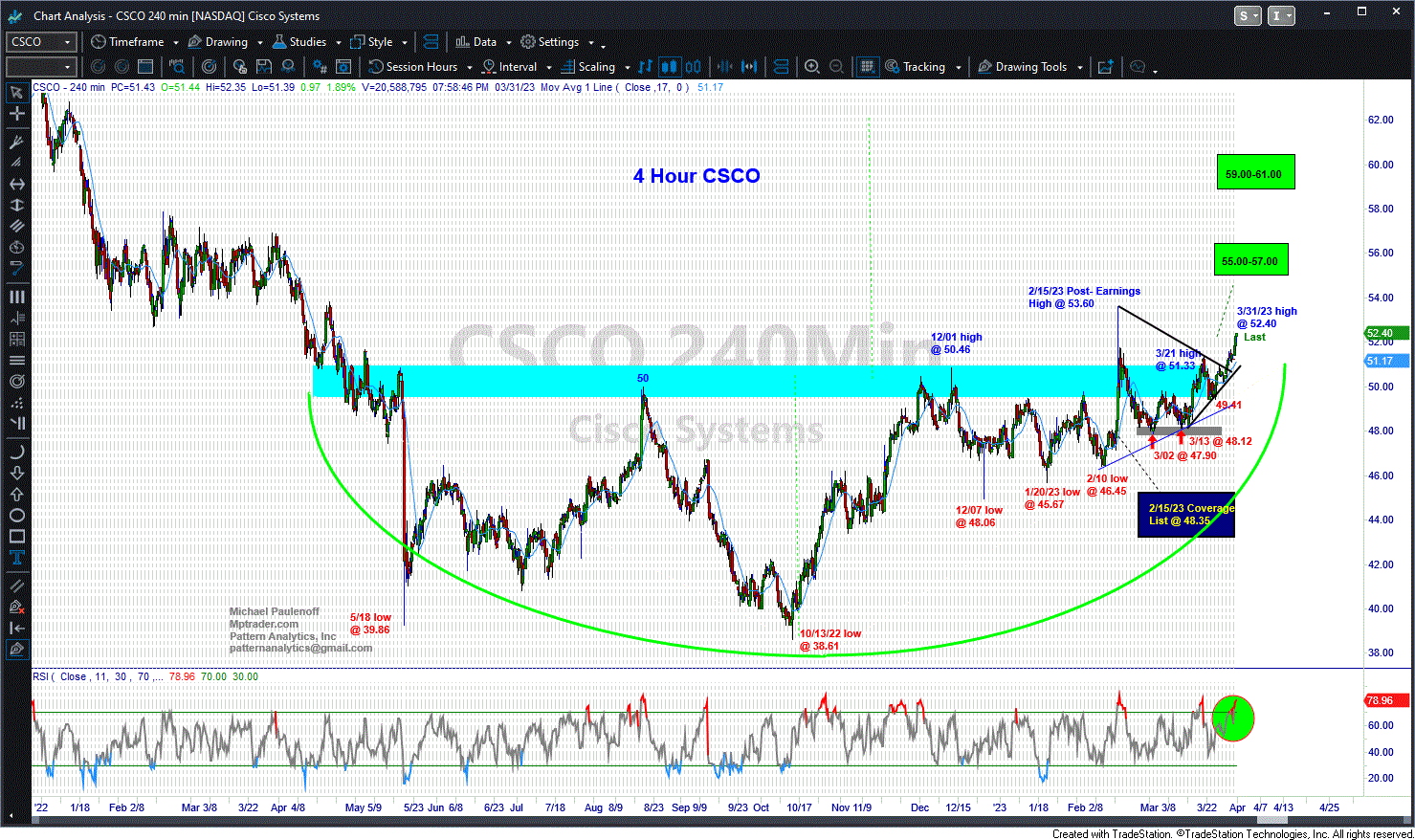 ---
More Top Calls From Mike