More Downside For Tesla Towards Our Next Critical Corrective Target
Last Monday morning (12/12/22), with TSLA reeling to the downside from suspected -- and later confirmed -- major sales of stock by Elon Musk likely to finance ongoing operations of TWTR, Mike Paulenoff posted the following cautionary analysis for MPTrader members:
TSLA is pressing toward a full-fledged test of its 11/22 low at 165.38, which must contain the weakness to avert triggering lower targets in the 162-164 area at a minimum, but if violated, then my intermediate-term target zone of 138 to 142 is on the table.
To avert the potential for a very ugly downside scenario in TSLA, the stock needs to climb and sustain above 182.50 at a minimum BEFORE breaking below and accelerating down from 165.38... Last is 168.36...
TSLA stock continued to fall to multi-year lows into last Wednesday's pre-market session, hitting 151.33. Right after the opening bell, Mike posted this follow-up analysis, accompanied by his detailed 4-Hour and Weekly chart work of TSLA:
TSLA has declined to new two-year lows at 151.33 (so far) this AM, a full 64% beneath its post-split ATH at 416.67 dated 11/04/21. Late yesterday, the news services were reporting that Elon Musk had sold another $3.6 billion off TSLA stock, presumably to continue to finance Twitter. Musk has sold over $40 billion of TSLA stock during the past 12 months, again, probably to finance TWTR.
Be that as it may, more so than at any prior period when Musk sold stock, THIS TIME the associated selling pressure is inflicting serious technical damage.
My attached 4-Hour Chart sows the recent breach of the key May-Nov. 2022 support plateau from 207.50 down to 200.00, which has produced a follow through stair-step decline to today's low at 151.33, but which has a next optimal target zone (from the Aug. 2022 recovery rally high at 314.67) that projects to 137 to 143, from where I will be expecting signs of multi-month corrective exhaustion. Such a scenario implies additional downside of 6% from 10% from current levels.
HOWEVER, if I dust off my WEEKLY Chart of TSLA, I could make a compelling argument that the breach of multi-month support at 200-207 also triggered two year "neckline" support of a massive top formation that projects an eventual downside target zone in the vicinity of 35-45.
Before everyone dumps or shorts TSLA however, there is another scenario from the Weekly Chart for TSLA that identifies 137.81 as THE SWING TARGET from the April 2022 high, which also happens to dovetail with my 137-143 target derived from the pattern exhibited on my 4 Hour Chart.
Bottom Line: TSLA likely has additional weakness into the 140 area (137-143) where we MUST see some downside exhaustion signals to clue potential buyers into a potentially phenomenal upside reversal opportunity... Last is 159.32 off of an intraday low at 151.33...
Fast-forward to Friday's close, we find TSLA ending the session at another new corrective low at 149.06, a full 65% from the November 2021 ATH at 416.67. At Friday's close, TSLA is 4% to 8% from Mike's optimal next critical corrective target window of 137 to 143. Judging by the price-momentum confirmation of the new corrective low based on the technical setup exhibited by Mike's weekly work, TSLA remains vulnerable to downside continuation during the final 9 trading days of the year, which also could include pressure from year-end tax selling.
What will happen to TSLA next? Will it impact the direction of the major equity indices and ETFs? Or, will TSLA elicit signals that it is exhausted on the downside, presenting an opportunity to take advantage of a powerful upside reversal?
Join Mike Paulenoff for his in-depth chart analysis as well as his constant intraday discussions with MPTrader members about TSLA, as well as many other individual stocks, major equity indices, ETFs, macro indices, precious metals, commodities, and Bitcoin...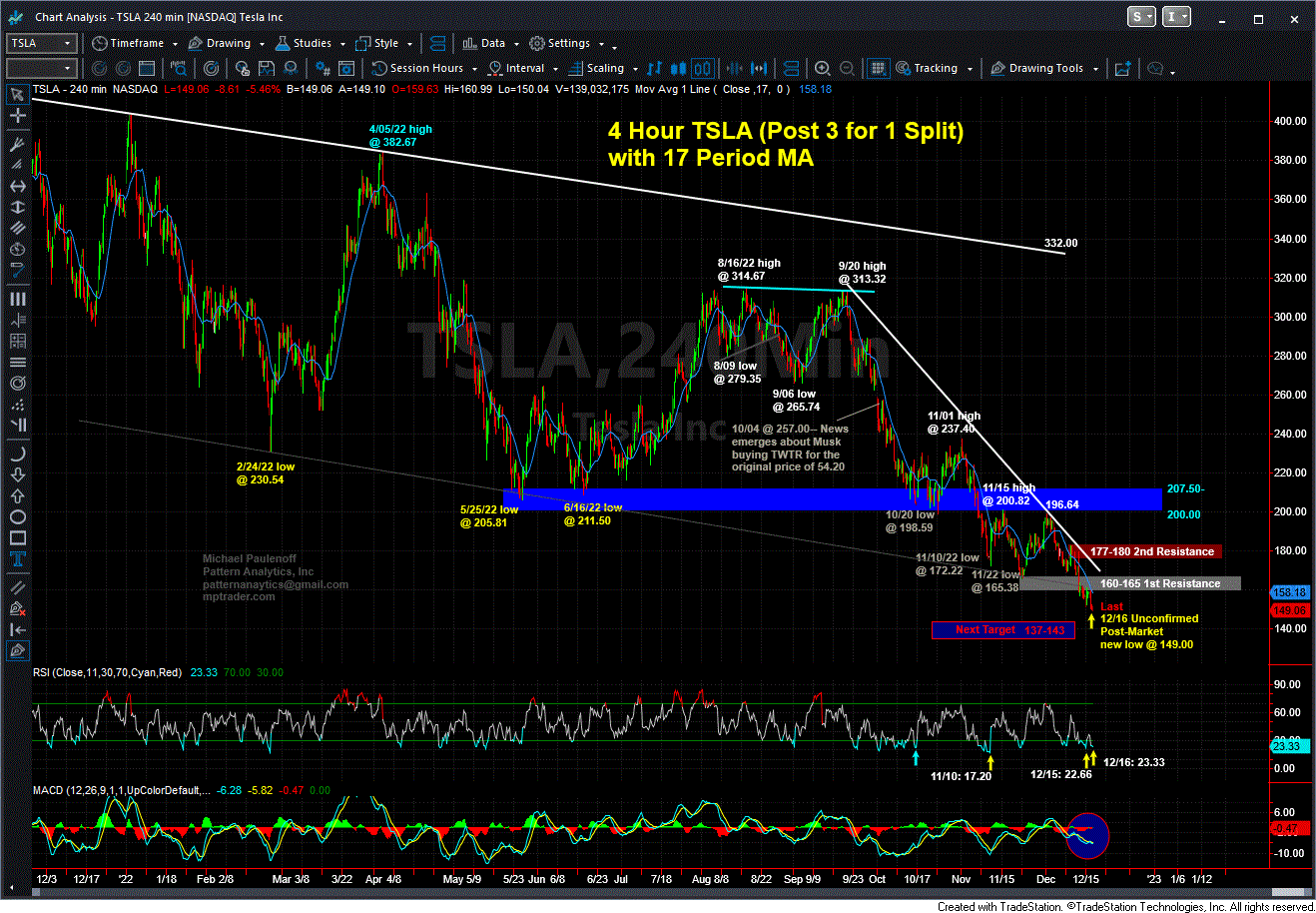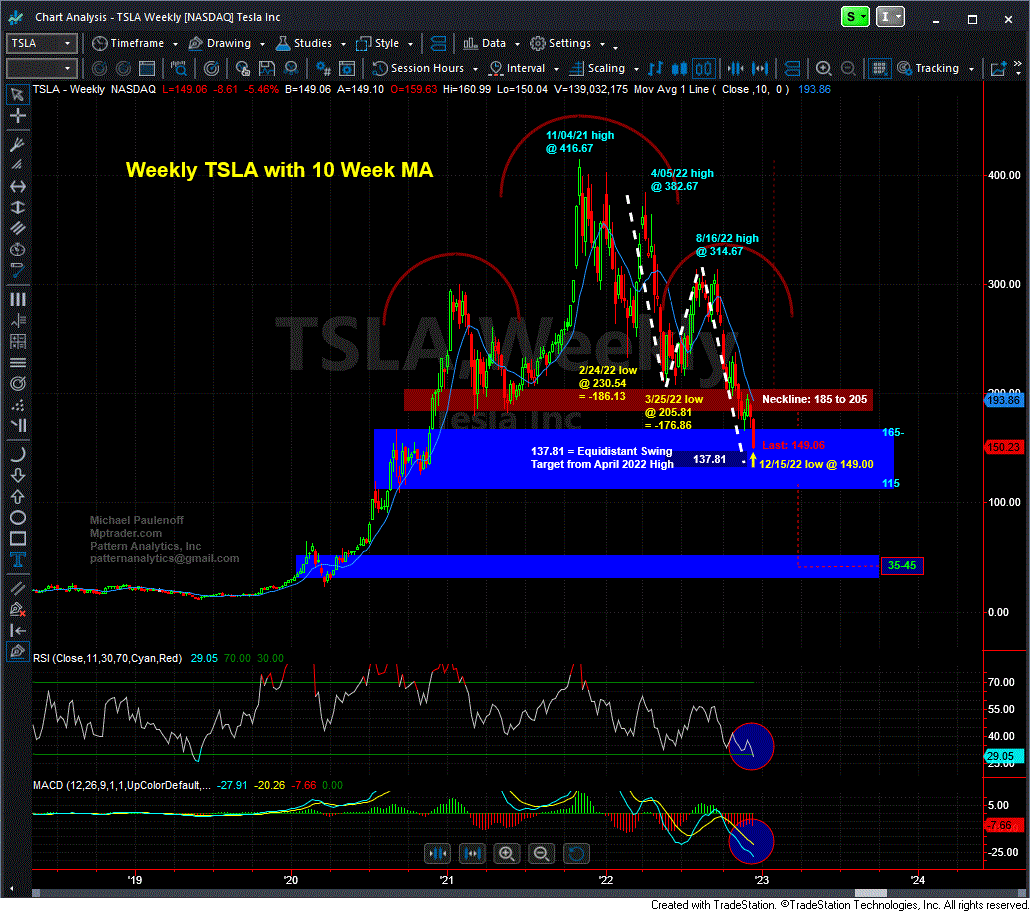 ---
More Top Calls From Mike