PARA: Classic Case of Bullish Fundamental Catalyst Underlying Powerful Technical Setup
On Thursday May 19, in the midst of some serious weakness and carnage in the retail sector that had equity market-watchers doubting the resiliency of the almighty US consumer, Mike Paulenoff turned MPTrader members attention to PARA (Paramount Global), writing:
"For the past 5 months, we could make the technical argument that PARA has carved out an accumulation-base formation that attracts buyers every time the stock dips beneath 29.00. We can also make the case that every time the stock climbs above 36.00/50, holders are enticed to sell their positions. For whatever reason, PARA appears 'cheap' under 29 and relatively expensive above 36, which warns us that any significant fundamental catalyst that comes along to change the outlook of the company could have a significant and outsized impact on its technical setup. Above 36-40 or below 29-27 implies "some perception about the business, or something very significant has changed." Apparently, because of his 69 million share purchase earlier this week, Warren Buffett (and/or his fund managers) thinks that a very positive catalyst is coming along that will propel PARA much higher. Who am I to argue? Technically, the pattern carved out from a major corrective low at 26.11 on 5/12 into yesterday's recovery rally high at 33.39 exhibits bullish form, which if reasonably accurate, tells me that PARA is now a 'buy-into-weakness' near-term setup as long as 26.11 is not violated, especially on a closing basis. In the event of a pullback, key nearest support resides at 31.50/70, and again at 29.00/20... Last is 32.09."
After three subsequent chart-based updates about PARA that described its improving technical setup, fast-forward to Mike's pre-market Coverage List post this past Friday May 27:
"[I'm} Watching PARA (Paramount Global) in reaction to the release of the sequel to Top Gun (a Paramount Global release)... The current technical setup argues for upside continuation to challenge resistance above 35.50... Last is 32.90."
Indeed, the anticipation of a blockbuster opening weekend for Top Gun: Maverick, ahead of the long Memorial Day holiday weekend sparked a near-5% thrust in PARA from the prior close at 32.41 to end the week at 34.00, which propels the price structure towards Mike's next target zone of 35.60 to 37.15, in route to a challenge of multi-month resistance starting at 39.00. PARA is a classic case of a potentially bullish fundamental catalyst underlying a powerful technical setup, just the type of marriage of two Wall Street disciplines that Mike finds and presents to mptrader members on a regular basis.
Will PARA's stock reap greater benefits from exceptionally strong sales of Top Gun: Maverick immediately after the holiday weekend? Join Mike Paulenoff and mptrader members for Mike's follow-up work on PARA as well as discussions with members about many stocks, sectors, ETFs, macro indices, commodities, and Bitcoin.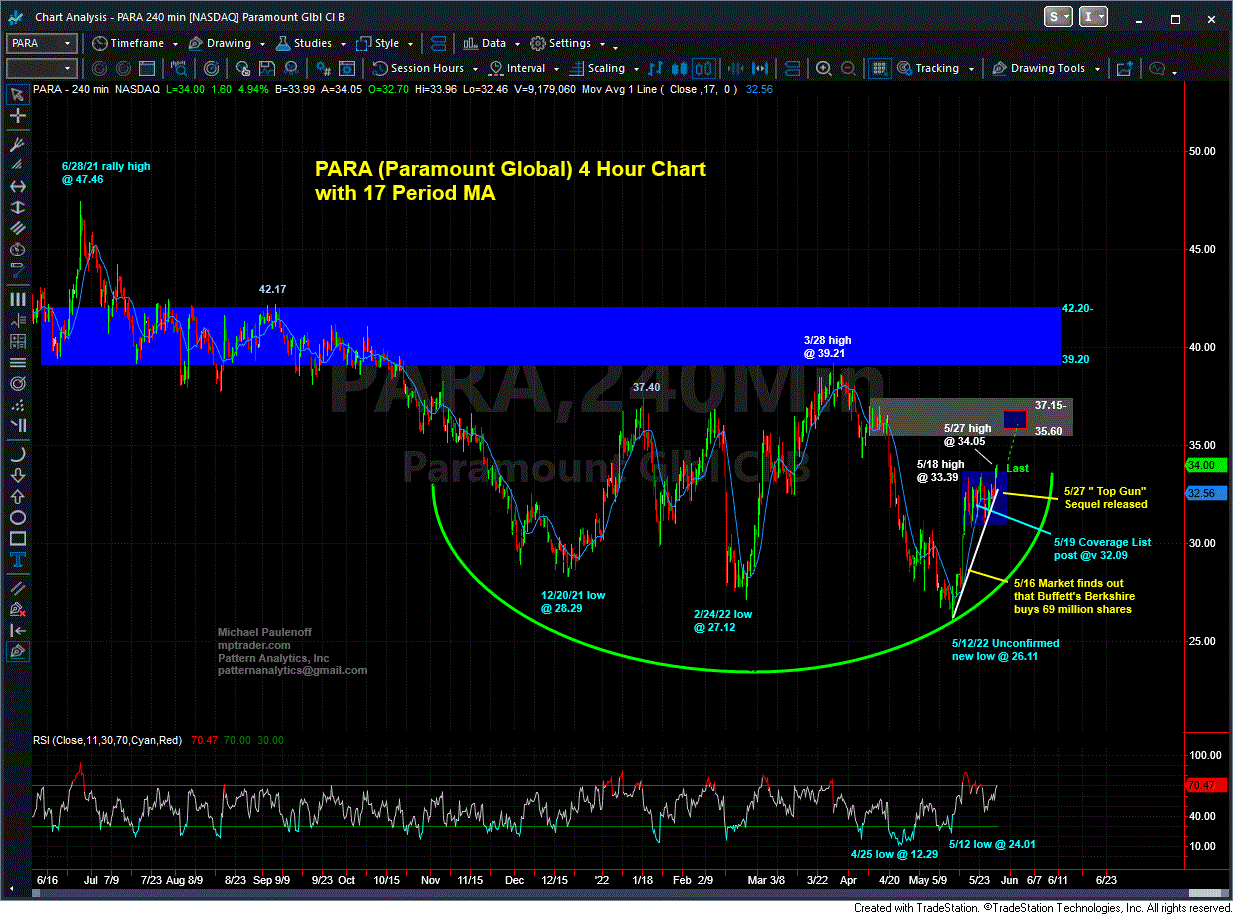 ---
More Top Calls From Mike