Prescient Warning About AAPL
On July 20, 2023, one day after AAPL climbed to a new all-time high at 198.23, and a full two weeks before the company's next quarterly earnings report (8/03/23), Mike Paulenoff posted a prescient warning to MPTrader members: 
Based on BOTH my near and intermediate-term technical work, AAPL is in trouble up here between 190 and 200 and is in the process of putting in a significant high ahead of a correction that should head for the mid-to-low 160s (if not lower) in the days and weeks directly ahead (-20% from its ATH)... At the moment the $64,000 question is whether or not AAPL "needs" to build a top above 190, or if it slices right through it, perhaps tomorrow?  In either case, my work argues that AAPL will be on the defensive for the next several weeks (Earnings are on August 3rd after the close)... Last is 193.30...
From that point forward, MPTrader members were on alert about AAPL itself, as well as AAPL's potential drag on the mega-technology sector that was responsible for driving the big cap SPX 28% higher and the Nasdaq-100 47% higher during the preceding 9 months.   
Let's fast-forward to the week of AAPL earnings, on August 1st, two days prior to the report, Mike posted the following technical evaluation: 
Usually, the vast majority of the time, betting against AAPL into earnings is a fool's endeavor to be sure. While I certainly will not suggest this time could be different, I will say that the nose-bleed elevation of AAPL's stock price in relation to where it was trading just 7 months ago (+57%) AAPL's comparatively rich valuation at 33 times forward earnings, and AAPL's divergent near and intermediate-term Momentum setups (exhibited on my Hourly, 4-Hour, Daily, and Weekly Charts) all suggest that to elicit a sustained positive reaction to Thursday's report, AAPL will need to knock the proverbial cover off of a Home Run ball over the center field wall... that shocks The Street in a way similar to investor reaction to the May 24, 2023, NVDA AI Earnings Report.
Mike went on to suggest the following to our members:
In the event that AAPL reacts negatively to earnings or otherwise is subject to a sell-the-(good) news response, a decline beneath 192.40 down through 190.60 will trigger a next downside projection into the 184 to 175 target zone, amounting to an 8% to 12% haircut from the 7/19/23 ATH at 198.23. IMO, for AAPL to press beneath 175, The Street will have to coalesce around a very negative narrative and outlook for the second half of 2023, such as a big decline in iPhone sales because the US consumer (student loan "victims") will buy fewer new gadgets, China sales will be weaker than expected, a management shakeup at the company, et al... 
In the aftermath of earnings, on Friday morning August 4th, Mike posted his follow-up analysis:
My nearer-term work argues that AAPL is in the grasp of a decline that is incomplete BUT should find some buying interest in and around 183 to 180 that will stall the decline temporarily. My intermediate-term work treats today's weakness as a "breakaway down-gap" that initiated a larger-developing correction that points next to test the up-sloping 100 DMA, now at 176.30, in route to the 170 area... Last is 185.18...
On Friday, the day following AAPL's earning report, AAPL closed at 181.99, nearly 6% beneath the price of the stock at Mike's initial warning on July 20th, and nearly 8% beneath the all-time high reached on 7/19/23 at 198.23. 
What's next for AAPL? More weakness toward 170 directly ahead or a "temporary stall" in the 183 to 180 area that Mike identified in his August 4th chart post to members?  Login to join Mike and MPTrader members for their frequent intraday discussions about AAPL, as well as many other stocks, sector ETFs, Macro Indices, Commodities, and Bitcoin.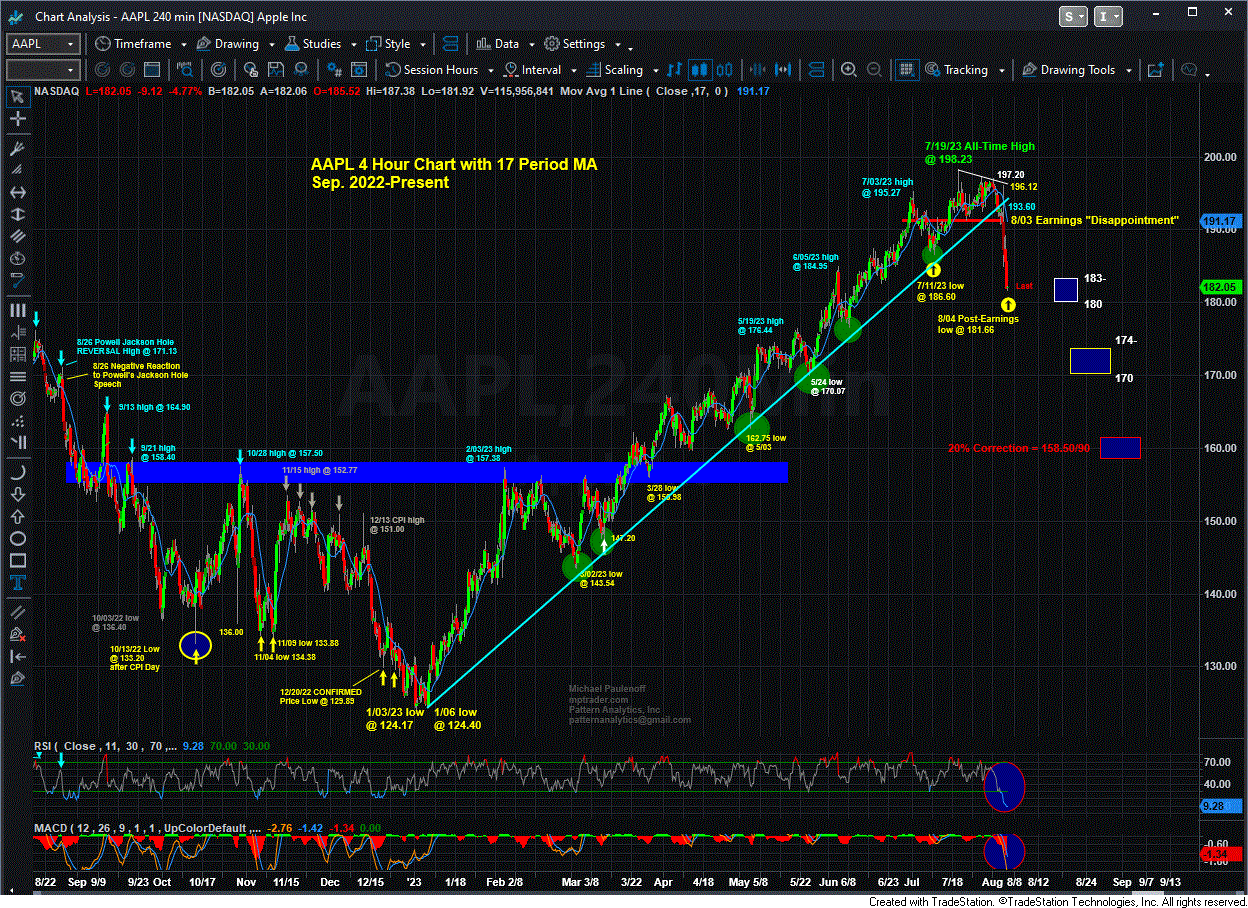 ---
More Top Calls From Mike