Profiting On An Infrastructure Spending Play
On March 8th, when XLI was trading at 95.88, this is what Mike Paulenoff discussed with our MPTrader Members about the S&P Industrial SPDR ETF:

"In addition to the XLB (Materials SPDR), another vehicle (arguably a better one) to ride the infrastructure spending narrative, is via the XLI Industrial ETF. The technical set up is extremely powerful, as the price structure rockets off of last week's dip into strong support at the 50 DMA and at the March 2020 up trendline. If XLI is heading to the upper boundary line of its March 2020 bullish price channel, then the target is 103-104. Only a sharp decline that violates presumably very strong support from 90 down to 87, will wreck the set up."

Last Wednesday, March 31st, with XLI trading at 99.16, Mike posted the following update in our Discussion Room:

"On the day of President Biden's speech to unveil the infrastructure bill, we find XLI trading above 99.00 (the intraday high is 99.18 so far), in route to my next immediate target of 101, but with an outlier target zone of 104-106 (see my attached chart). Key support on any forthcoming weakness resides at 96.60-97.00."

President Biden subsequently proposed a $2.25 trillion infrastructure spending plan that some strategists on The Street are comparing to the 1950's explosion in building-- and repair-- of roads, highways, bridges, tunnels, airports, bus and train terminals, et al.

What's next for the XLI, especially considering the Industrial SPDR ETF is up 107% off of its March 2020 low? Will pent up demand for "value stocks" continue in any case? Will interest rates and inflation remain contained to facilitate another 2 to 3 quarters of booming domestic growth?

Join Mike and our MPTrader Members as they discuss and navigate the forthcoming exciting or disappointing prospects for the infrastructure rollout and rebuild, as well as many other names, sectors, ETFs, macro indices, and commodities in Mikes diary throughout every trading day.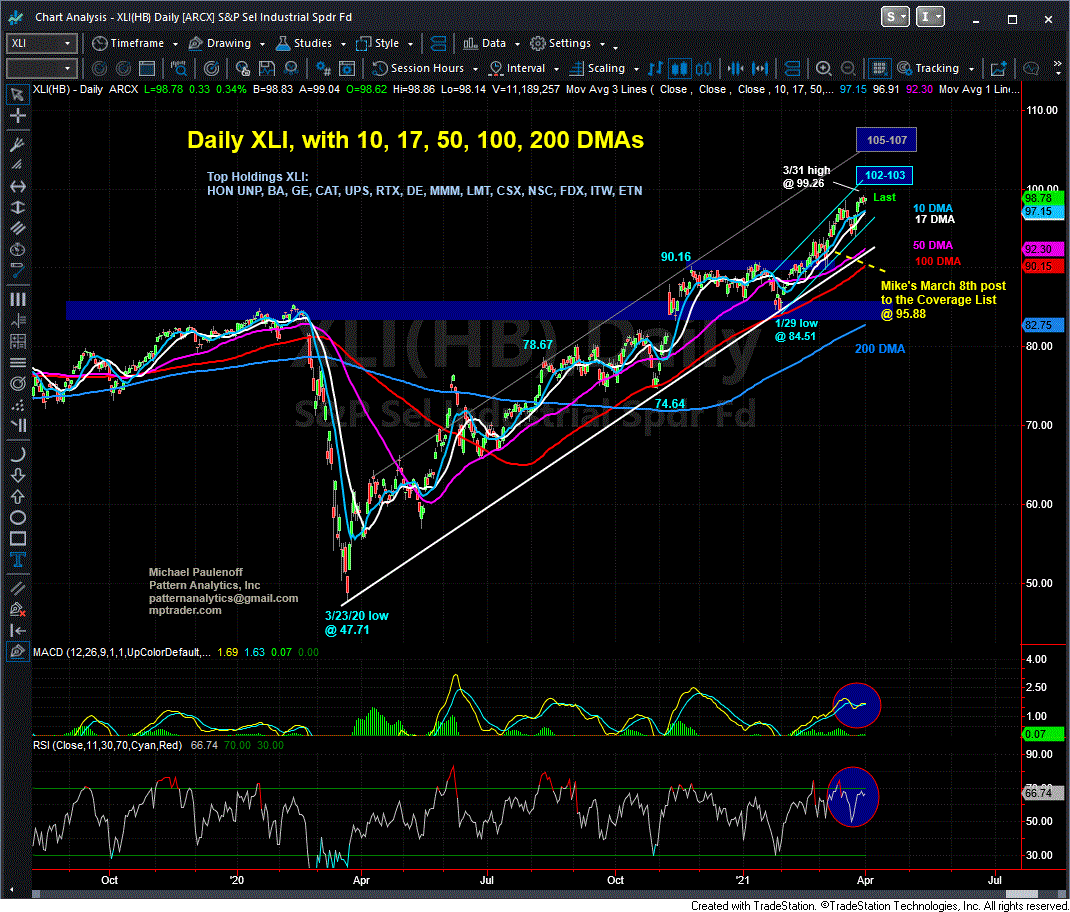 ---
More Top Calls From Mike