SRNE: Opportunity Knocks (Again)?
A biotech name closely monitored in our discussion room at MPTrader and that has been on Mike's radar since the stock's explosive upmove during the height of the Covid vaccine and therapeutic drug hype last July-August is Sorrento Therapeutics (SRNE).
Mike frequently discusses the technical set up in SRNE overlaid on related company news about developmental drugs in its pipeline, and its sizable and significant short position. Often, Mike refers to SRNE as a biotech company that hasn't yet received respect from The Street, but at some point will do so in a big way-- based on its technical potential.
On March 1st, Mike posted the following update for our members:
"Once again, Sorrento Therapeutics announced good news (see below), but gets no respect-- a common theme with this name several months since its big covid therapy anticipation run on the upside. Although the stock is up more than 6% (today), the strength so far has failed to hurdle key nearest resistance at 10.70. Unless and until that happens, SRNE will remain vulnerable to another loop lower that tests and likely marginally violates last week's low at 9.40. If such a scenario plays out in the upcoming hours/days, then I will be looking for a technical upside reversal signal in the 9.40 to 8.70 target window, that will initiate a new, powerful upleg... Last is 10.27..."
Fast-forward to March 4th, for Mike's follow-up analysis prompted by a member's inquiry in our discussion room:
"SRNE has tested and held major support (see my chart attached) in the vicinity of 8.00-8.25, which should be used for risk-management purposes for anyone looking to enter the long side at a 50% discount to where SRNE was trading less than four weeks ago! Granted, SRNE still gets no respect, but the company has many products and procedures in its pipeline, and one of these days, this biotech name will get the respect it deserves... last is 8.88..."
The following session, Friday March 5th, SRNE hit a low at 7.92, and then reversed sharply to close at 8.94, an intraday U-Turn of nearly 13% off of a 4 month support line, which has triggered a preliminary bullish signal in Mike's work. If SRNE follows-through to the upside above 9.15 on a sustained basis early this coming week, opportunity will be knocking on the door for traders and investors interested in SRNE after its 4 week, 55% "haircut."
Join our members' ongoing discussion and monitoring of SRNE, as well as many other equity names, sector ETFs, macro index ETFs, commodities, cryptocurrencies, and precious metals.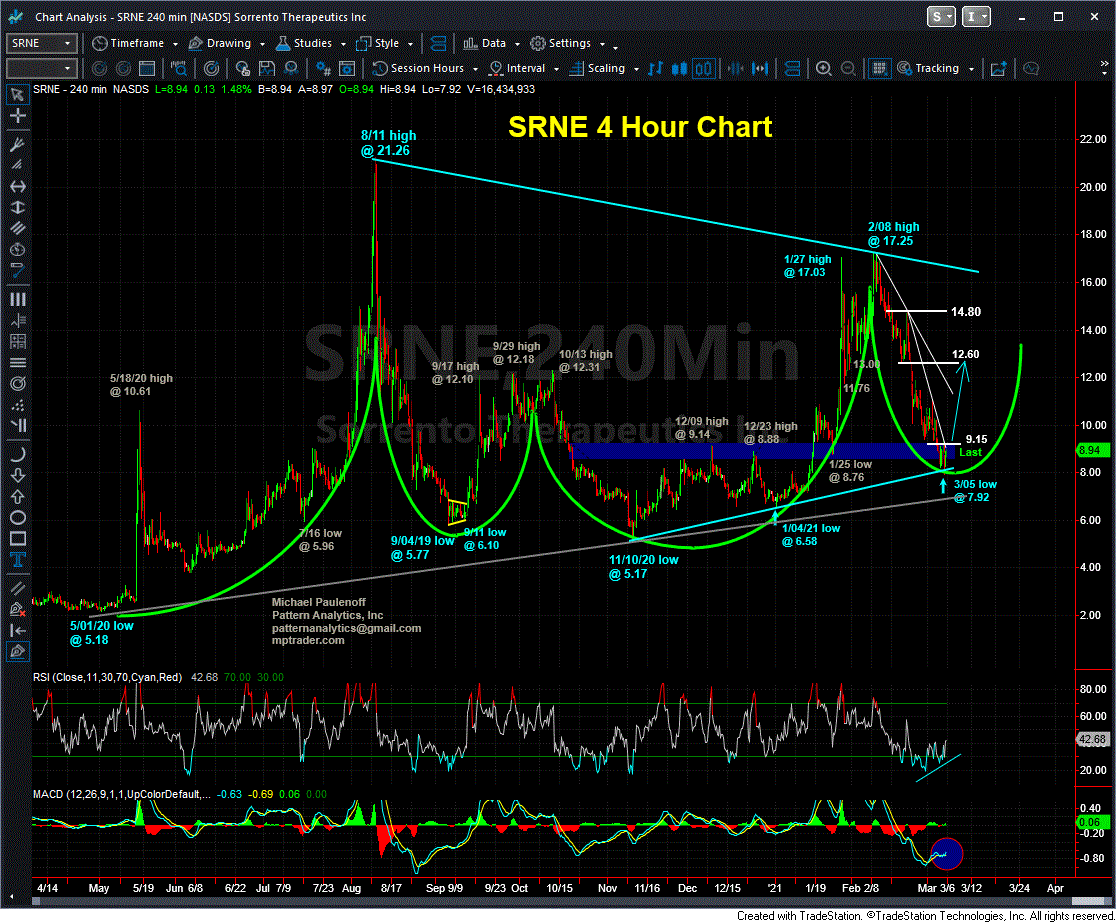 ---
More Top Calls From Mike