Short-term Trading Success, Bigger-Picture Prospects for HIMX
On Monday, Mike added Himax Technologies (HIMX) as a short-term trade set-up at around 9.55 and exited the following day (+5% gain) when his raised stop was hit at 10.07.
Mike re-entered the trade on Wednesday at 9.72.
While trading the short-term swings, Mike indicated on Monday why the stock meets his interest in the bigger picture in terms of both the macro and technical set-up.
He noted, "In an effort to hold equity in companies with stories that should withstand weakness in the major averages, I have been following HIMX closely of late, which is a high-tech name that manufactures integrated circuits for all of the gizmos like flat panel TVs, tablets, phones, etc, and supplies the huge and growing Asian market and manufacturers. Any company associated with China, Samsung, and Google in the high-tech gadget space-- and already has its bear phase in the rearview mirror -- should be on the front burner."
From a big-picture technical perspective, Mike noted that HIMX embarked on a powerful bull phase from the from the 0.97 low in Oct 2011 to the 16.15 high in Mar 2014, but then underwent a deep and severe correction to 5.70, which represented a 69.% retracement of the bull move.
"During the past 5 months, however, HIMX has been on the mend, and has carved out a potentially very powerful rounded base pattern that is just now triggering significant upside potential that projects to 12.00-12.80 in the upcoming weeks. The 200-day EMA has turned up, with an already sharply rising 50-day EMA nearing moving average bullish crossover territory."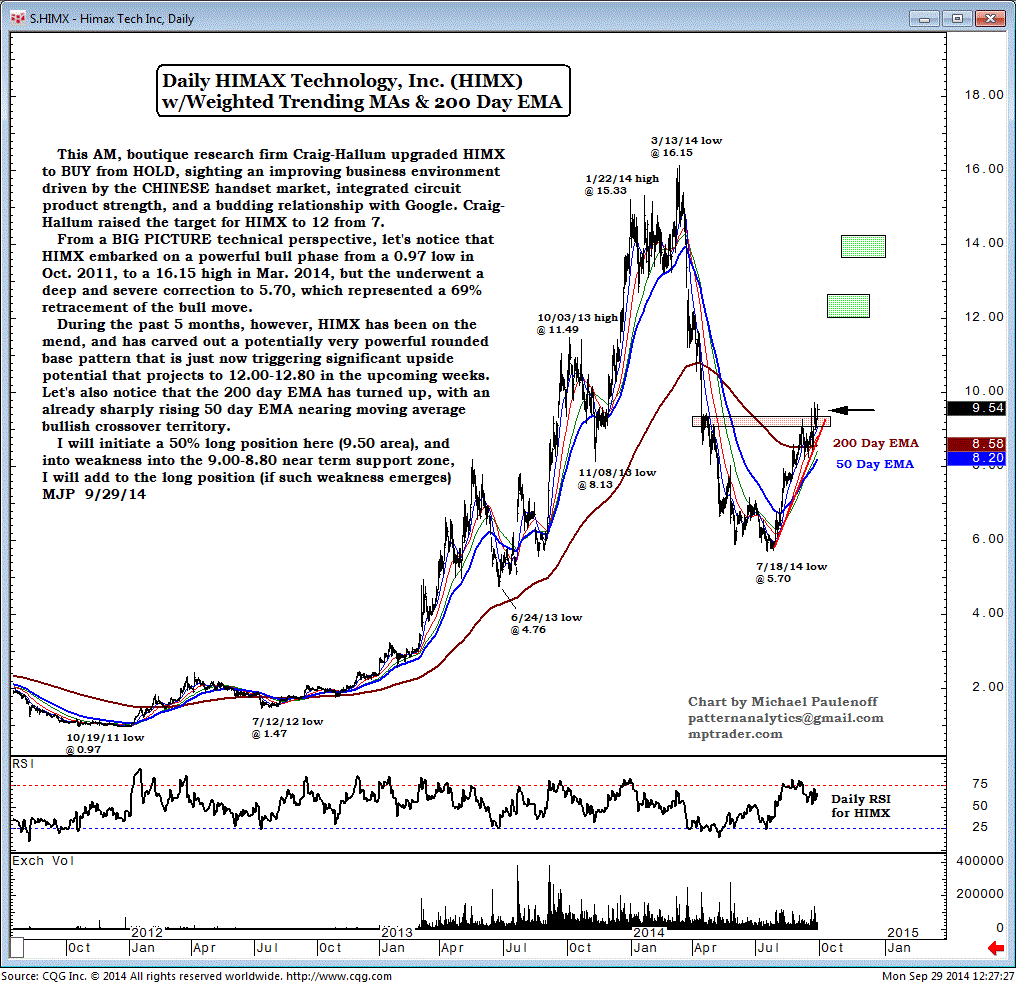 ---
More Top Calls From Mike