TSLA Hits Our Target Zone -- What's Next?
This past Wednesday Jan 18, TSLA hit a recovery rally high at 137.50, nearly 36% above its multi-year bear phase low at 101.20 on Jan 6, and nearly 26% above the price TSLA was trading at on that same morning when Mike Paulenoff posted the following Coverage List heads-up to MPTrader members:
"TSLA's new corrective low at 101.20 this AM looks like it ended the most recent downmove from 114.85, but the key question is whether a much larger corrective period and process have ended? The answer to that question requires TSLA to climb and sustain above 110.25 for starters and thereafter, to follow through above 114.85. Unless and until 110.25 is hurdled, I cannot rule out another rollover into a press to lower lows closer to the next downside target zone of 93 to 95... Last is 107.49"
During the final hour of trading that same day, on Jan 6, Mike posted a follow-up comment about TSLA:
"... a close above 114.85 increases the likelihood that TSLA makes a run at resistance from 118.50 to 123... Only a reversal and press beneath 110 will preserve a bearish scenario... Last is 114.00."
TSLA closed at 113.03 on Jan 6, putting in a Simple Upside Reversal Day off of a new multi-month corrective low, BUT did NOT CLIMB and CLOSE ABOVE Mike's consequential key resistance level at 114.85 until the next trading session, Monday, Jan 9, when TSLA accelerated to the upside to a high of 123.52. 
During the morning session of Jan 10, Mike posted another follow-up chart commentary for MPTrader members:
TSLA is betwixt and between a 20-point range for the past 11 sessions, but in the hours directly ahead likely will tell us if the upmove off of last Fri's low at 101.20 to Monday's high at 123.52 is a completed first upleg of a larger recovery rally effort (to 135-140 next) or a failed rally in a setup that has to retest the low.  My work argues that as long as TSLA is trading above 112.50, I have to give the benefit of the doubt to another run at 123.52, which if taken out, will trigger the 135-140 target... Last is 116.87.
From that moment forward, TSLA preserved Mike's key support level of 112.50 and proceeded to climb strongly during the ensuing sessions to a recovery rally high at 137.50 on Wednesday, achieving the target zone Mike's work projected several sessions earlier.  
What's next for TSLA?  Login this week for intraday discussions about opportunistic technical and fundamental setups in TSLA as well as many other equity names, ETFs, macro indices, commodities, and Bitcoin.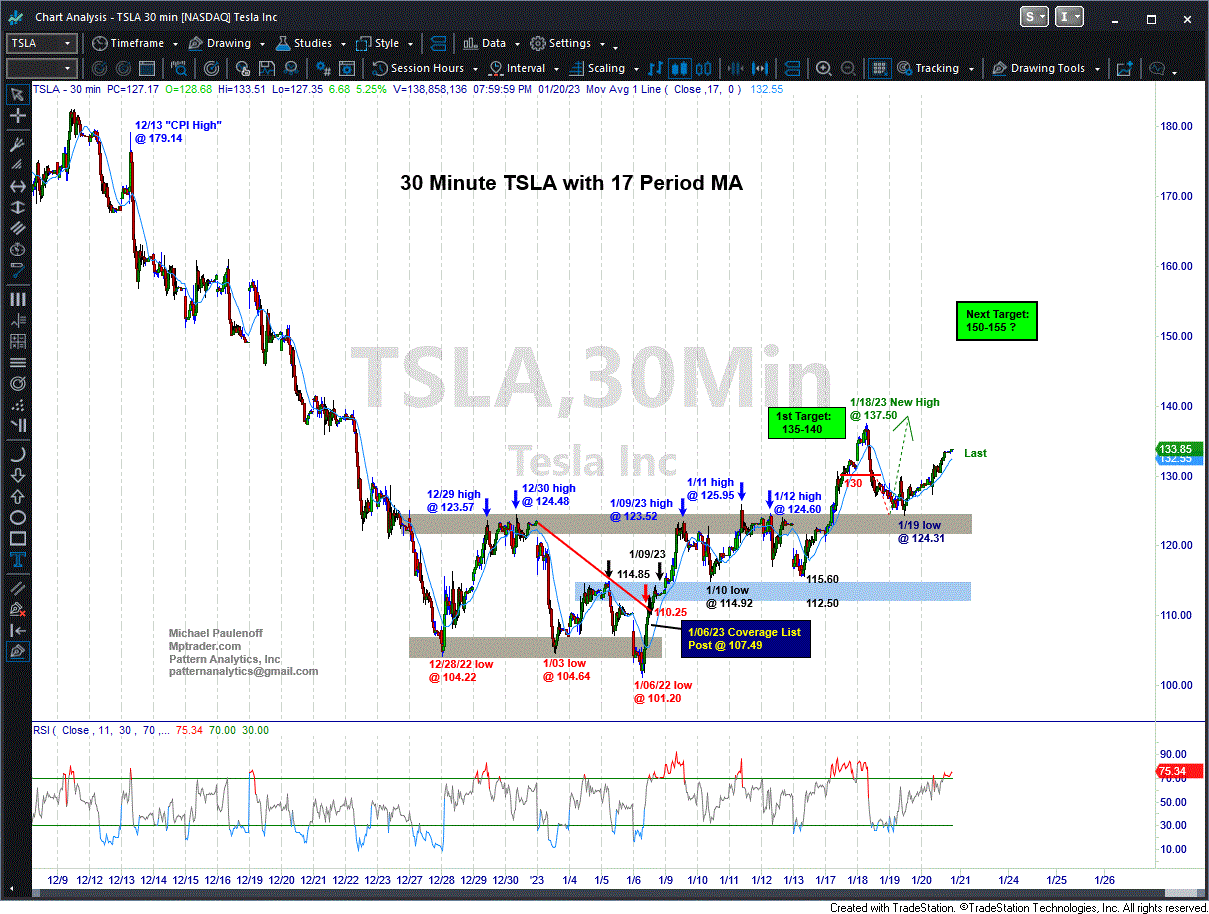 ---
More Top Calls From Mike