The "Qs" Follow Our Script To A "T"
On Sep 2, with QQQ trading at 300.01, down nearly 4 points from its pre-market thrust to a new all time high at 304.02, Mike Paulenoff alerted MPTrader members to the potential danger signals lurking within his chart work. He wrote:

"Just in case TSLA and AAPL weakness represent the first shot over the bow ahead of a significant correction in the NDX, my work on QQQ indicates that a break and close under 298.00 will trigger sell signals that project to 280."

Within hours of Mike's warning, the Qs had sliced beneath 298.00, triggering sell signals in his work that pointed to 280.00 next. (See chart below.) The Nasdaq 100 ETF proceeded to roll over into a nasty nosedive on Sep 3 and 4, just ahead of the three-day Labor Day holiday weekend, pressing beneath Mike's initial target of 280 to a Sep 4 low at 271.80.

By Tuesday Sep 8, QQQ reached a lower corrective low at 269.66, nearly 10% beneath Mike's sell signal at 298.00, and 11% beneath its all-time high of 304.02 from Sep 2.

Mike continued to closely follow QQQ and its key consequential components AAPL, TSLA, and AMZN during the remainder of this past week.

On Wednesday Sep 9, with the Qs at 275.31, Mike wrote: "My BIG picture pattern and momentum work argue that the decline from the 9/02 high at 304.02 to last eve's low at 269.66 (-11.3%) has unfinished business on the downside after this recovery bounce runs its course. The closest target zone for the QQQ rally is 276.20/80, with the optimal target zone being 280-283 ahead of another loop down that breaks 269.66 in route to the 250 area."

QQQ followed Mike's script, recovering to 282.20 within his target zone the very next morning before looping down as he anticipated, breaking his 269.66 support en route to a new corrective low at 266.90 on Friday afternoon.

What's in store for the Qs this coming week?
Join Mike's Trading Room and find out!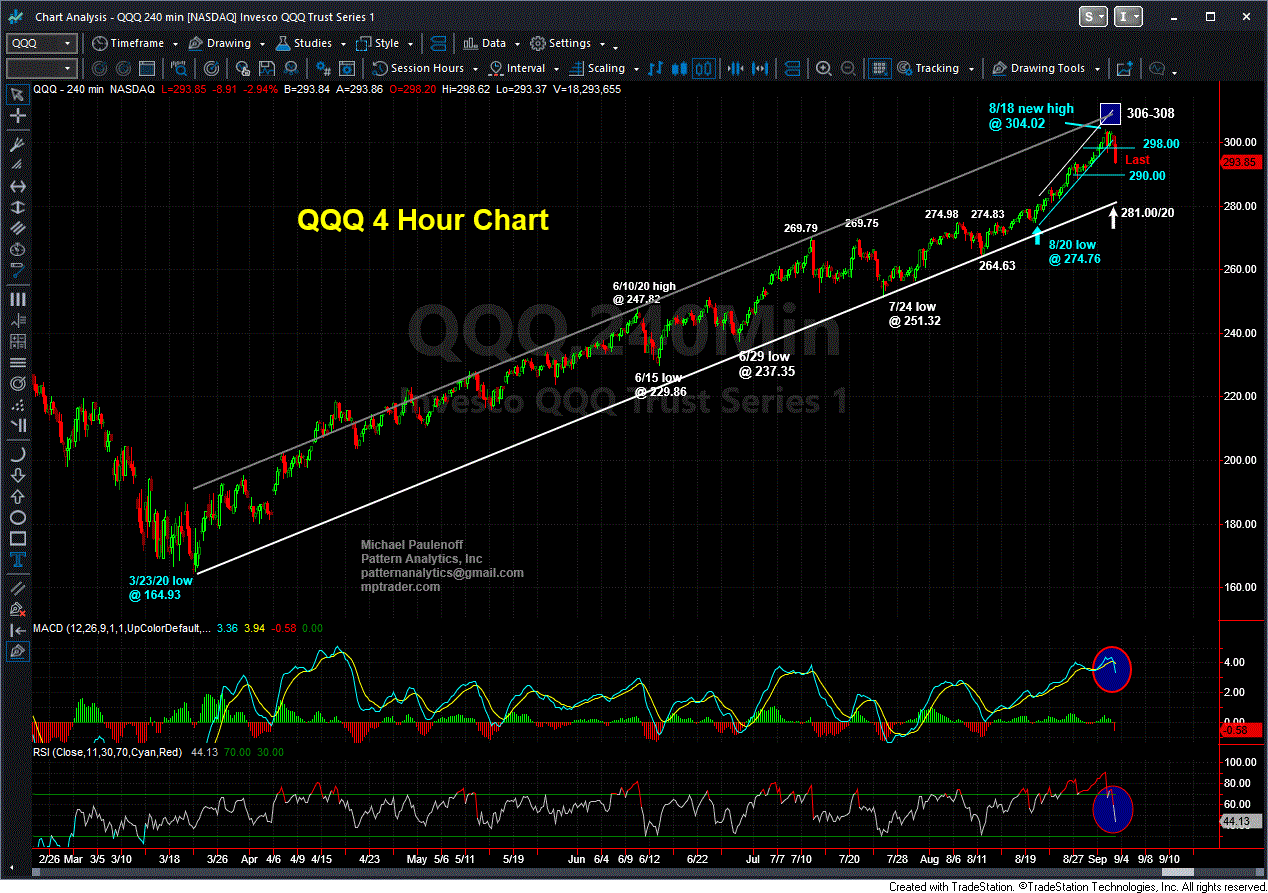 ---
More Top Calls From Mike