XME In Grasp Of Anticipated New Up-Leg
Back on December 9, Mike Paulenoff alerted MPTrader members to the ongoing climb in XME (S&P Metals and Mining ETF), and the potential for a much larger up-move based on his technical setup work, writing:
"My attached Daily Chart spanning back to the Pandemic Low at 13.86 to the April 2022 high at 66.63 argues that all of the action for the past 6 months can be construed as an accumulation period and pattern in the aftermath of a significant 50% correction of the bull phase. In addition, the accumulation pattern has matured to the point of a potentially powerful upside breakout above multi-month resistance lodged from 53 to 54, which if sustained, projects the next upside targets to 56-57 and then to 60-61.
"If the Chinese economy re-opens, if the US economy avoids recession, and if inflation moderates but remains higher than the Fed's preferred rate of 2% (a good bet), then XME and its industrial components (see top 15 holdings below the chart) should perform extremely well ... For anyone looking for a vehicle that should benefit from a sustained run in the industrial metals and value-oriented names of the old economy, then XME certainly is a candidate... last is 53.31."
Fast-forward to a week ago, January 9, when he observed the following improved technical condition for XME:
"XME (SPDR S&P Metals and Mining ETF) pivoted to the upside off of the 48.40/80 near-term support area which represented about a 50% correction of the prior upleg from 40.76 (9/26) to 55.01 (12/05) and presents us with a renewed rally setup that has the right look of the initiation of a new upleg. From a larger perspective, all of the action in XME since early June 2022 is carving out a bullish base-accumulation pattern that has considerable upside potential if XME climbs and sustains above 55.01... XME is in a very constructive technical position at the moment, confirmed by the upturn in the daily Momentum gauges. 
"As discussed in my FCX (Freeport-McMoRan) chart post earlier today (a 4.6% component of XME), this group of old economy, value, industrial, and cyclical names (see Top 15 components of XME below) looks poised to take advantage of the (eventual) pause or end of the rate hike cycle as well as the reopening of the Chinese economy... Last is 53.35."
Last week (Jan 9-13), XME climbed from 52.78 to 56.38 (+6.8% for the week and +5.8% from Mike's initial update), which hurdled 7 months of resistance AND closed right near its weekly high.  This indicates strongly that XME, indeed, is in the grasp of a new up-leg that has entered its minimum upside target zone of 56 to 57 and that projects to a next-higher target zone of 60-61. 
What's next for XME and the industrial metals sector?  Could XME accelerate into a vertical assault to 66-68?  Join us this coming week for Mike's frequent intraday strategic trading updates and discussions with our members about XME as well as many other actionable ETFs, individual stocks, macro indices, commodities, and Bitcoin.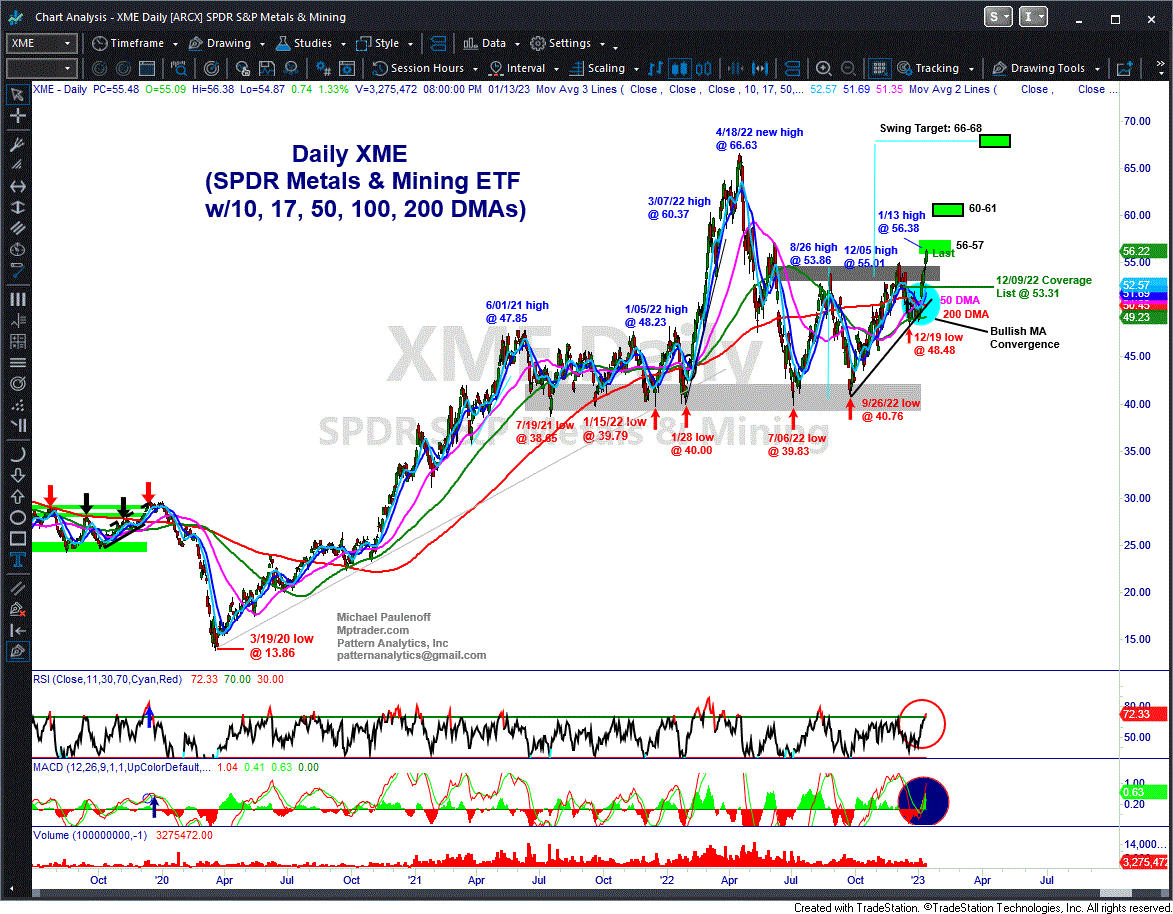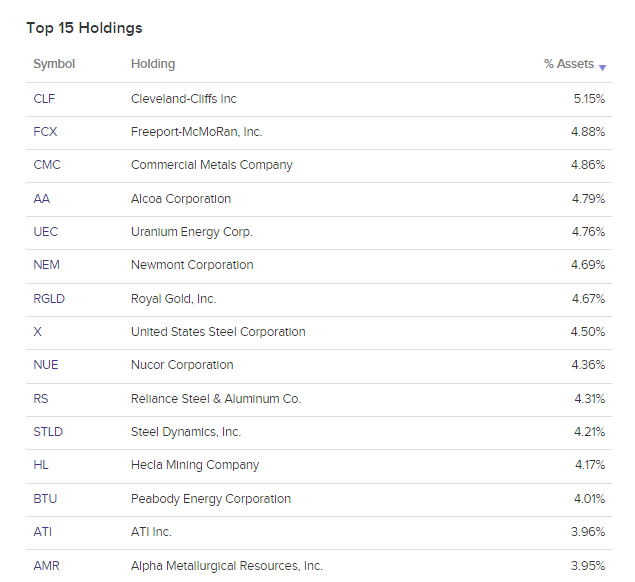 ---
More Top Calls From Mike