Yielding Returns Across a Range of Sectors
Four trades closed out in recent weeks, yielding a total return of 12%, demonstrate the way in which Mike opportunistically identifies trending sectors through a combination of technical and macro analysis, nabbing returns from their leading component stocks and ETFs.
In banking, he added the SPDR S&P Regional Banking ETF (KRE) on June 5 at $52.73, noting: "Increasingly, my work argues that KRE completed a major correction from its March 2 high at $59.68 to its May 31 low at $51.08, which ... means that the price structure is coiled-up ahead of a thrust to the upside into a new advance within the larger upleg off of the $32.63 low in February 2016 into new high territory."
He added that "such a move also will imply that the regional banks are benefiting from the Trump growth agenda, higher rates, and from a roll-back in Dodd-Frank regulation."
Mike exited KRE this past week at $54.97 for a 4% gain.
In biotech, Mike entered the SPDR S&P Biotech ETF (XBI) on June 1 at $69.50, reasoning that "the time has come to take a long position within 'The Handle' portion of the huge Cup and Handle base formation carved out by XBI during the past 18-20 months."
He exited four days later at $70.88, yielding a 2% profit.
See the chart Mike was viewing when he entered the trade: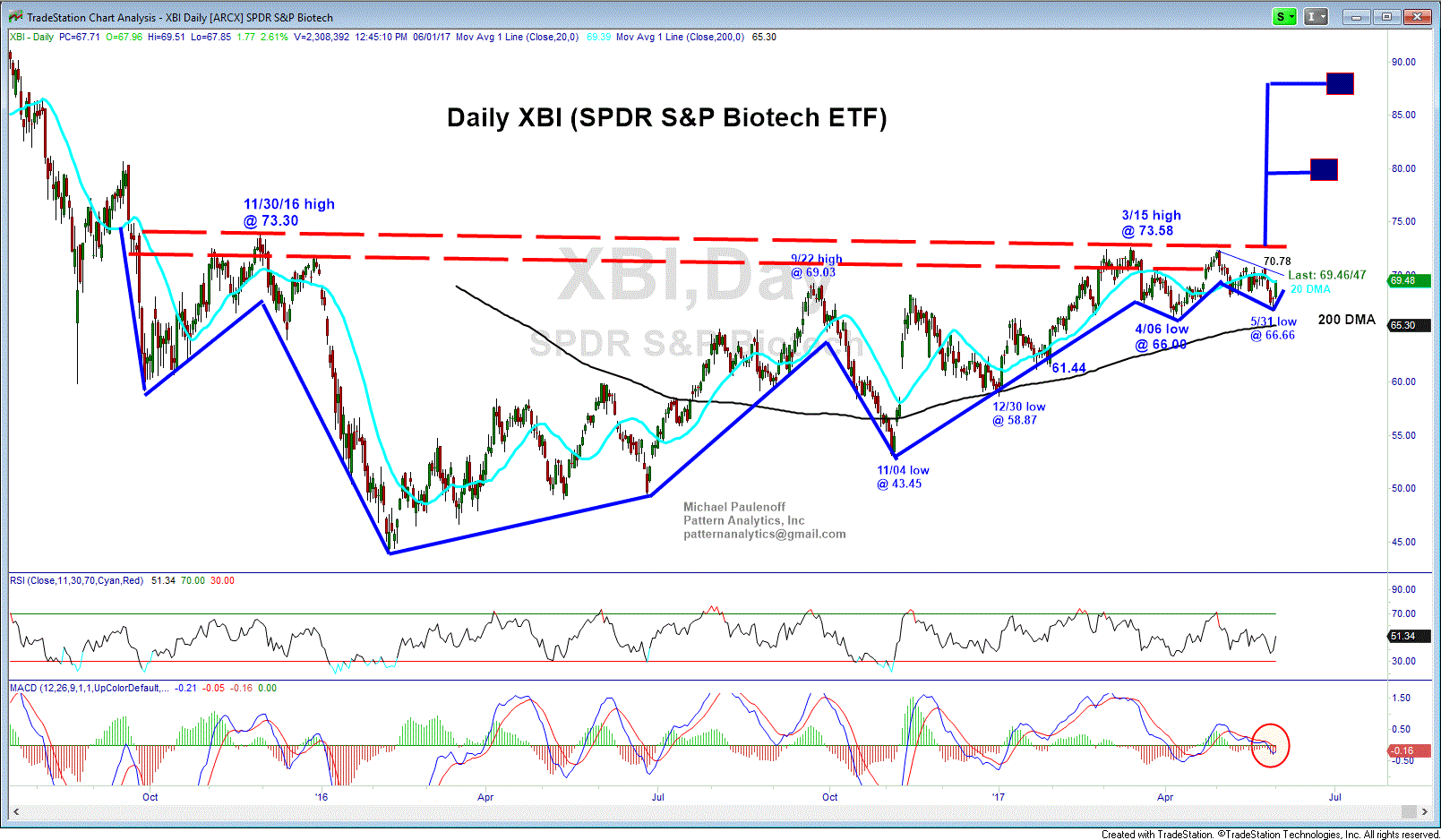 Mike also closed out his Under Armour, Inc. (UAA) trade this week for an 8% return in two months, and recently completed a trade in American International Group, Inc. (AIG), gaining 2.3% in less than a week.
---
More Top Calls From Mike