AAPL Peaks Just Above Our Target ... What's Next?
Two weeks ago, in our Top Call piece entitled, "Calling AAPL's Twists and Turns," we highlighted Mike Paulenoff's warning that "as goes Apple, so goes the market."
We also noted that despite what looked like a significant corrective low and upside reversal in AAPL on Thursday Feb 24, Mike was warning MPTrader members to stay nimble despite an apparent near term upside reversal in AAPL.
He wrote, "We should NOT BE SURPRISED to see AAPL roll over into another nosedive that RETESTS and possibly marginally violates [the Feb 24] low-zone at 151.90 to 152.40 prior to entering a rally phase... expecting AAPL to stall and to pivot to the downside from the 165 to 167.70 resistance area into a decline that will have the potential to revisit [the Feb 24] low [at 151.90]."
Fast-forward to last week, and we see on Mike's daily AAPL chart (below) that AAPL's post-Feb 24 rally peaked at 168.91 -- just above Mike's optimal peak zone of 165-167.70 discussed two weeks prior -- which initiated a new downleg that pressed to Friday's low at 154.50, closing at 154.73.
Let's notice that AAPL's price structure currently is pointed straight down, pressing towards a very significant support zone from 151.90 to 153.60 that encompasses 1) the dominant support line off of the October 2021 low that cuts across the price axis in the vicinity of 153.60, 2) the 200 DMA at 153.61, and 3) the Feb 24 low at 151.90.
If this support zone is violated and sustained, the intermediate-term technical setup in AAPL will deteriorate meaningfully, and its multi-month pattern will morph into a Crown Top Formation.
Entering next week, amid the constant uncertainty and turmoil that pervades geopolitics, monetary policy, and financial markets, AAPL again is on Mike Paulenoff's mind. While the stock remains one of only 23% of NYSE companies still trading above its 200 DMA, a close beneath 153.60 (its 200 DMA) will further weaken AAPL as a bellwether name, as well as many related equity indices and index ETF's containing mega-cap AAPL and AAPL suppliers.
Join Mike and mptrader members for in-depth market discussions and chart analysis throughout every trading day that focuses on individual stocks, ETFs, macro indices, commodities, and Bitcoin.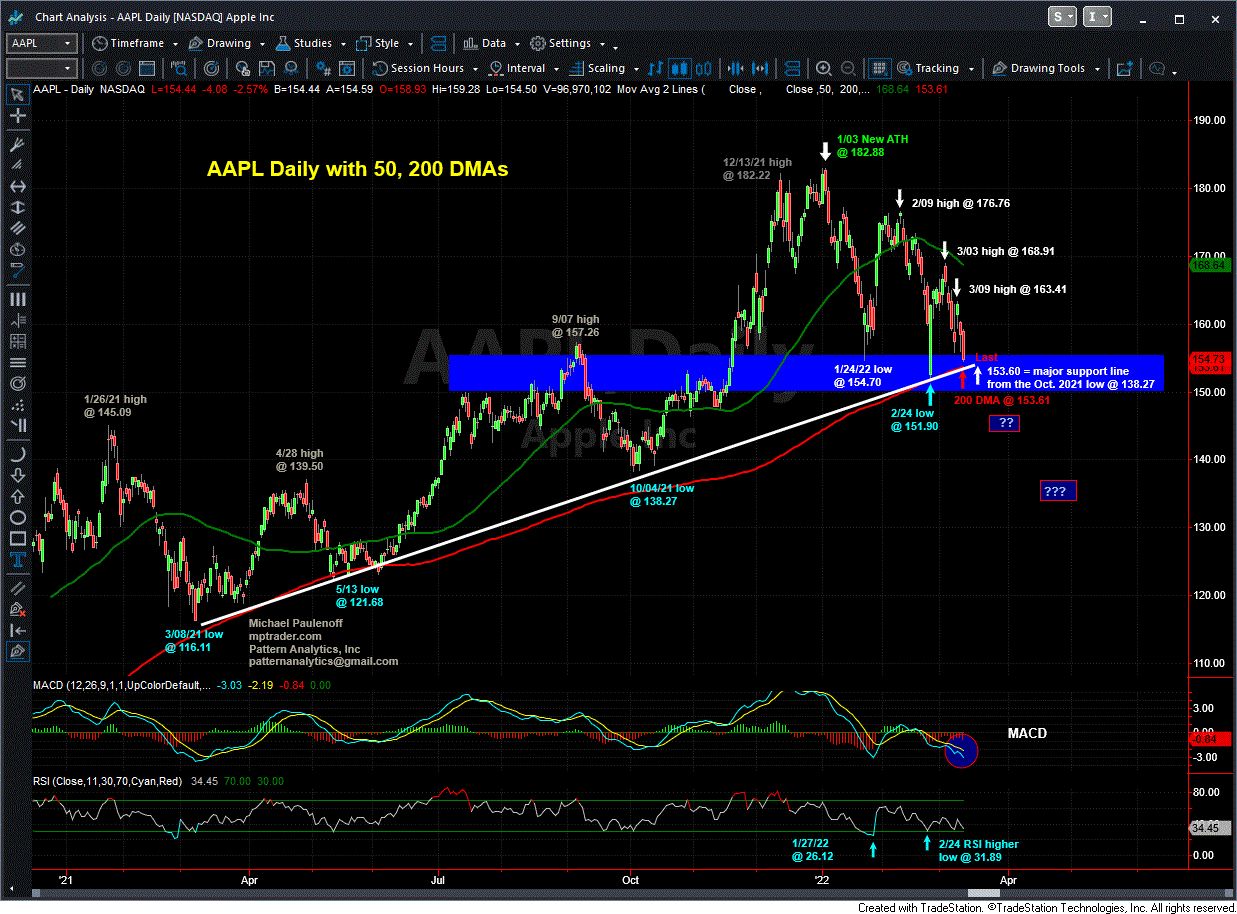 ---
More Top Calls From Mike