Calling Apple's Upside Exhaustion
In our Top Call article a month ago, we told you about how Mike Paulenoff called AAPL's upside continuation, with the expectation that the stock could extend a little higher before upside exhaustion.
AAPL, indeed, went on to stair-step higher to reach a high of 157.26 high last week, overshooting the upper boundary of Mike's 153-156 projected high-zone by just 0.8%. It then proceeded to initiate the expected bout of weakness that accelerated to the downside this past Friday.
Mike warned MPTrader members again about this potential downside last Thursday morning, with AAPL trading at 155.17, noting: "AAPL remains a primary focus of mine from a technical perspective because my pattern work argues that the most recent upleg from the 8/19 low at 144.24 to Tuesday's (9/07) ATH at 157.26 has the right look of completion."
He specified 153.90 as the support level to watch for a preliminary reversal signal, which AAPL proceeded to violate as it nosedived on Friday. It closed the week right at the low of the day (148.67), a full 5.5% beneath the September 9 new All-Time High, and 3.4% beneath Mike's initial downside trigger level at 153.90, putting an exclamation point on Mike's repeated warnings to MPTrader members about AAPL's vulnerability to a serious downside reversal.
What's next for AAPL and the overall market? Will AAPL head directly for Mike's minimum downside target of 144-145 this week? Join Mike for his intraday alerts at MPTrader, where he posts constant analysis, and where he and our members exchange tactical trading ideas in our Discussion Room.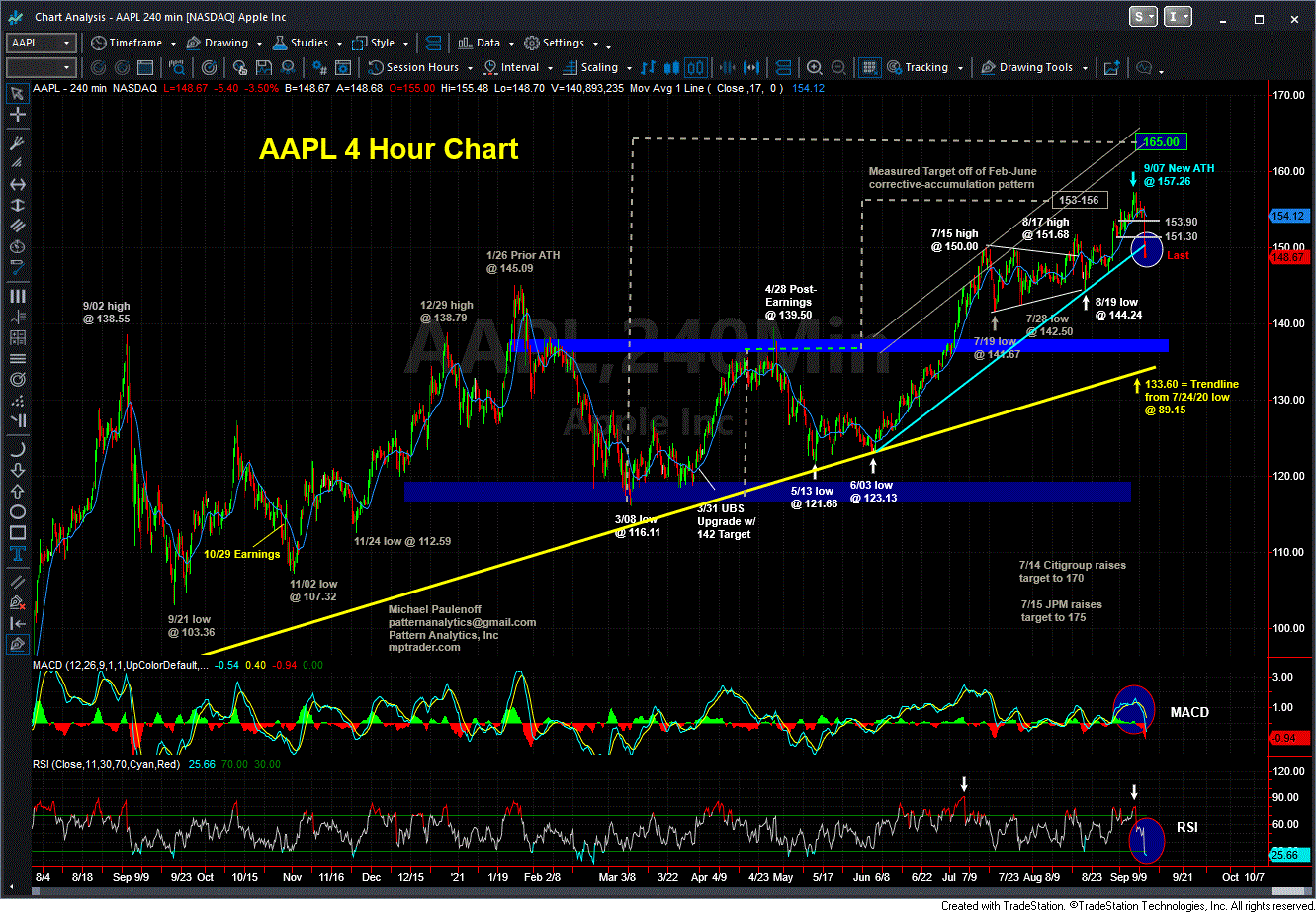 ---
More Top Calls From Mike